Ericameria linearifolia, Narrowleaf Goldenbush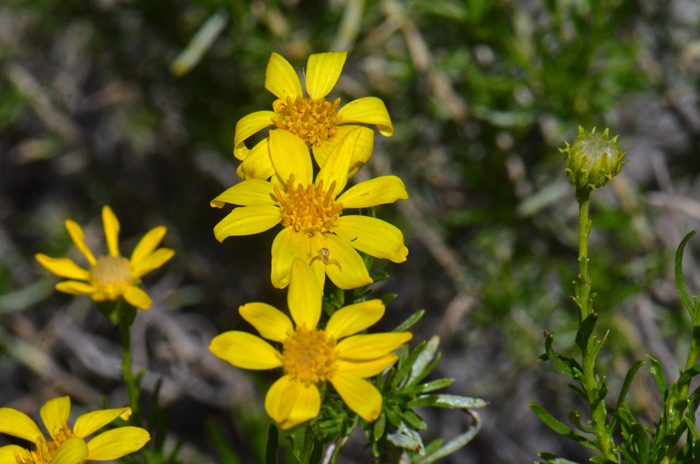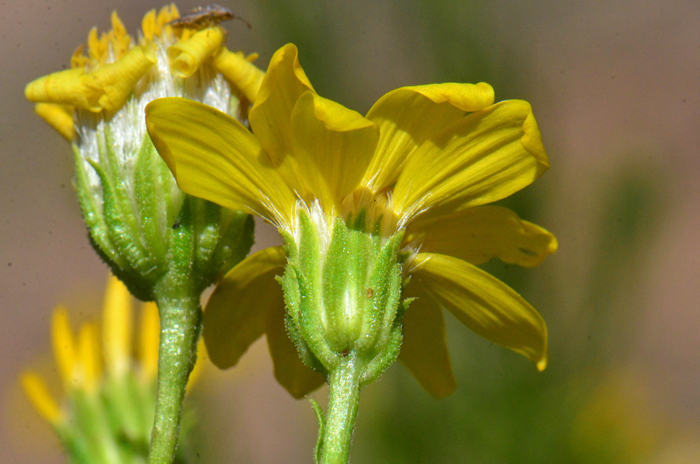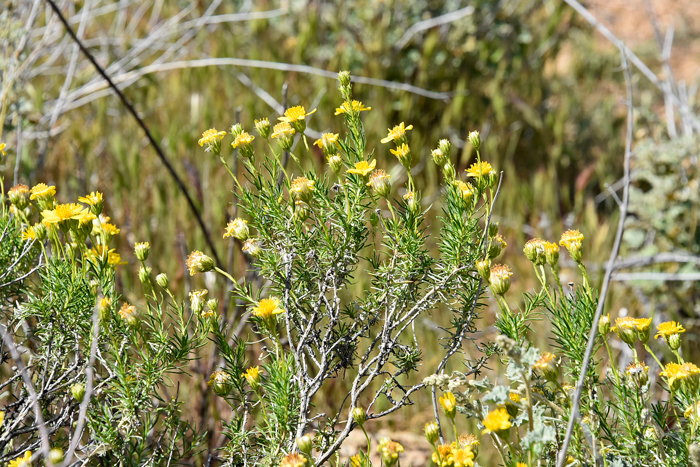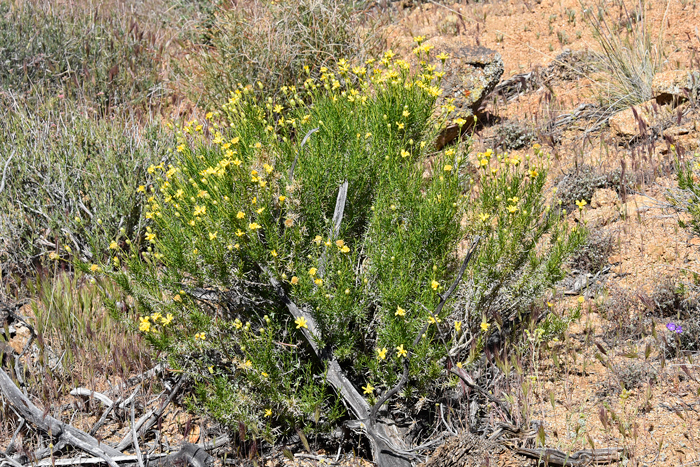 Scientific Name: Ericameria linearifolia
Common Name: Narrowleaf Goldenbush
Also Called: Mojave Goldenbush, Narrowleaf Goldenweed, Slimleaf Goldenbush, Turpentine Bush
Family: Asteraceae, Sunflower Family
Synonyms: (Aplopappus linearifolius, Aplopappus linearifolius var. interior, Chrysothamnus nauseosus var. linearifolius, Haplopappus linearifolius, Haplopappus linearifolius subsp. interior, Haplopappus linearifolius var. interior, Stenotopsis interior, Stenotopsis linearifolia, Stenotopsis linearifolia var. interior)
Status: Native
Duration: Perennial
Size: Up to 5 feet tall, usually much shorter.
Growth Form: Shrub; branches erect to spreading; new stems green; glabrous or puberulous; resinous.
Leaves: Green; up to 2 inches long; shape linear; leaf surface glabrous to sparsely hairy; resinous.
Flower Color: Yellow; flower heads radiate; mostly solitary; phyllaries in 2-3 series, green to tan, ovate to lanceolate, sub equal; parts smooth or sparsely hairy; fruit with silky-hairy pappus.
Flowering Season: March to May or June.
Elevation: Below 6,200 feet.

Habitat Preferences: Rocky and sandy soils, dry slopes, valleys, saltbush and creosote-bush communities.

Recorded Range: Narrowleaf Goldenbush is found in the southwestern United States in AZ, CA, NV, UT. Largest populations in California; in the southeast corner of Nevada; in Arizona in the central and northwestern parts of the state and in Utah it is limited to the extreme southwestern corner.

North America & US County Distribution Map for Ericameria linearifolia.

U.S. Weed Information: No information available.
Invasive/Noxious Weed Information: No information available.
Wetland Indicator: No information available.
Threatened/Endangered Information: No information available.

Genus Information: In North America there are 33 species and 33 accepted taxa overall for Ericameria. Worldwide, The Plant List includes 39 accepted species names and a further 244 of infraspecific rank for the genus.

In the Southwestern United States: Arizona has 8 species of Ericameria, California has 22 species, Nevada has 15 species, New Mexico has 4 species, Texas has 2 species, Utah has 13 species. Hybrids exist. All data is approximate and subject to taxonomic changes.

Comments: Narrowleaf Goldenbush is one of the showiest species in Ericameria with bright yellow flowers. This genus includes Goldenbush, Rabbitbrush, Turpentine Bush and Rabbitbush. Members of the genus serve as larvae food plants by butterflies of the genus Schinia.

Narrowleaf Goldenbush hybridizes with Turpentine Bush (E. cooperi).

As a whole, the members of the genus Ericameria are generally referred to as Goldenbush, Turpentine Bush, Rabbitbrush and Rabbitbush. They all were formerly described as Aplopappus, Haplopappus or Chrysothamnus.

In Southwest Desert Flora also see Turpentine Bush, Ericameria laricifolia and Rubber Rabbitbush, Ericameria nauseosa.

Narrowleaf Goldenbush has been used as a drug, dermatological and veterinary aid by southwestern United States indigenous peoples.

Kawaiisu Drug, Antirheumatic (External); Decoction of leaves and flowers applied to limbs for rheumatism.
Kawaiisu Drug, Dermatological Aid; Decoction of leaves and flowers applied to soreness, bruises and cuts.
Kawaiisu Drug, Dermatological Aid; Decoction of roots used as a hair wash to make the hair grow.
Kawaiisu Drug, Orthopedic Aid; Decoction of roots used as a wash for tired feet.
Kawaiisu Drug, Veterinary Aid; Decoction of leaves and flowers applied to sore backs of horses.
Tubatulabal Drug, Antirheumatic (External); Compound decoction of leaves and flowers used as a wash for rheumatism.

See complete listing of ethno-botanical uses at Native American Ethnobotany, University of Michigan, Dearborn.