Solanum rostratum, Buffalobur Nightshade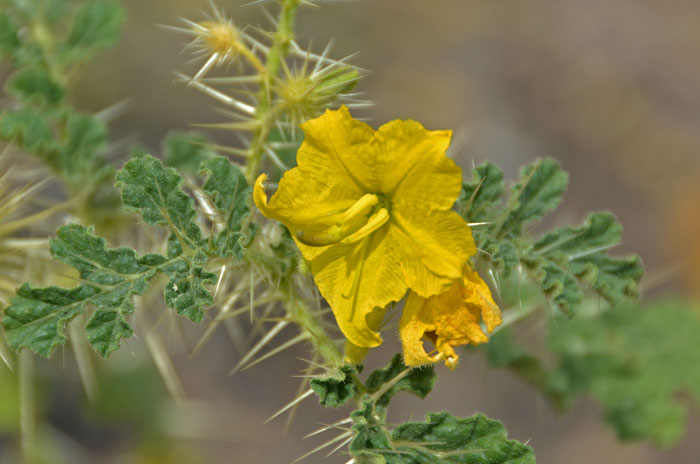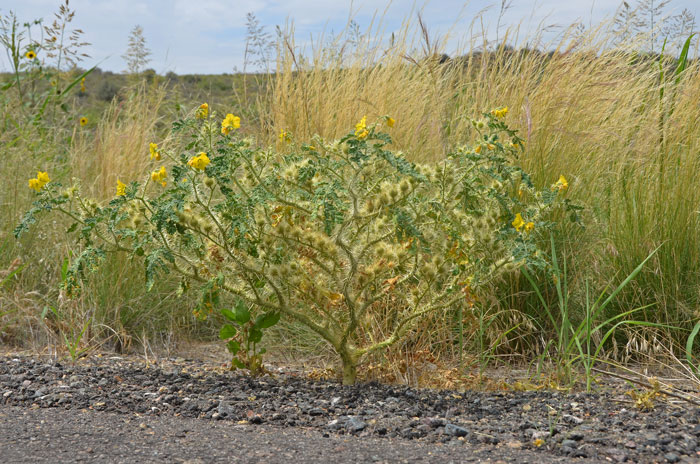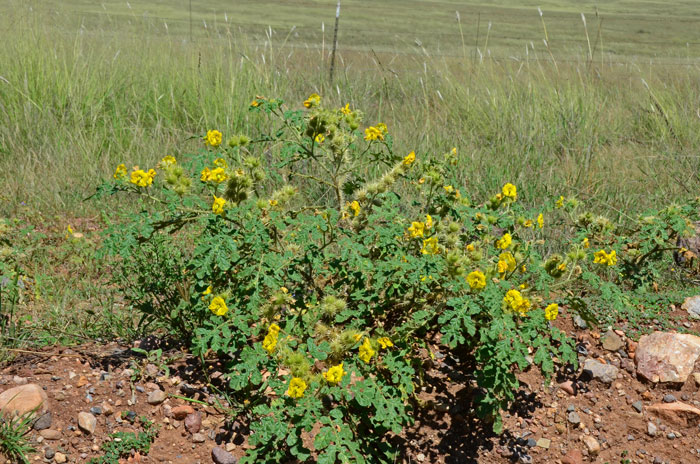 Scientific Name: Solanum rostratum
Common Name: Buffalobur Nightshade
Also Called: Buffalobur, Colorado Bur, Horned Nightshade, Kansas Thistle, Mexican Thistle, Texas Thistle
Family: Solanaceae, Nightshade or Potato Family
Synonyms: (Androcera rostrata, Solanum cornutum, Solanum propinquum)
Status: Native
Duration: Annual
Size: Up to 7 inches or more.
Growth Form: Forb/herb; plants with yellow prickles, stellate hairs.
Leaves: Green; 1 to 6 inches; leaf segments broad; simple, deeply lobed.
Flower Color: Yellow; raceme-like inflorescence; calyx encloses fruit; corolla about an inch wide, yellow; anthers not equal, 4 straight, 1 curved; style curved (see photo above); fruit a dry berry.
Flowering Season: June to August; May to September in Texas.
Elevation: 1,000 to 7,000 feet; below 1,500 in California.

Habitat Preferences: Common on plains, fields, roadsides and disturbed places.

Recorded Range: Solanum rostratum is found across the United States. It is an introduced species throughout Canada. It is also found in Baja California and throughout Mexico. In Arizona it is found throughout the state with few records in La Paz, Gila, Greenlee, Pinal and Yuma counties.

North America & US County Distribution Map for Solanum rostratum.

U.S. Weed Information: In North America Solanum rostratum can be weedy or invasive according to the following authoritative sources: State noxious weed lists for 46 states. State agriculture or natural resource departments and in; Weeds of Nebraska and the Great Plains; Weeds of the United States and Canada; Weeds of the West. Plants included here may become weedy or invasive.

Invasive/Noxious Weed Information: In North America Solanum rostratum is listed as a Noxious Weed by the following states: Idaho, Buffalobur, noxious weed; Oregon, Buffalobur "B" designated weed and Buffalobur Quarantine; Washington, Buffalobur Class A noxious weed and Buffalobur noxious weed seed and plant quarantine. Plants included here are invasive or noxious.

Wetland Indicator: No information available.
Threatened/Endangered Information: No information available.

Genus Information: In North America there are 104 species and 131 accepted taxa overall for Solanum. World wide, The Plant List includes 1,199 accepted species names and includes a further 454 infraspecific rank for the genus.

In the Southwestern United States, Arizona there are 18 species of Solanum, in California there are 30 species, Nevada has 8 species, New Mexico has 16 species, Texas has 27 species, Utah has 11 species. All data is approximate and subject to taxonomic changes.

Comments: Solanum rostratum is a highly toxic plant to livestock and humans. Its seeds are important to ground feeding birds.

The yellow flowers of Buffalobur Nightshade help distinguish it from Melon Leaf Nightshade, Solanum heterodoxum which has purple flowers.

In Southwest Desert Flora also see: American Black Nightshade, Solanum americanum, Silverleaf Nightshade, Solanum elaeagnifolium, Fendler's Horsenettle, Solanum fendleri, Hinds Nightshade, Solanum hindsianum, Melon Leaf Nightshade, Solanum heterodoxum, and Purple Nightshade, Solanum xanti.

Solanum rostratum has been used as a drug southwest American indigenous peoples.
Keres, Western Other, Unspecified, Taxon known and named but no use was specified.
Zuni Drug, Gastrointestinal Aid, Infusion of powdered root, not an emetic, taken for 'sick stomach.'
See ethno-botanical uses at Native American Ethnobotany, University of Michigan, Dearborn.