Datura discolor, Desert Thorn-apple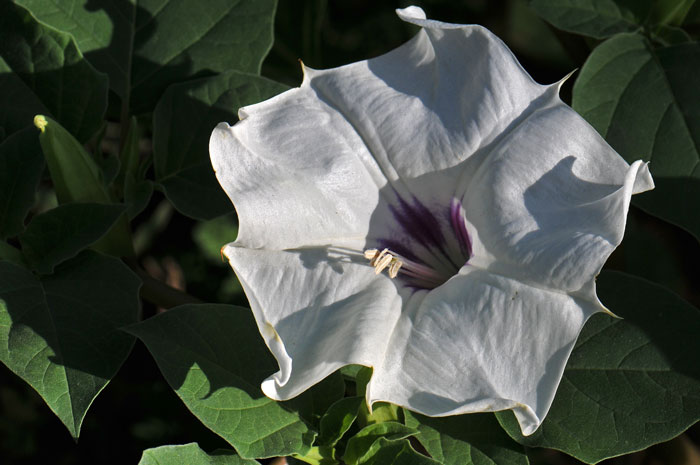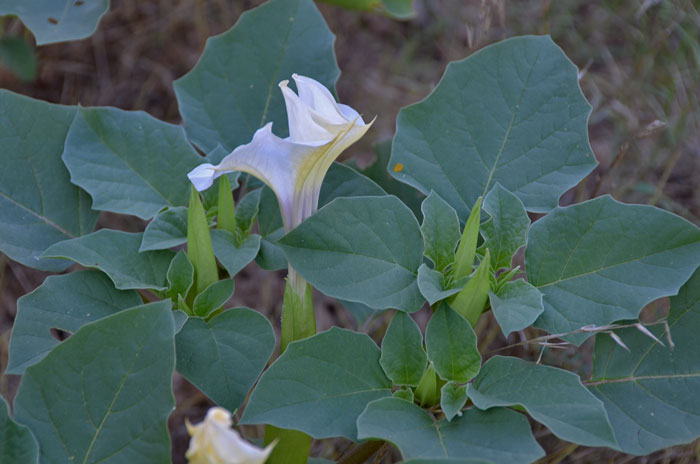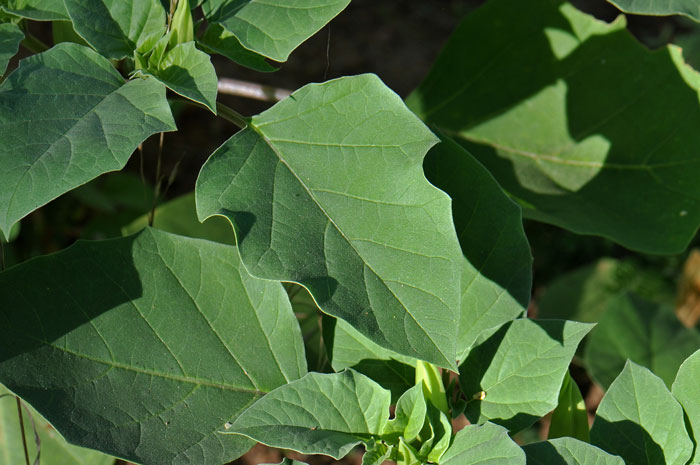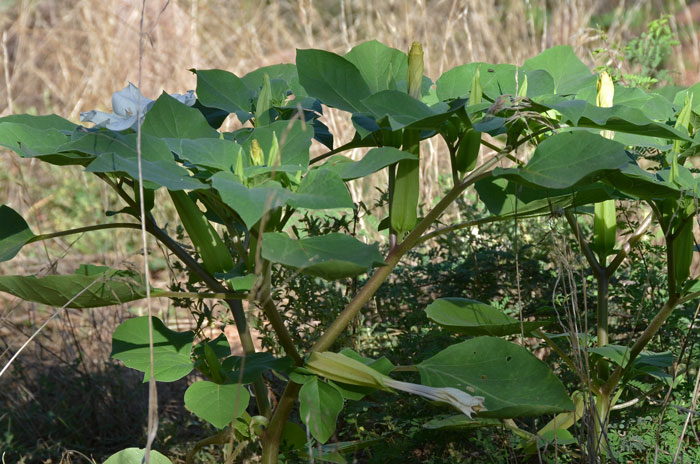 Scientific Name: Datura discolor
Common Name: Desert Thorn-apple
Also Called: Desert Datura, Desert Thorn Apple, Desert Thornapple (Spanish: Toloachè)
Family: Solanaceae, Nightshade or Potato Family
Synonyms: ()
Status: Native
Duration: Annual
Size: Up to 19 inches or so.
Growth Form: Forb/herb; herbage green; sparsely puberulous; stems grayish hairy.
Leaves: Green; large, widely ovate; margins coarsely toothed.
Flower Color: White with purple markings in throat; glabrous; corolla erect, trumpet-shaped, 10-toothed, corolla up to 6 inches long; calyx seldom more than 2½ inches long; fruit viscid-pubescent with relatively stout spines, seeds black when ripe.
Flowering Season: September to October; April to October in California.
Elevation: Up to 2,000 feet; below 1,500 feet in California.

Habitat Preferences: Sandy, gravelly soils, roadsides and waste ground.

Recorded Range: Datura discolor is somewhat rare in the United States found only Arizona and southeast California. It is also native to Baja California, Mexico and the Yucatan Peninsula. In Arizona it is found in the southwest parts of the state and in Cochise, Graham and Yavapai counties.

North America & US County Distribution Map for Datura discolor.

U.S. Weed Information: No information available.
Invasive/Noxious Weed Information: No information available.
Wetland Indicator: No information available.
Threatened/Endangered Information: No information available.

Genus Information: In North America there are 11 species and 11 accepted taxa overall for Datura. World wide, The Plant List includes 13 accepted species names and includes a further 25 infraspecific rank for the genus.

In the Southwestern United States, Arizona and California and New Mexico each have 5 species of Datura , Nevada and Utah each have 2 species and Texas has 4 species. All data is approximate and subject to taxonomic changes.

Comments: Arizona has 5 species of Datura; 3 native and 2 species from northern Mexico and South America.

In Southwestern Desert Flora also see Chinese Thorn-Apple, Datura quercifolia and Western Jimson Weed, Datura wrightii.

Datura discolor has been used as an eye medicine, gastrointestinal aid and gynecological aid by southwest American indigenous peoples.
Pima Drug, Analgesic, Infusion of leaves taken to mitigate the pains of childbirth.
Pima Drug, Dermatological Aid, Poultice of pounded leaves applied to sores or to draw pus from a boil.
Pima Drug, Ear Medicine, Poultice of heated flowers applied to ears for earaches.
Pima Drug, Eye Medicine, Plant juice used as a wash for sore eyes
Pima Drug, Gastrointestinal Aid, Plant used for ulcers
Pima Drug, Gynecological Aid, Infusion of leaves taken to mitigate the pains of childbirth.
Pima Drug, Hemorrhoid Remedy, Plant used for hemorrhoids.
Pima Drug, Other, Roots chewed to become crazy for 'bad disease.
Pima Food, Beverage, Infusion of leaves and mescal used as a dangerously intoxicating brew.
See ethno-botanical uses at Native American Ethnobotany, University of Michigan, Dearborn.