Calibrachoa parviflora, Seaside Petunia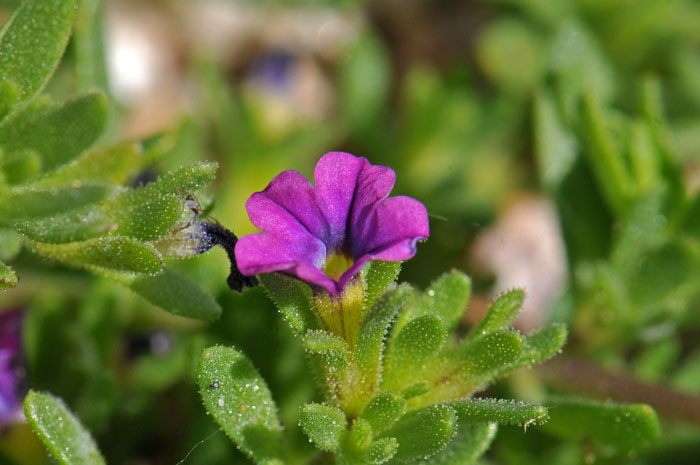 Scientific Name: Calibrachoa parviflora
Common Name: Seaside Petunia
Also Called: Seaside-petunia, Small Flower Petunia
Family: Solanaceae, Nightshade or Potato Family
Synonyms: (Nierembergia viscidula, Petunia parviflora)
Status: Introduced
Duration: Annual
Size: Up to 15 inches, usually much less in Arizona.
Growth Form: Forb/herb; plants are glandular-puberulous; stems prostrate to decumbent; stems rooting at the nodes; forms mats, plants leafy.
Leaves: Green; leaves narrow, oblanceolate, somewhat fleshy, about ⅓ of an inch long; sub-sessile.
Flower Color: Purple with whitish; flowers solitary; funnelform corolla, corolla with whitish tube.
Flowering Season: April to September; April to August in California.
Elevation: 400 to 5,000 feet.

Habitat Preferences: Moist soil in beds of streams, and muddy flats; open washes and dry streambanks in California.

Recorded Range: Calibrachoa parviflora is found mostly in the southern and many coastal states in the United States; and in the interior states of Colorado, Kansas and Nevada. It is also native to most of Baja California and throughout Mexico. In Arizona it is found in the western ⅔ of the state with few records in Gila, La Paz and Pinal counties.

North America & US County Distribution Map for Calibrachoa parviflora.

U.S. Weed Information: No information available.

Invasive/Noxious Weed Information: No information available. In North America Calibrachoa parviflora, Seaside Petunia is listed as a Noxious Weed by the federal government and/or a State. Plants included here are invasive or noxious.

Wetland Indicator: In North America Calibrachoa parviflora, Seaside Petunia has the following wetland designations: Arid West, FACW; Atlantic and Gulf Coastal Plain, FAC; Eastern Mountains and Piedmont, FACW; Great Plains, FACW; Western Mountains, Valleys, and Coast, FACW.
FACW = Facultative Wetland, usually occur in wetlands, but may occur in non-wetlands
FAC = Facultative, occur in wetlands and non-wetlands.

Threatened/Endangered Information: No information available.

Genus Information: In North America there are 1 species for Calibrachoa. World wide, The Plant List includes 28 accepted species names for Calibrachoa.

In the southwestern United States there is 1, species of Calibrachoa. All data is approximate and subject to taxonomic changes.

Comments: Calibrachoa parviflora, Seaside Petunia is related to the commercially grow Petunia and was previously included in the genus Petunia.