Linaria vulgaris, Yellow Toadflax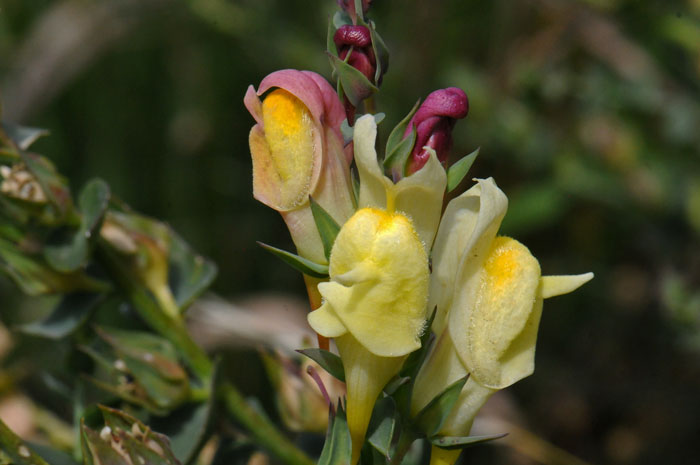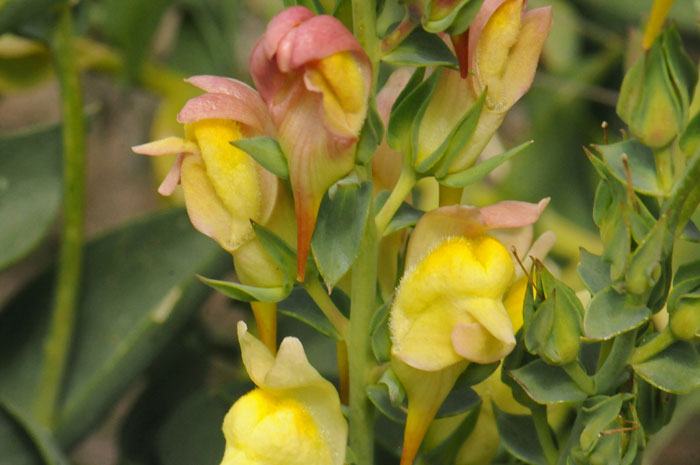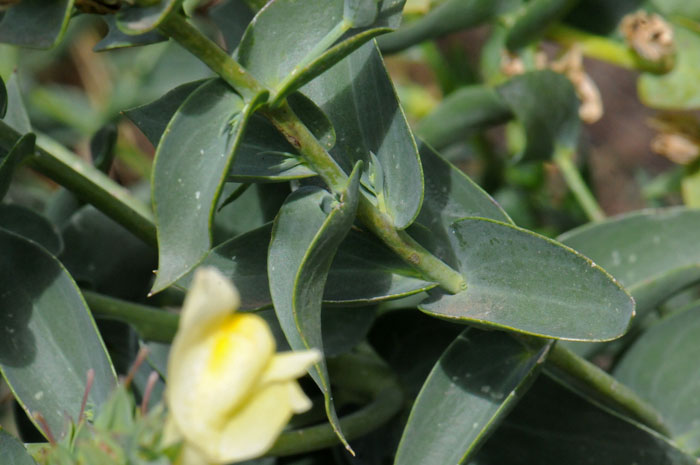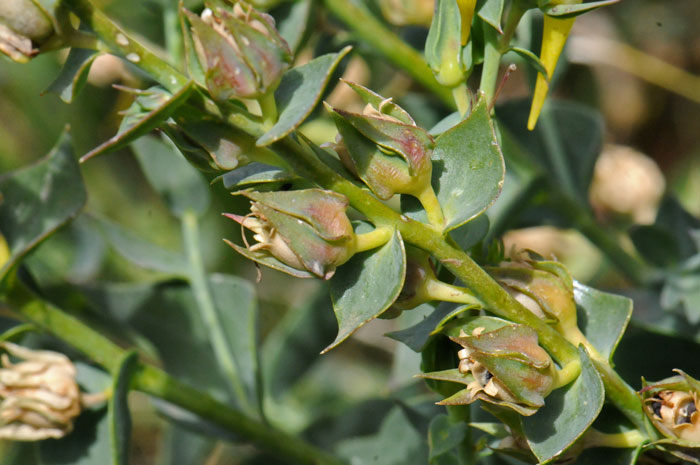 Scientific Name: Linaria vulgaris
Common Name: Yellow Toadflax
Also Called: Butter and Eggs, Butter-and-eggs, Butterandeggs, Common Toadflax, Flaxweed, Greater Jacob's Ladder, Ramsted, Wild Snapdragon, Yellow Toadflax
Family: Scrophulariaceae, Figwort or Snapdragon Family - Moving to Plantaginaceae
Synonyms: (Linaria linaria)
Status: Introduced from Eurasia.
Duration: Perennial
Size: Up to 3 feet or so.
Growth Form: Forb/herb; ascending to erect; well-developed extensive root systems, roots with vegetative buds.
Leaves: Green; densely crowed, 1 to 2 inches; linear, mostly glabrous or sparsely hairy.
Flower Color: Yellow; inflorescence a raceme; flowers with a short pedicel; corolla yellow; flowers with a relatively long spur; fruit is a capsule, seeds with broad wings.
Flowering Season: July to September.
Elevation: Up to 4,000 feet.

Habitat Preferences: Disturbed areas, waste ground, cultivated fields, roadsides; plant communities typically open or disturbed.

Recorded Range: Linaria vulgaris is an introduced species now found throughout all of North America; Yukon and Northwest Territories, New Brunswick, Newfoundland and Labrador, Nova Scotia and Greenland. In Arizona it is primarily limited in distribution to Coconino county.

North America & US County Distribution Map for Linaria vulgaris.

U.S. Weed Information: In North America Linaria vulgaris can be weedy or invasive according to the following authoritative sources: State noxious weed lists for 46 states. Weeds of the Northeast; Weeds of Nebraska and the Great Plains; Weeds of the West;. Plants included here may become weedy or invasive.

Invasive/Noxious Weed Information: In North America Linaria vulgaris is listed as a Noxious Weed by the following 7 states: Idaho, Yellow Toadflax, Noxious weed; Montana, Yellow Toadflax Category 1 Noxious weed; Nevada, Yellow Toadflax Noxious Weed; New Mexico, Yellow Toadflax Class A Noxious Weed; Oregon, Yellow Toadflax "B" designated weed; Yellow Toadflax Quarantine; South Dakota, Yellow Toadflax Regulated Non-native plant species; Washington, Yellow Toadflax Class C noxious weed; Wyoming, Yellow Toadflax Noxious weed. Plants included here are invasive or noxious.

Wetland Indicator: No information available.
Threatened/Endangered Information: No information available.

Genus Information: In North America there are 15 species and 17 accepted taxa overall for Linaria. World wide, The Plant List includes 98 accepted species names and includes a further 100 infraspecific rank for the genus.

In the Southwestern United States, Arizona has 3 species of Linaria, in California has 8 species, Nevada, New Mexico and Utah each have 2 species and Texas has 1 species. All data is approximate and subject to taxonomic changes.

Comments: Linaria vulgaris is widely naturalized across the entire North American continent. It was introduced to North America as an ornamental as early as the late 1880's and first collected in California in the 1920's.

Linaria vulgaris has been used for several purposes by North American indigenous peoples.
Iroquois Drug, Antidiarrheal, Cold infusion of leaves taken for diarrhea.
Iroquois Drug, Emetic, Infusion of plants taken to vomit as an anti-love medicine and remove bewitching.
Iroquois Drug, Love Medicine, Compound infusion of smashed plants taken to vomit as an anti-love medicine.
Iroquois Drug, Pediatric Aid, Compound infusion of plants and flowers given to babies that cry too much
Ojibwa Drug, Herbal Steam, Compound containing plant used as a bronchial inhalant in the sweat lodge.
Ojibwa Drug, Respiratory Aid, Compound containing dried plant used as a bronchial inhalant in the sweat lodge.
See ethno-botanical uses at Native American Ethnobotany, University of Michigan, Dearborn.