Keckiella antirrhinoides, Snapdragon Penstemon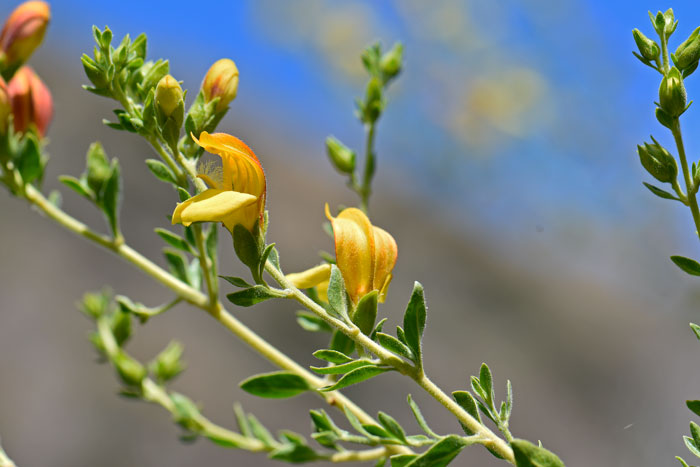 Scientific Name: Keckiella antirrhinoides
Common Name: Snapdragon Penstemon
Also Called: Bush Penstemon, Chaparral Bush-beardtongue
Family: Scrophulariaceae, Figwort or Snapdragon Family - Moving to Plantaginaceae
Synonyms: (Keckiella antirrhinoides var. microphylla, Penstemon antirrhinoides subsp. microphyllus, Penstemon microphyllus)
Status: Native
Duration: Perennial
Size: Up to 5 feet or so, usually less.
Growth Form: Shrub, subshrub; stems spreading to erect; plants canescent.
Leaves: Green; opposite in axillary clusters; leaf shape lanceolate to narrowly obovate; margins mostly entire.
Flower Color: Yellow, hairy; inflorescence finely pubescent, sparsely glandular hairy; corolla yellow, stamens exserted.
Flowering Season: March to May.
Elevation: 1,500 to 5,000 feet; 300 to 5,500 feet in California.

Habitat Preferences: Desert uplands and mountain ranges, chaparral and junipers.

Recorded Range: Keckiella antirrhinoides is relatively rare in the United States where it is found only in AZ, CA and NV. It is also native to Baja California and northern Mexico. In Arizona it occurs in the western ½ and central parts of the state and in Pima and Navajo counties as well.

North America & US County Distribution Map for Keckiella antirrhinoides.

U.S. Weed Information: No information available.
Invasive/Noxious Weed Information: No information available.
Wetland Indicator: No information available.
Threatened/Endangered Information: No information available.

Genus Information: In North America there are 7 species and 15 accepted taxa overall for Keckiella. World wide, The Plant List includes 7 accepted species names and includes a further 18 infraspecific rank for the genus.

In the Southwestern United States, Arizona has 1 species of Keckiella, California has 7 species, Nevada has 4 species and New Mexico, Texas and Utah have 0 species. All data is approximate and subject to taxonomic changes.

Comments: Keckiella antirrhinoides was a member of the genus Penstemon although it has few similarities or resemblance to other members in the genus.