Houstonia wrightii, Pygmy Bluet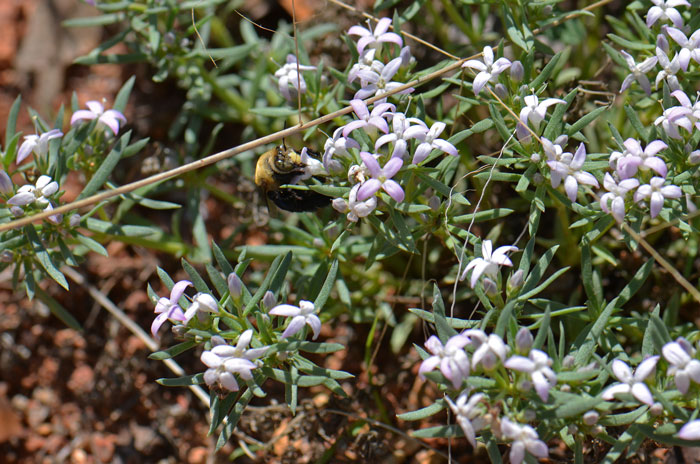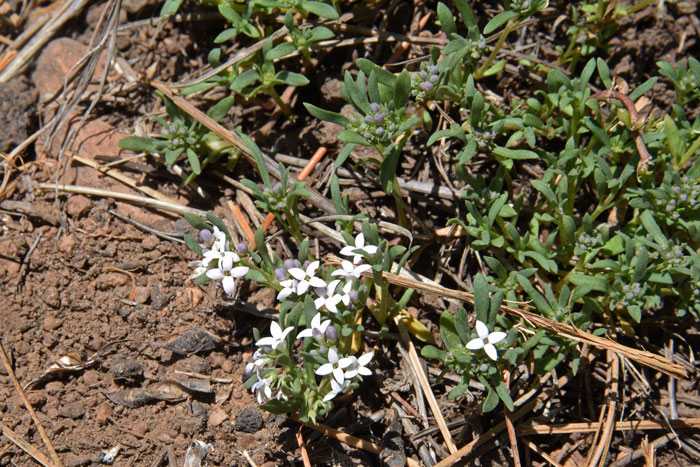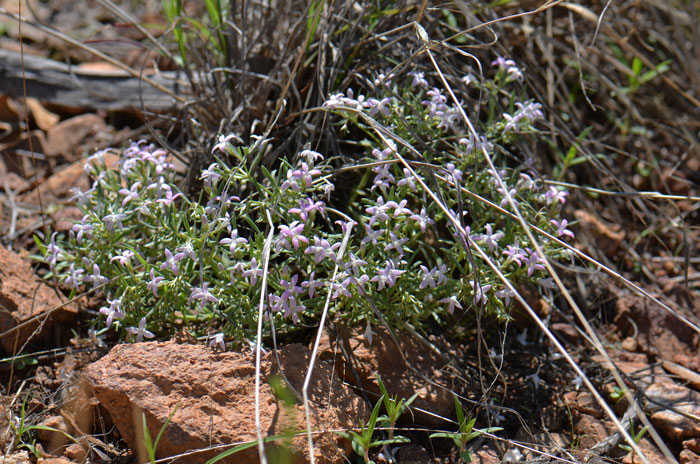 Scientific Name: Houstonia wrightii
Common Name: Pygmy Bluet
Also Called:
Family: Rubiaceae, Coffee, Madder or Bedstraw Family
Synonyms: (Hedyotis cervantesii, Hedyotis pygmaea, Hedyotis wrightii)
Status: Native
Duration: Perennial
Size: Up to 8 inches or so.
Growth Form: Forb/herb; slightly woody (suffrutescent); often tufted in appearance (caespitose); woody taproots.
Leaves: Green; slender, shape variable, linear, elliptical or oblanceolate, spreading.
Flower Color: White or pinkish; corolla shaped like a funnel funnelform or trumpet-like (salverform); inflorescence cymose.
Flowering Season: May to September; May to October in California.
Elevation: 5,000 to 8,500 feet; 3,500 to 12,000 feet in California.

Habitat Preferences: Dry mesas and slopes, among chaparral shrubs, oaks or pines and in grassy meadows.

Recorded Range: Houstonia wrightii is relatively rare in the United States. It is limited in distribution to AZ, NM, TX. Largest populations in Arizona and New Mexico. In Arizona it is found mostly in the eastern ½ of the state with few or no records in Maricopa and Pinal counties.

North America & US County Distribution Map for Houstonia wrightii.

U.S. Weed Information: No information available.
Invasive/Noxious Weed Information: No information available.

Wetland Indicator: In North America species has the following wetland designations: Arid West, FACU; Great Plains, FACU; Western Mountains, Valleys, and Coast, FACU. Arid West, FACU; Great Plains, UPL; Western Mountains, Valleys, and Coast FACU.

Threatened/Endangered Information: No information available.

Genus Information: In North America there are 18 species and 23 accepted taxa overall for Houstonia. World wide, The Plant List includes 23 accepted species names with 79 infraspecific rank for the genus.

In Arizona there are 3 species of Houstonia, in California and Nevada there are 0 species, New Mexico has 4 species, Texas has 12 species, Utah has 1 species. All data is approximate and subject to taxonomic changes.

Comments: Houstonia wrightii is not a true desert species but may be found in transitions areas. This species is also native to northern and central Mexico.

The genus Houstonia is tropical with the greatest number of species in the United States from Texas.

Houstonia wrightii has been used as a ceremonial medicine and dermatological aid by North American indigenous peoples.
Navajo, Ramah Drug, Ceremonial Medicine, Plant used as a ceremonial fumigant for 'deer infection.'
Navajo, Ramah Drug, Dermatological Aid, Cold, compound infusion of plant taken and used as lotion for poison ivy rash.
Navajo, Ramah Drug, Dermatological Aid, Dried, pulverized root used as dusting powder for sores on humans or livestock.
Navajo, Ramah Drug, Panacea, Root used as a 'life medicine.'
See ethno-botanical uses at Native American Ethnobotany, University of Michigan, Dearborn.