Ziziphus obtusifolia, Lotebush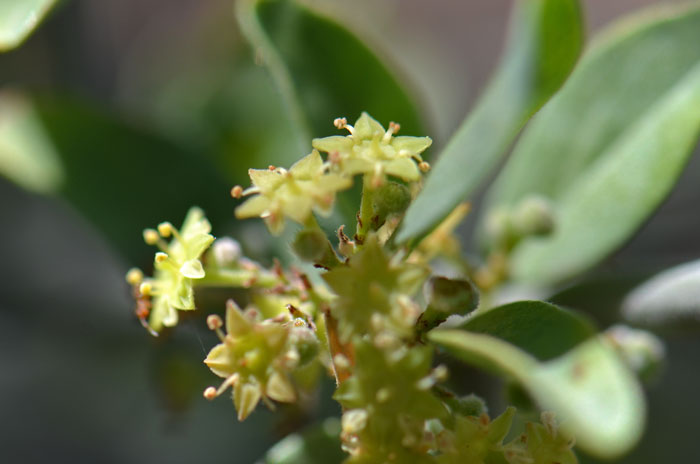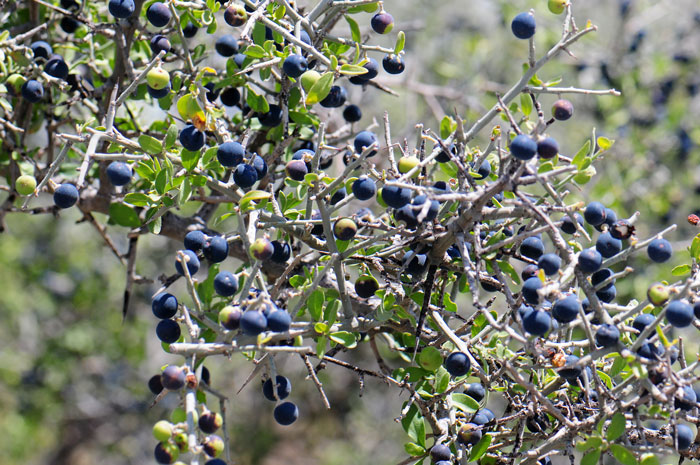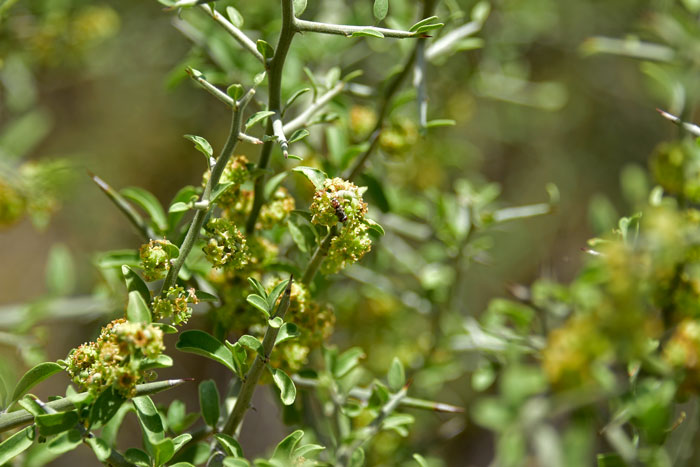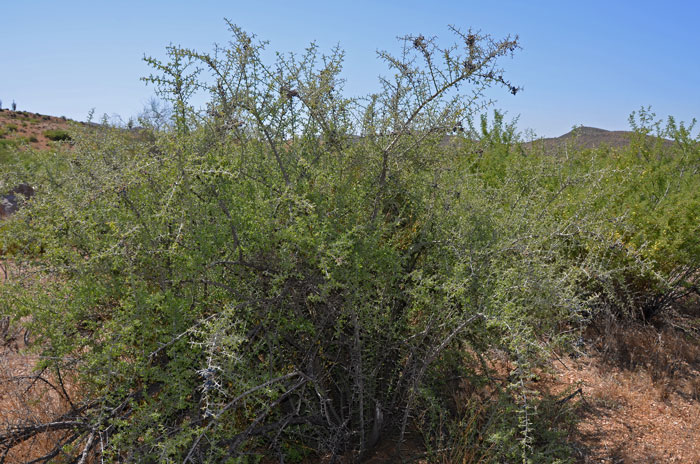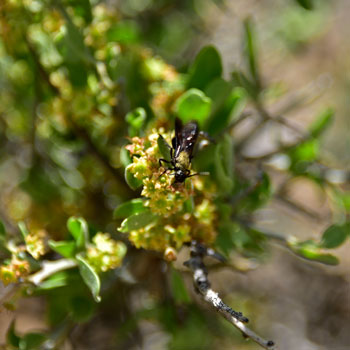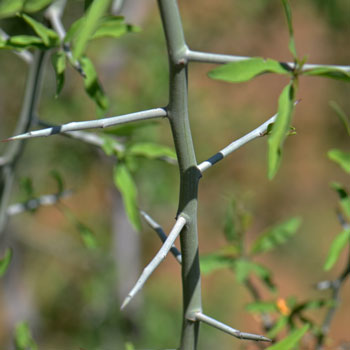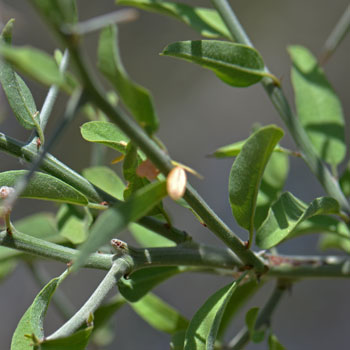 Scientific Name: Ziziphus obtusifolia
Common Name: Lotebush
Also Called: Graythorn, Gray-thorn, Gumdrop Tree, Lote Bush, Lote-bush Condalia, White Crucillo (Spanish: Barchata, Ciruela de Monte, Abrojo)
Family: Rhamnaceae or Buckthorn Family
Synonyms: ()
Status: Native
Duration: Perennial
Size: Up to 8 feet or so but usually smaller.
Growth Form: Shrub, tree; rigid, twigs gray; grayish-green thorn tipped branches; tomentose; spines stout, numerous.
Leaves: Green, pale green; tiny, alternate, deciduous, shape variable, elliptic, ovate or oblong, leaves simple; leaf margins entire or dentate; mid-vein prominent.
Flower Color: Yellow, greenish-yellow; inconspicuous; flowers in clusters of 10 to 30; flowers glabrous to tomentose; fruit globose, dark-blue at maturity,
Flowering Season: May to September; April to June in California; March to April in Texas.
Elevation: 1,000 to 5,000 feet; below 3,000 in California.

Habitat Preferences: Common on dry plains, mesas and slopes often forming thickets; California in Creosote communities; Texas along stream and river banks, Chaparral & brush country in sandy, sandy loam or clay soils.

Recorded Range: Ziziphus obtusifolia is found in the southwestern United States in AZ, CA, NM, NV, OK, TX, UT. This species is marginally in Utah and extreme southwest Oklahoma. Major populations in Arizona, California and Texas. In Arizona it is found throughout most of the state with few or no records in the northeast counties of Apache and Navajo. Mexico

North America & US County Distribution Map for Ziziphus obtusifolia.

U.S. Weed Information: No information available.
Invasive/Noxious Weed Information: No information available.
Wetland Indicator: No information available.
Threatened/Endangered Information: No information available.

Genus Information: In North America there are 10 species and 12 accepted taxa overall for Ziziphus. World wide, The Plant List includes 53 accepted species names with 27 taxa overall.

Arizona and Utah each have are 2 species of Ziziphus, California has 4 species, New Mexico and Nevada each have 1 species, Texas and Utah each have 2 species. All data is approximate and subject to taxonomic changes.

There are 2 varieties in Ziziphus obtusifolia;
Ziziphus obtusifolia var. canescens, Lotebush (AZ, CA, NM, NV, UT);
Ziziphus obtusifolia var. obtusifolia, Lotebush (AZ, NM, OK, TX).

Comments: With their small leaves and stiff armament Ziziphus obtusifolia is seldom browsed by deer or livestock. The dense thickets formed by this species provides wonderful nesting and resting protection for birds, small mammals and lizards. Birds readily feed on the small insipid dark-blue fruits and insects feed on the nectar. The type for Ziziphus obtusifolia (=Condalia obtusifolia var. canescens) from the Gila River Valley (Rothrock 331).

Ziziphus obtusifolia has been used for a variety of purposes by many North American indigenous peoples.
Papago Food, Sauce & Relish, Fruits boiled to a syrup and used for food.
Pima Drug, Eye Medicine, Decoction of pounded root used as a wash for sore eyes.
Yavapai Food, Beverage, Mashed berries added to water and use as a drink.
Apache Other, Soap, Root used for washing the hair.
Havasupai Other, Tools,Branch used to make a planting stick.
Maricopa Food, Dried Food, Berries dried and stored, to be soaked in hot water and used later.
Mohave and Maricopa Food, Fruit, Fruits mashed into a concoction and eaten.
Pima Drug, Antirheumatic (External), Thorns used to prick the skin over rheumatic pains.
See ethno-botanical uses at Native American Ethnobotany, University of Michigan, Dearborn.