Ceanothus fendleri, Fendler's Ceanothus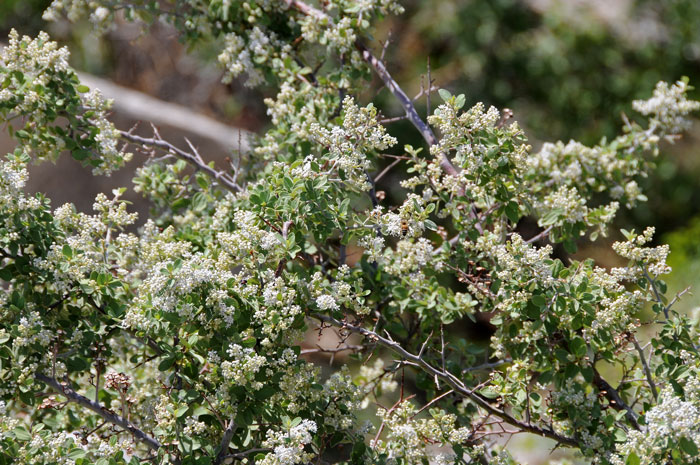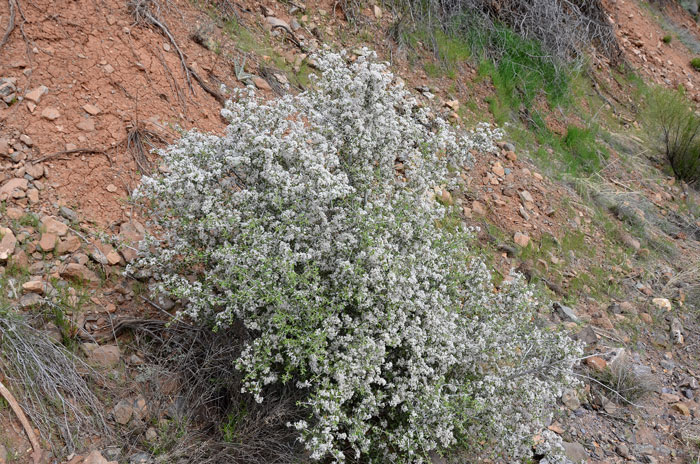 Scientific Name: Ceanothus fendleri
Common Name: Fendler's Ceanothus
Also Called: Buck-brush, Deer-brier, Fendler Ceanothus, Fendler's Buckbrush
Family: Rhamnaceae or Buckthorn Family
Synonyms: (Ceanothus fendleri var. venosus, Ceanothus fendleri var. viridis, Ceanothus subsericeus)
Status: Native
Duration: Perennial
Size: Up to 3 feet tall, usually much shorter especially in higher altitudes.
Growth Form: Shrub; thorny, thorns up to 2 inches; stems low, spreading to erect; branches greenish-brown, bluish-gray or gray, bark smooth, evergreen.
Leaves: Green, greenish-gray, bluish-gray; alternate, leaves oblanceolate to oblong, obtuse; palmately veined, 3-veined, margin entire, dark green above (adaxial), light green or whitish below (abaxial), leaves pubescent to glabrous.
Flower Color: White to light green; flowers in clusters 3 or 10; axillary or terminal.
Flowering Season: April to October; June to July in Texas.
Elevation: 4,000 to 10,000 feet.

Habitat Preferences: Dry rocky soils, foothills, rocky mountain slopes, mid to upper Sonoran Desert habitats where it may form low thickets, upward into Pine forests.

Recorded Range: Fendler's Ceanothus is found mostly in the southwestern United States in; AZ, CO, NM, SD, TX, UT, WY. It is also native to northern Mexico. The Four Corners region of UT, CO, AZ, NM appears to be the center of highest populations. In Arizona it is found in the northern and southern parts of the state above 4,000 feet.

North America & US County Distribution Map for Ceanothus fendleri.

U.S. Weed Information: No information available.
Invasive/Noxious Weed Information: No information available.
Wetland Indicator: No information available.
Threatened/Endangered Information: No information available.

Genus Information: In North America there are 64 species and 87 accepted taxa overall for Ceanothus. World wide, The Plant List includes 62 accepted species names with 132 taxa overall.

In Arizona, New Mexico, Texas and Utah there are 4 species of Ceanothus, in California there are 45 species, Nevada has 5 species. All data is approximate and subject to taxonomic changes.

Comments: Fendler's Ceanothus, or Buck-brush or Deer-brier as it is also know, has important value as browse for deer and livestock. The plants and flowers are important to bees and moths.

In Southwest Desert Flora also see; Desert Ceanothus, Ceanothus greggii and Ceanothus Deerbrush, Ceanothus integerrimus.

Ceanothus fendleri has been used for various purposes by North American indigenous peoples.
Acoma Food, Fruit, Berries sweetened with sugar and used for food.
Keres, Western Drug, Oral Aid, Leaves chewed for sore mouth.
Laguna Food, Fruit, Berries sweetened with sugar and used for food.
Navajo Drug, Sedative, Compound infusion taken and poultice of plants applied for nervousness.
Navajo, Ramah Drug, Ceremonial Medicine, Leaves and stems used as an emetic in various ceremonies.

See ethno-botanical uses at Native American Ethnobotany, University of Michigan, Dearborn.