Eriogonum trichopes, Little Deserttrumpet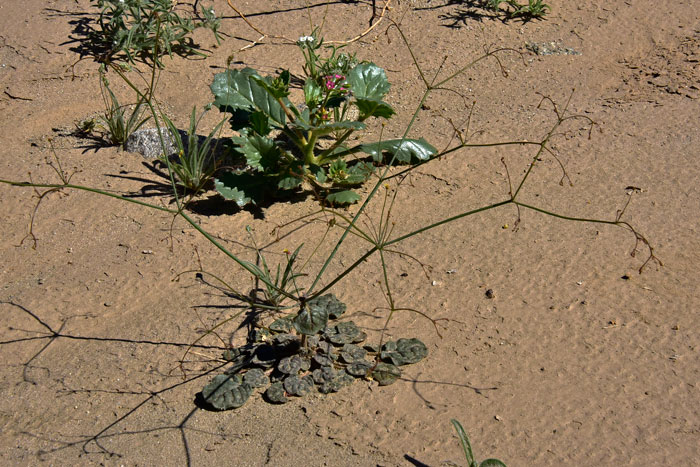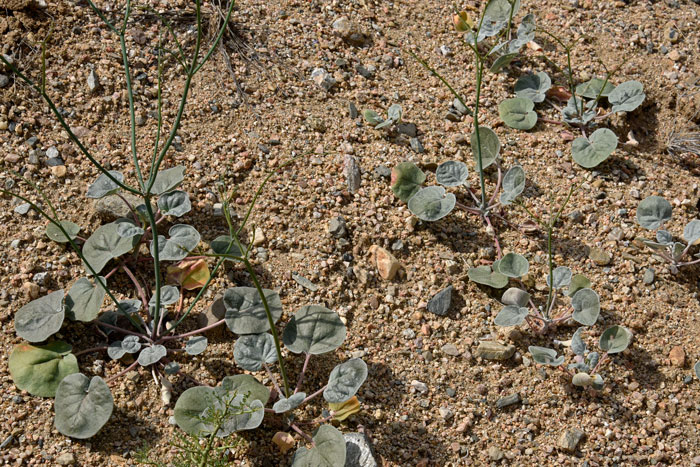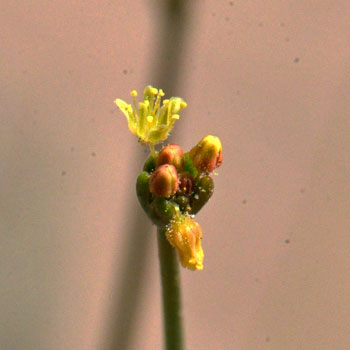 Scientific Name: Eriogonum trichopes
Common Name: Little Deserttrumpet
Also Called: Little Desert Trumpet, Skeleton Weed, Yellow Trumpet
Family: Polygonaceae, Buckwheat Family
Synonyms: (Eriogonum trichopodum var. minus)
Status: Native
Duration: Annual
Size: Up to 16 or more (23").
Growth Form: Forb/herb; spreading to somewhat erect; glabrous and often glaucous, yellow-green; aerial flowering stems erect.
Leaves: Green; basal, shape variable, oblong to reniform, leaves with petioles leaf margins slightly undulating, leaves smooth or thinly hairy; both leaf surfaces short-hirsute.
Flower Color: Yellow to greenish yellow with greenish to reddish midribs; inflorescence cyme-like; flowers coarsely white-hairy, sepals and petals collectively referred to as a perianth; stamens exserted; peduncles are mostly erect; fruit smooth.
Flowering Season: Flowering almost throughout the year; April to August in California.
Elevation: Up to 4,000 feet.

Habitat Preferences: Common on the deserts and low hills, slopes, clay, sand or gravel flats and washes.

Recorded Range: Eriogonum trichopes is found in the southwestern United States in; AZ, CA, NV, NM, UT. In Arizona it occurs throughout most of the state but few or no records in the northeast corner of the state. Eriogonum trichopes is also native to Baja California and northwest Mexico.

North America & US County Distribution Map for Eriogonum trichopes.

U.S. Weed Information: No information available.
Invasive/Noxious Weed Information: No information available.
Wetland Indicator: No information available.
Threatened/Endangered Information: No information available.

Genus Information: Eriogonum is found throughout North America with approximately 230 species and 446 accepted taxa overall. World-wide, The Plant List identifies 255 species in Eriogonum.

Eriogonum is found throughout Arizona and entire southwest with 58 species in Arizona, 115 species in California, 36 species in New Mexico, 79 species in Nevada and 67 species in California. All data is approximate and subject to taxonomic changes.

The genus Eriogonum is well represented in the southwest and in Arizona both for species numbers and individual populations.

There are 2 varieties in Eriogonum trichopes;
Eriogonum trichopes var. hooveri, Hoover's Deserttrumpet (CA);
Eriogonum trichopes var. trichopes, Little Deserttrumpet (AZ, CA, NM, NV, UT)

Comments: Little Deserttrumpet may be found in almost pure stands. This species looks similar to Desert Trumpet but Little Deserttrumpet has many hair-like branches of the inflorescence, with very small, few-flowered involucre are distinctive.

Various species of Eriogonum play host to the larvae (caterpillar) of several butterflies including the Mormon Metalmark butterfly (Apodemia mormo), the Rocky Mountain dotted-blue (Euphilotes ancilla) and the Lupine Blue (Aricia lupini).

In Southwest Desert Flora also see Abert's Buckwheat, Eriogonum abertianum, Skeleton Weed, Eriogonum deflexum, Flat-top Buckwheat, Eriogonum fasciculatum, Desert Trumpet, Eriogonum inflatum, Sulphur-flower Buckwheat, Eriogonum umbellatum and Wright Buckwheat, Eriogonum wrightii.