Oxalis corniculata, Creeping Woodsorrel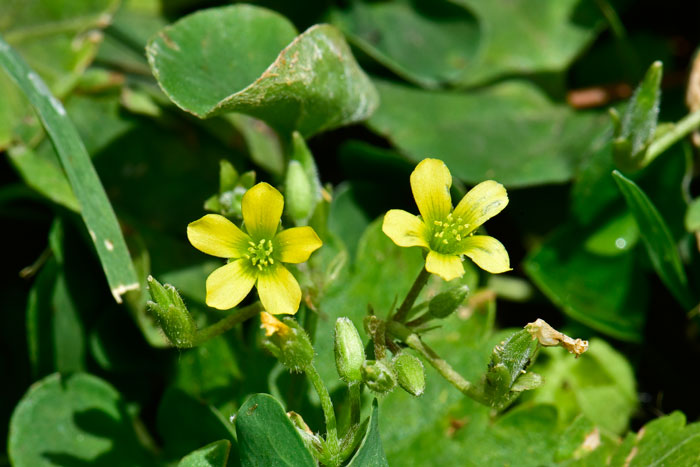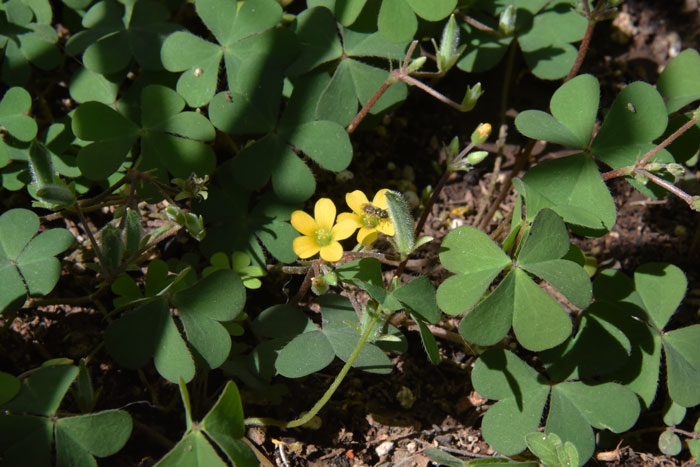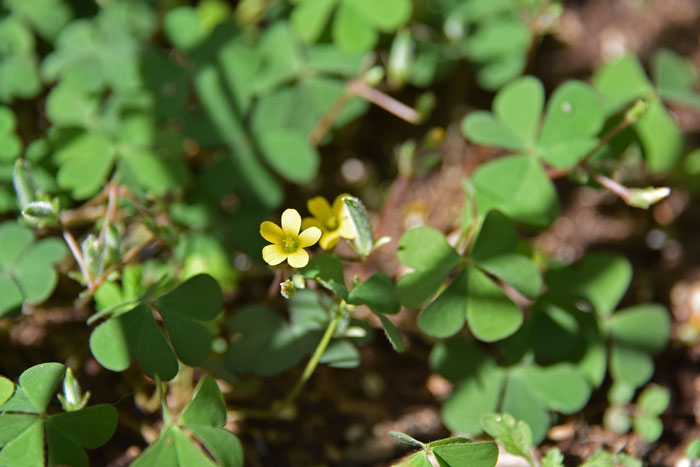 Scientific Name: Oxalis corniculata
Common Name: Creeping Woodsorrel
Also Called: Creeping Oxalis, Creeping Woods, 'Ihi, Oxalis, Procumbent Yellow-sorrel, Sleeping Beauty, Wood Sorrel, Yellow Oxalis, Yellow Wood Sorrel (Spanish: Saladita)
Family: Oxalidaceae, Wood-Sorrel Family
Synonyms: (Acetosella corniculata, Oxalis corniculata var. atropurpurea, O. corniculata var. langloisii, O. corniculata var. lupulina, O. corniculata var. macrophylla, O. corniculata var. minor, O. corniculata var. reptans, O. corniculata var. villosa, O. corniculata var. viscidula, O. langloisii, O. pusilla, O. repens, O. villosa, X. corniculata, X. corniculata var. atropurpurea, X. langloisii, X. repens)
Status: Naturalized in the United States; from Europe.
Duration: Annual, perennial (taproot).
Size: Up to 11 inches more or less but mostly low-growing herbaceous herb.
Growth Form: Forb/herb, delicate, light pubescence, stems creeping, rooting at nodes.
Leaves: Green, purple or maroon, clover-like leaves into 3 rounded leaflets, (trifoliolate or trifoliate) leaves with petiole with inconspicuous stipules.
Flower Color: Yellow, small, 5 petals and 5 sepals; inflorescence with 2 to 5 flowers, short pedicel; fruit a narrow cylindrical capsule, seeds discharge explosively at maturity.
Flowering Season: Throughout the year with sufficient water.
Elevation: Up to 6, 000 feet.

Habitat Preferences: Common in yards, gardens and damp open areas.

Recorded Range: Creeping Woodsorrel is found throughout most of the United States and Canada.
In Arizona, Oxalis corniculata is found in the northeast in Apache county, in the central parts of the state in Gila and Maricopa counties and in the southern parts of the state in Pima and Santa Cruz counties.
North America & US County Distribution Map for Oxalis corniculata.
U.S. Weed Information: Oxalis corniculata is listed in: Weeds of the West. Plants included here may become weedy or invasive.

Invasive/Noxious Weed Information: No information available.

Wetland Indicator: In North America Oxalis corniculata has the following wetland designations; Alaska, FACU; Arid West, FACU; Atlantic and Gulf Coastal Plain, UPL; Eastern Mountains and Piedmont, FACU; Great Plains,n FACU; Midwest, FACU; Northcentral " Northeast, FACU and Western Mountains, Valleys, and Coast, FACU.
FACU = Facultative Upland, usually occur in non-wetlands, but may occur in wetlands
UPL = Obligate Upland, almost never occur in wetlands.

Threatened/Endangered Information: No information available.
Genus Information: The Plant List includes 1,761 scientific plant names of species rank for the genus Oxalis. Of these 504 are accepted species names.
37 species in Oxalis in North America; 11 species in Arizona and New Mexico, 13 species in California and 12 species in Texas.
Comments: Creeping Woodsorrel can readily become a weed in home gardens, agricultural fields and lawns.
Creeping Woodsorrel is similar to Common Yellow Oxalis, Oxalis stricta. However, stems on Common Yellow Oxalis are mostly prostrate.
In Southwestern Desert Flora also see Alpine Woodsorrel, Oxalis alpina.
Creeping Woodsorrel is used as a drug by North American indigenous peoples; by the Cherokee as a anti-emetic, blood medicine, cancer treatment and throat aid; by the Iroquois for food as a vegetable and by the Menominee for making yellow dye. See ethno-botanical uses at Native American Ethnobotany, University of Michigan, Dearborn.