Malva parviflora, Cheeseweed Mallow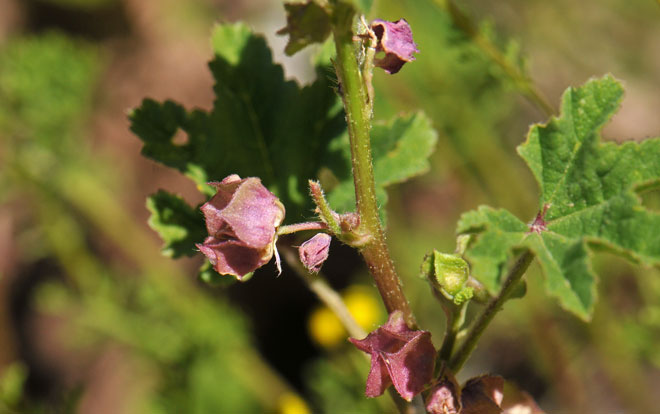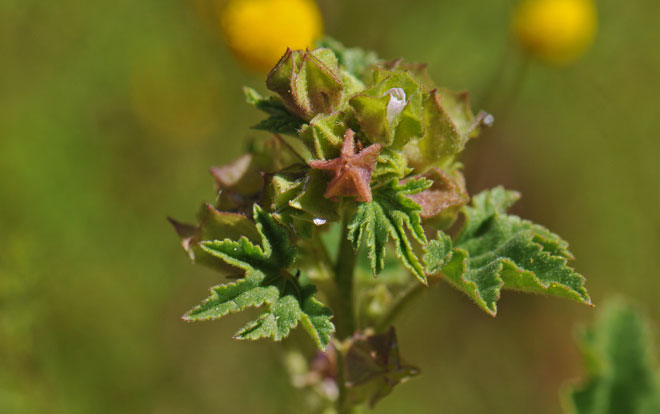 Scientific Name: Malva parviflora
Common Name: Cheeseweed Mallow
Also Called: Egyptian Mallow, Least Mallow, Little Mallow, Mallow, Marshmallow, Small-flowered Mallow, Smallflower Mallow, Small-flowered Marshmallow
Family: Malvaceae, Globe Mallow Family
Synonyms: ()
Status: Native
Duration: Annual, biennial or perennial.;
Size: Up to 2 ½ feet tall.
Growth Form: Forb/herb; erect, multiple branching, stellate hairs on new growth turning glabrous.
Leaves: Green; 5 or more lobes, margins crenate.
Flower Color: Pink or whitish-pink; 2 or more small flowers from axils, petals 5, not more than 6mm long (Malva neglecta petals are 7 to 15 mm long), petals glabrous, fruit with numerous segments resembling a miniature wheel of cheese.
Flowering Season: March to September, often year-round.
Elevation: Up to 5,000 feet.

Habitat Preferences: Common field weed, crop fields, gardens, urban areas, roadsides and other disturbed areas.

Recorded Range: Cheeseweed Mallow is a widespread weed found throughout much of the United States with fewer populations east of the Mississippi River; populations throughout all of Canada. Native to North Africa, Europe and Asia. Also introduced in Baja California and northern Mexico.

North America & US County Distribution Map for Malva parviflora.

U.S. Weed Information: No information available.
Invasive/Noxious Weed Information: No information available.
Wetland Indicator: No information available.
Threatened/Endangered Information: No information available.

Genus Information: 10 species in Malva throughout North America. All species are non-native. 3 species in Arizona, 7 species in California 5 species in New Mexico.

The Plant List includes 365 scientific plant names of species rank for the genus Malva. Of these 29 are accepted species names.

Comments: Both Cheeseweed and Common Mallow are widespread and naturalized throughout the southwest and elsewhere.

In Southwest Desert Flora also see Common Mallow, Malva neglecta.

Malva parviflora is used as a dermatological and external antirheumatic aid by indigenous peoples. See ethno-botanical uses at Native American Ethnobotany, University of Michigan, Dearborn.