Nothoscordum bivalve, Crow Poison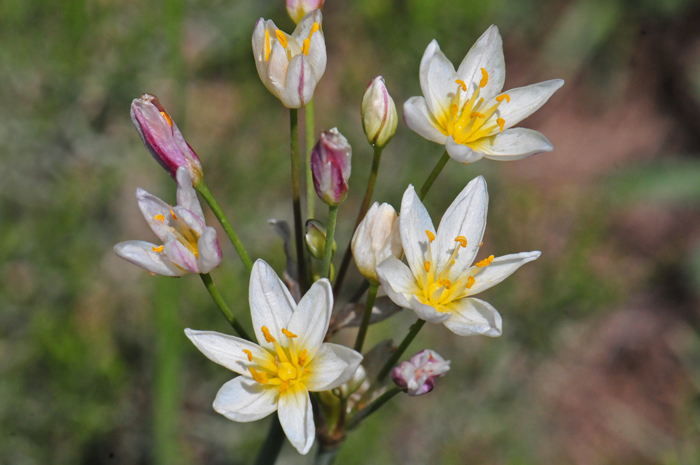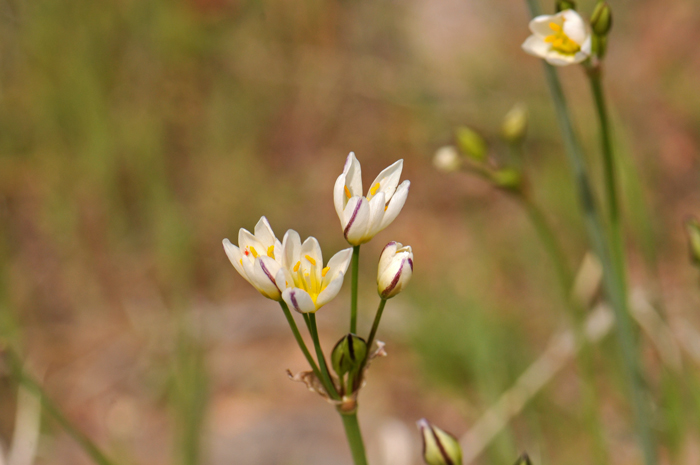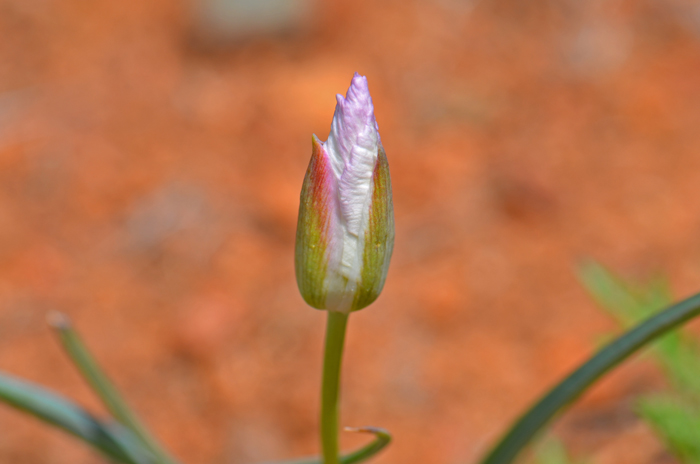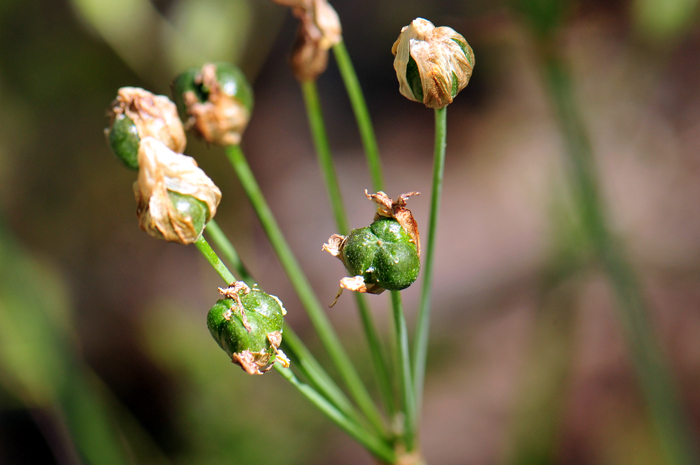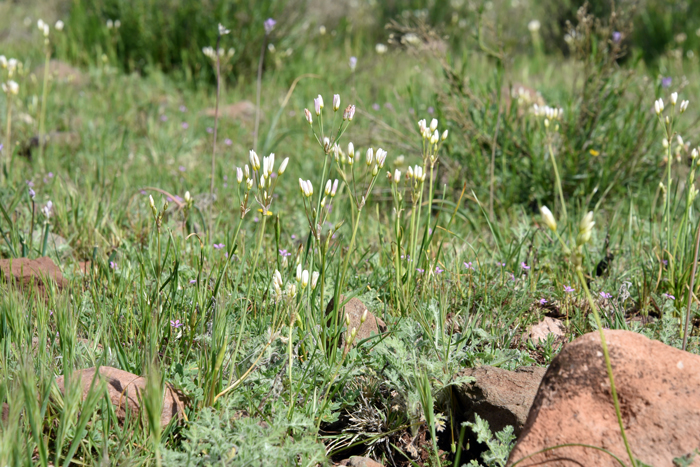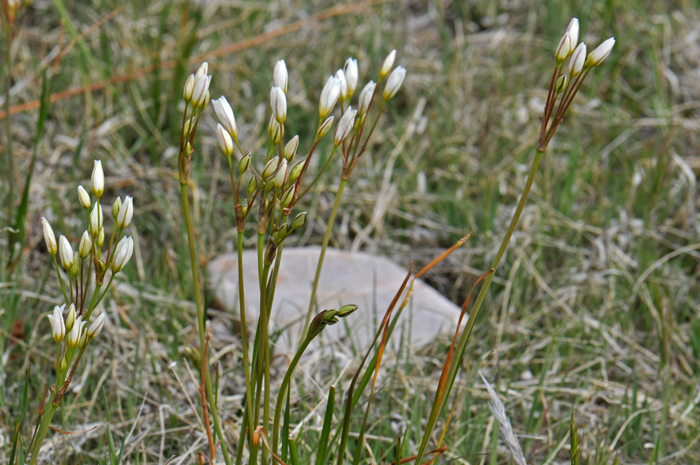 Scientific Name: Nothoscordum bivalve
Common Name: Crow Poison

Also Called: False Garlic

Family: Liliaceae or Lily Family

Synonyms: (Ornithogalum bivalve, Allium bivalve, Allium striatum, Nothoscordum striatum)

Status: Native

Duration: Perennial

Size: 4 to 16 inches tall (10 - 40 cm).

Growth Form: Forb/herb; early spring flower; bulbs globose to sub-globose; coats brown, bulblets absent; erect stem or scape solitary, terete.

Leaves: Green; leaves 1 to 4, sheaths enveloping the neck of the bulb.

Flower Color: White, inflorescence a solitary umbel, 3 to 6 or 10 flowers on stalks, flowers about 1/2 inch across; 6 tepals whitish to cream, outer ones with red or purplish red midvein, anthers yellow; somewhat or not at all fragrant; fruit a three-lobed capsule, sub-globose or obovoid; seeds 4–7 per chamber.

Flowering Season: March or April to May or June and later.

Elevation: 4,000 to 6,000 feet (1,219 to 1,828 m)

Habitat Preferences: Hillsides and plains an in shallow, various soils, sandy-, gravelly-, hard- and clay, soils not too dry or too wet, parks and roadsides, open woods, open areas and prairies.

Recorded Range: Nothoscordum bivalve is native to the southern United States from Arizona to Virginia, south to Mexico and to South America including Peru, Uruguay, northeastern Argentina and central Chile.

North America & US County Distribution Map for Nothoscordum bivalve.

U.S. Weed Information: No information available.
Invasive/Noxious Weed Information: No information available.

Wetland Indicator: In North America Nothoscordum bivalve has the following wetland designations: Arid West, FACU; Atlantic and Gulf Coastal Plain, FACU; Eastern Mountains and Piedmont, FACU; Great Plains, FACU; Midwest, FACU; Western Mountains, Valleys, and Coast, FACU.
FACU = Facultative Upland, usually occur in non-wetlands, but may occur in wetlands

Threatened/Endangered Information: In North America Nothoscordum bivalve is listed by the U.S. federal government or a state: - Indiana, crow-poison, listed as "Rare" - Ohio, false garlic, listed as "Threatened".

Genus Information: In North America there are 2 native and 3 non-native species and 4 accepted taxa overall for Nothoscordum. Worldwide, The Plant List includes 89 accepted species names and a further 32 scientific names of infraspecific rank for the genus.

In the Southwestern United States: Arizona has 2 native species of Nothoscordum, California has 0 native species (3 non-native), Nevada has 0 native species, New Mexico has 2 native species, Texas has 2 native species, Utah has 0 species. All data approximate and subject to revision.

Comments: The genus Nothoscordum is very similar to Allium but it has more than 2 ovules in each cell of the ovary and also in the absence of an onion like odor. Arizona's type species for Nothoscordum bivalve was collected by Jones in 1930 in Cochise County, Arizona near Rodeo, New Mexico.

Importance to Wildlife and Livestock

In south Texas, Nothoscordum bivalve, Crow Poison has low value for large mammals making up less than 5-10% of their diet. The same research indicates this species is infrequently used as cover.

Etymology:

The genus Nothoscordum is from the Greek words "nothos" meaning false and "skordon" meaning garlic, a common name is False Garlic. The genus Nothoscordum was published by Karl Sigismund Kunth in 1843. The species epithet "bivalve" meaning two valves.

Ethnobotany

Unknown.