Allium campanulatum, Dusky Onion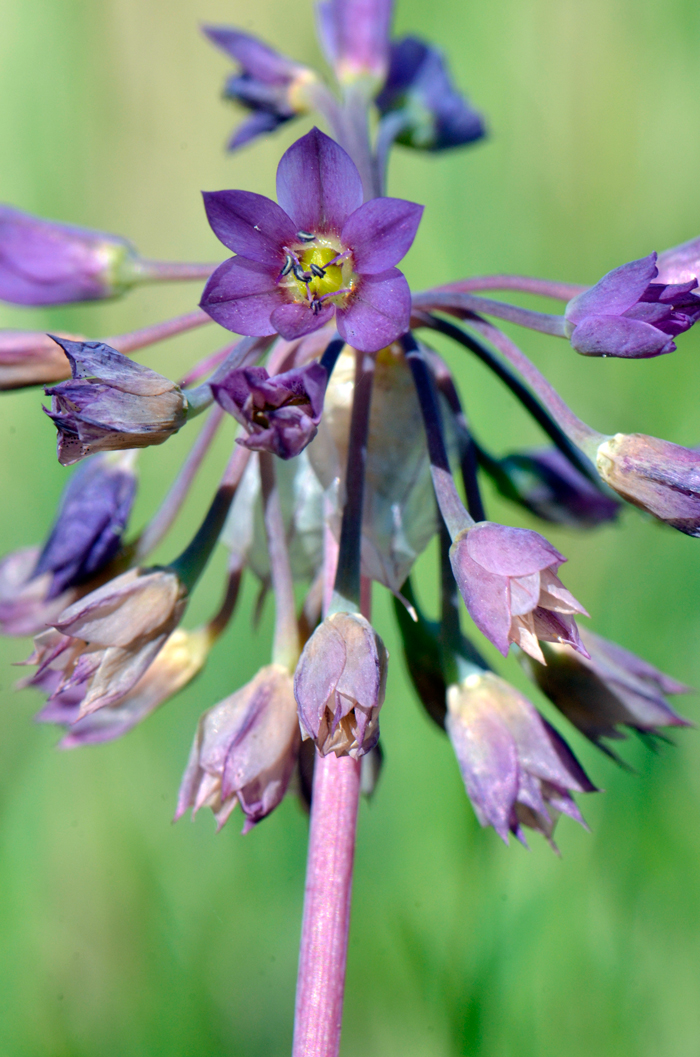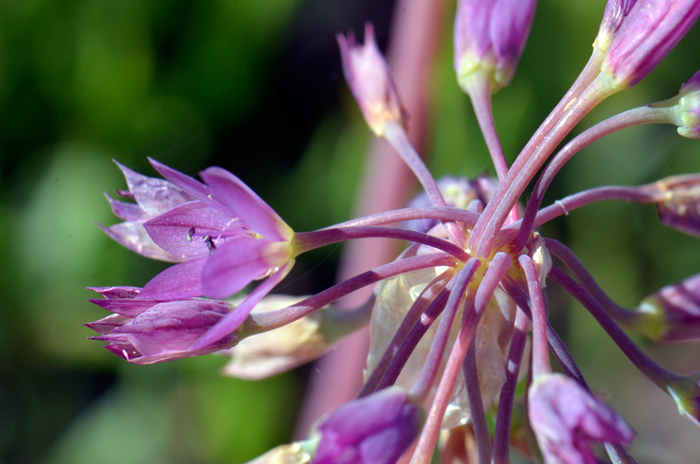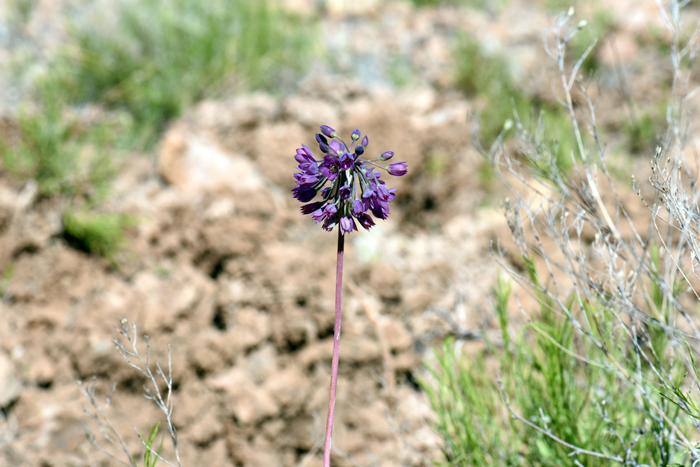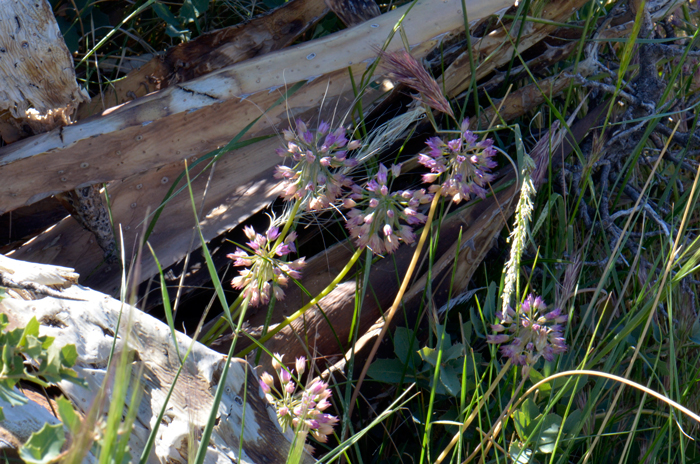 Scientific Name: Allium campanulatum
Common Name: Dusky Onion

Also Called: Rosy Sierra Onion, Sierra Onion

Family: Liliaceae or Lily Family

Synonyms: (Allium austinae, Allium austini, A. bidwelliae, A. campanulatum var. bidwelliae)

Status: Native

Duration: Perennial

Size: 4 to 12 inches (10 to 30 cm)

Growth Form: Wild onion; gray-brown bulbs, 1 to 3 bulbs, may produce small rhizomes and produce small bulb lets; erect on a stout stem.

Leaves: Green; usually 2 thin leaves persistent, withering from tip by flowering.

Flower Color: Rose, pink or light or dark purple, rarely white; flowering stem (inflorescence) an umbel with 10 to 50 flowers; tepals vary in shape from narrow and very pointy to spade-shaped and each tepal has a dark colored base; purple anthers and yellow pollen; seeds shiny black and pitted.

Flowering Season: May or June through August; June to July in Washington

Elevation: 2,000 to 8,530 feet; (609 to 2600 m)

Habitat Preferences: Rocky, thin or sandy soils, foothills, mountains, particularly in dry areas including chaparral and woodland habitats; and on open or shaded slopes; plant communities include Pinyon-Juniper Woodland, Yellow Pine Forest, Red Fir Forest.

Recorded Range: Western United States from southeastern Washington and northern Oregon to southern California, and western Nevada. (CA, NV, OR, WA) Plants in photos above from central Arizona.

North America & US County Distribution Map for Allium campanulatum.

U.S. Weed Information: No information available.
Invasive/Noxious Weed Information: No information available.
Wetland Indicator: No information available.

Threatened/Endangered Information: Allium campanulatum status is "State Threatened" in Washington, the Bureau of Land Management and the United States Forest Service listed this species as "Sensitive"; Rank G4, S1

Genus Information: In North America there are 112 species and 104 accepted taxa overall for Allium. Worldwide, The Plant List includes 918 accepted species names and a further 799 scientific names of infraspecific rank for the genus.

In the Southwestern United States: Arizona has 12 species of genus, California has 55 species, Nevada has 16 species, New Mexico has 12 species, Texas has 14 species, Utah has 13 species. All data approximate and subject to revision.

Comments: Allium campanulatum has not yet been recorded in Arizona. The photographs above were taken in central Arizona and may be of another species which has not yet been classified. Please contact me if you have a different identification for this plant

Special Value to Native Bees, Butterflies and Insects

∗ The information below is provide by the California Native Plant Society, Calscape, Restore Nature, One Garden at a Time.
∗ 17 species likely including the following 8 species.
Alfalfa Looper Moth, Autographa californica
Armyworm Moth, Mythimna unipuncta
Subterranean Dart, Feltia subterranean
Ipsilon Dart, Agrotis ipsilon
Western Yellowstriped Armyworm, Spodoptera praefica
Salt Marsh Moth or Acrea Moth, Estigmene acrea
Virginian Tiger Moth, Spilosoma virginica
Fruit-Tree Leafroller Moth, Archips argyrospila

Etymology:

The genus Allium is directly from the Latin word for "garlic". Carl Linnaeus published the genus Allium in 1753. The species epithet "campanulatum" is the diminutive form of the Latin words campanulata/campanulatum and campanulatus which means "bell" or bell-shaped, a reference to the shape of the flowers.

Ethnobotany

Many Allium species have been harvested through human history, but only about a dozen are still economically important today as crops or garden vegetables.