Hyptis (=Condea) emoryi, Desert Lavender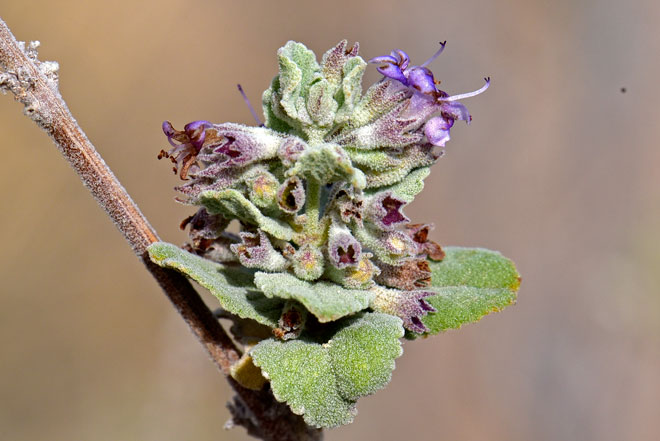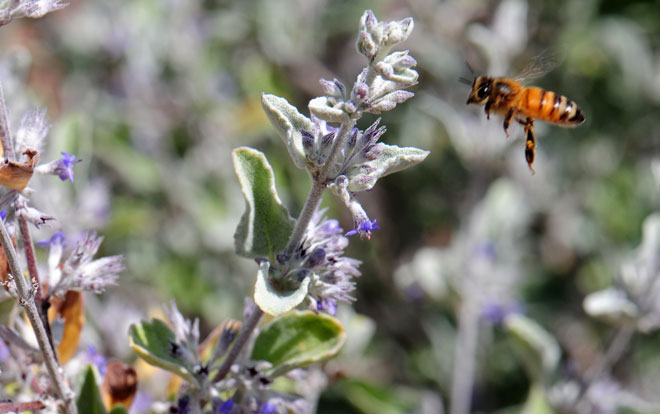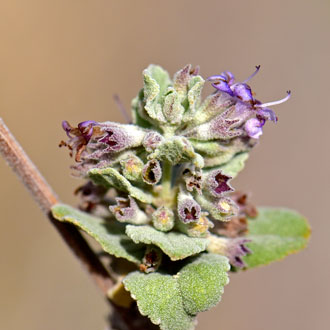 Scientific Name: Hyptis emoryi
Common Name: Desert Lavender
Also Called: Spanish: Salvia, Salvia del Sesierto, Lavanda
Family: Lamiaceae or Mint Family
Synonyms: (Condea emoryi)
Status: Native
Duration: Perennial
Size: Up to 9 feet or more under ideal conditions.
Growth Form: Shrub; spreading to erect, multiple stems.
Leaves: Green or grayish-green or whitish gray-green, canescent; leaves ovate with petioles, margins crenate (see photos above), cold deciduous.
Flower Color: Violet; flowers in axils, fruit a nutlet.
Flowering Season: January to December at lower elevations.

Elevation: Up to 5,000 feet in Arizona, lower elevations in California, up to 3,500 feet.

Habitat Preferences: Dry rocky slopes, canyons, sandy washes in desert scrub.

Recorded Range: Desert Lavender is relatively rare in the United States where it is found only in the central and western half of AZ, southeast CA and extreme southeast NV. It is also native to Baja California and northwest Mexico.

North America & US County Distribution Map for Hyptis emoryi.

U.S. Weed Information: No information available.
Invasive/Noxious Weed Information: No information available.
Wetland Indicator: No information available.
Threatened/Endangered Information: No information available.

Genus Information: 12 species in Hyptis in the southwest and southern United States. 1 species in Arizona, California and Texas.

The Plant List includes 581 scientific plant names of species rank for the genus Hyptis. Of these 292 are accepted species names. (an updated list is pending).

Comments: The flowers of Desert Lavender are an important nectar source for desert honeybees during their major spring blooms. Desert Lavender is drought tolerant and readily available as a desert or mid-elevation land species.

The type species for Hyptis emoryi is from the lower Gila River.

Ethnobotany

Desert Lavender has been used by southwestern United States indigenous peoples. See complete listing of ethno-botanical uses at Native American Ethnobotany, University of Michigan, Dearborn.