Erodium texanum, Texas Stork's Bill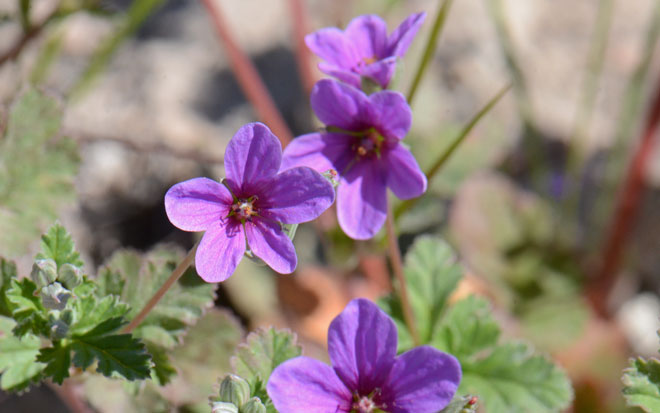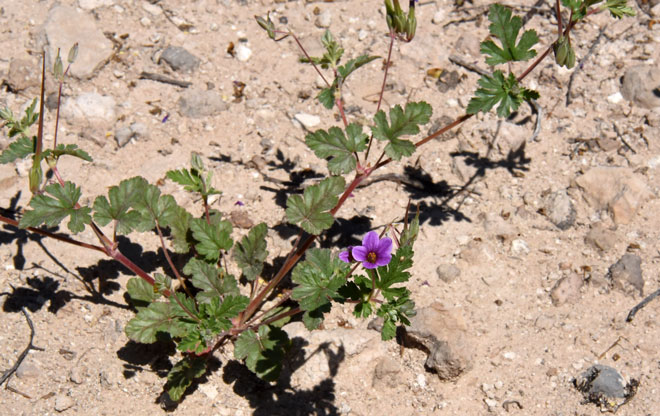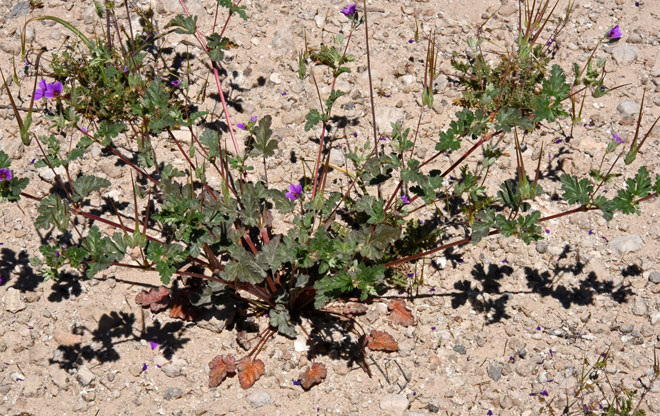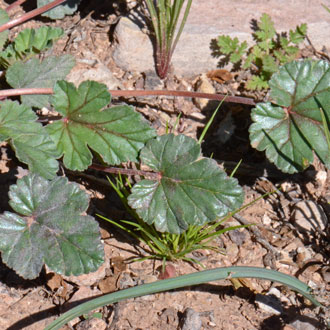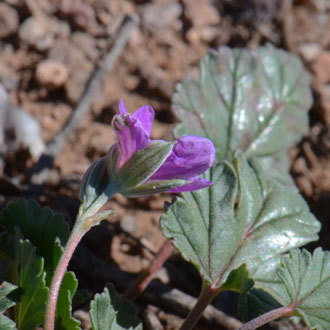 Scientific Name: Erodium texanum
Common Name: Texas Stork's Bill
Also Called: Bull Filaree, Desert Storksbill, False Filaree, Heron Bill, Large-flowered Stork's Bill, Texas Filaree, Texas Fillarie, Tufted Filaree (Spanish: Alfilerilla)
Family: Geraniaceae, Cranesbill or Storksbill Family
Synonyms: ()
Status: Native
Duration: Annual or biennial.
Size: Up to 20 inches, usually less.
Growth Form: Forb/herb; prostrate to ascending canescent
Leaves: Green; first years growth a basal rosette, simple, cordate with shallow lobes.
Flower Color: Purple, lavender; petal unequal, fruit glabrous, looks like a heron or stork's bill.
Flowering Season: February to April; California, March to May; Texas March to April.
Elevation: 1,000 to 4,500 feet.

Habitat Preferences: Plains, mesas, in California in dry open sites and in Texas in prairies and open lime areas.

Recorded Range: Erodium texanum is found in the United States in: AZ, CA, MO, NM, NV, OK, SC, TX and UT. Populations in MO and SC likely not native.

North America & US County Distribution Map for Erodium texanum.

U.S. Weed Information: No information available.
Invasive/Noxious Weed Information: No information available.
Wetland Indicator: No information available.
Threatened/Endangered Information: No information available.

Genus Information: 13 species in Erodium in throughout North America. 2 Native and 1 non-native species in Arizona.

The Plant List includes 420 scientific plant names of species rank for the genus Erodium. Of these 128 are accepted species names.

Comments: A North American native, Erodium texanum, Texas Stork's Bill, is similar in appearance to Redstem Stork's Bill Erodium cicutarium but not nearly as common and Texas Stork's Bill does not bloom in large numbers every year. Conditions for good spring blooms are not fully understood but likely tied, at least in part, to winter rainfall.