Vicia americana, American Deervetch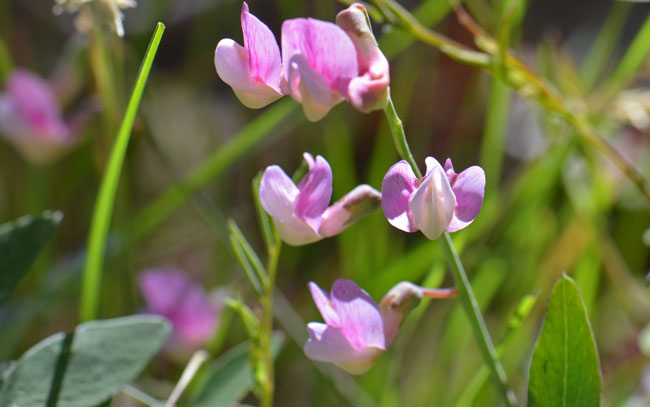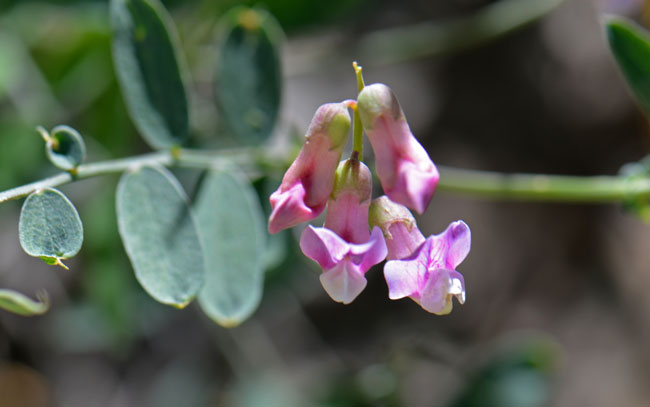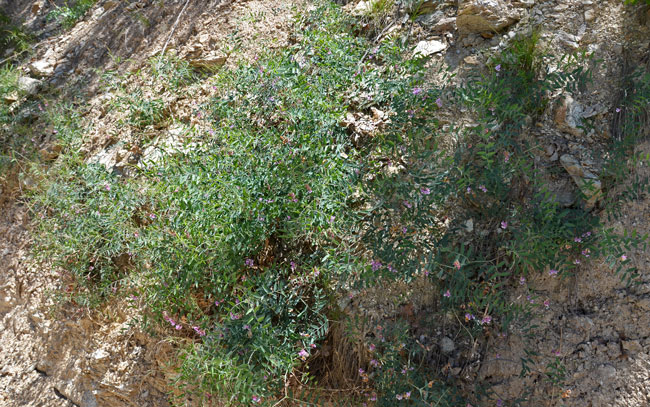 Scientific Name: Vicia americana
Common Name: American Deervetch
Also Called: American Vetch
Family: Fabaceae or Leguminosae Family
Synonyms: ()
Status: Native
Duration: Perennial
Size: Up to 30 inches with assistance from neighboring plants.
Growth Form: Forb/herb, vine, hairy or without pubescence, stems single, short and erect or spreading, branches slender, climbs over nearby vegetation.
Leaves: Green; compound, variable, elliptic to narrowly oblong, toothed.
Flower Color: Blue-purple, pinkish-purple, reddish-lavender to lavender; pea-like flowers (up to 10) from leaf axils, fruit a legume.
Flowering Season: May to September, earlier and shorter season in California blooming from April to June; and shorter in Texas where it blooms from May to July.
Elevation: 5,000 to 10,000 feet.

Habitat Preferences: Open moist areas, disturbed areas and along streams.

Recorded Range: American Deervetch is found throughout most of North America. In Arizona it occurs in the eastern 2 thirds of the state with few records in Maricopa County.
North America & US County Distribution Map for Vicia americana.
U.S. Weed Information: No information available.
Invasive/Noxious Weed Information: No information available.

Wetland Indicator: In North America Vicia americana, has the following wetland designations; Alaska, FACU; Arid West, FAC; Atlantic and Gulf Coastal Plain, FACU; Eastern Mountains and Piedmont, FACU; Great Plains, FACU; Midwest, FACU; Northcentral & Northeast, FACU; Western Mountains, Valleys, and Coast, FAC.
FACU, Facultative Upland, usually occur in non-wetlands, but may occur in wetlands
FAC, Facultative, occur in wetlands and non-wetlands.

Threatened/Endangered Information: "Purple Vetch" is apparently extirpated in Maryland.
Vicia is a large genus with many species. The Plant List includes 790 scientific plant names of species rank for the genus Vicia. Of these 230 are accepted species names.
Genus Information: Almost 70 species in Vicia throughout North America. 6 species in Arizona.
3 varieties in Vicia americana:
Vicia americana subsp. americana, American Vetch;
Vicia americana subsp. mexicana and
Vicia americana subsp. minor, Mat Vetch.
Comments: American Deervetch is an excellent forage crop for wildlife and livestock and provides forage for game birds and small mammals. Because of its long taproot it has a strong tolerance to drought conditions. American Deervetch may be confused with the similar genus Lathyrus, technical differences separate the two species.
Parts of American Deervetch have been used as an eye medicine, a veterinary aid, a dermatological aid and as a ceremonial medicine. See ethno-botanical uses at Native American Ethnobotany, University of Michigan, Dearborn.