Trifolium gracilentum, Pinpoint Clover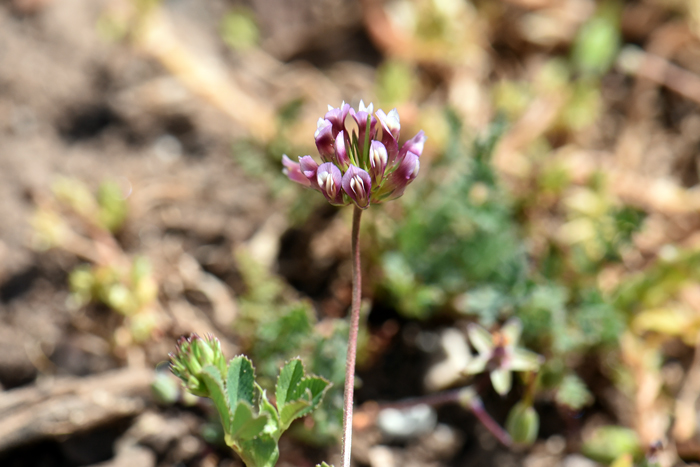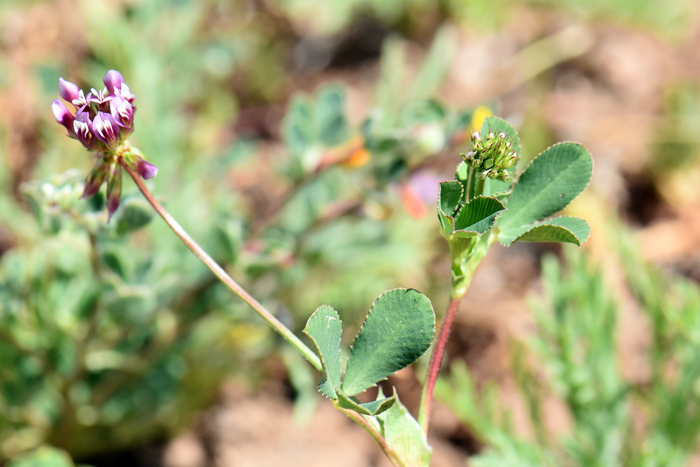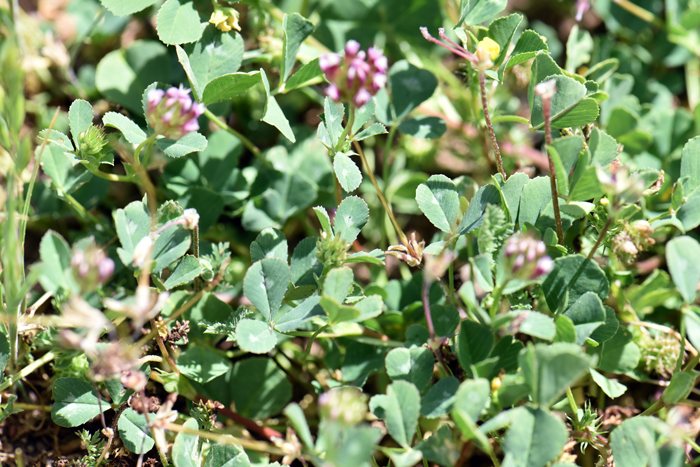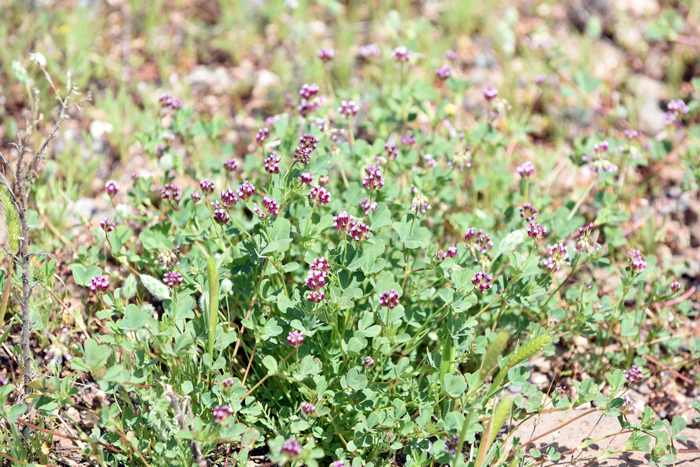 Scientific Name: Trifolium gracilentum
Common Name: Pinpoint Clover

Also Called: Pin-Point Clover, Slender Clover, Southern Island Clover

Family: Fabaceae or Leguminosae Family

Synonyms: (Trifolium gracilentum var. gracilentum, Trifolium gracilentum var. inconspicuum)

Status: Native

Duration: Annual

Size: 3 to 12 inches or more (7.6 to 30.4 cm).

Growth Form: Forb/herb; stems and vegetation are mostly glabrous or slightly hairy; plants prostrate to erect.

Leaves: Green; palmately compound; leaflets, obovate to obcordate, teeth acute, tip shallowly notched, leaves mostly glabrous.

Flower Color: Pink to reddish purple, purple in age, recurved; inflorescence an umbel, 3 to many flowers often turned to the side, flowers strongly reflexed after blooming, generally turned to side, fruit an indehiscent legume, seeds 1 or 2.

Flowering Season: March to May or June

Elevation: 2,500 to below 6,000 feet (762 to below 1800 m)

Habitat Preferences: Open, disturbed areas, moist or dry areas, grassy areas near the ocean.

Recorded Range: Trifolium gracilentum is found along the west coast of the United and Arizona. It is also native to northwestern Mexico.

North America & US County Distribution Map for Trifolium gracilentum.

U.S. Weed Information: No information available.
Invasive/Noxious Weed Information: No information available.
Wetland Indicator: No information available.

Threatened/Endangered Information: 1Trifolium palmeri, as Southern Island Clove, is included in the California Native Plant Society's Inventory of Rare and Endangered Plants as a Rare Plant Rank as a 4.2, a State Rank of S4, and a Global Rank G4.

1One variety of this species, var. palmeri, is a rare plant limited to the Channel Islands of California; it is sometimes treated as a species in its own right, Trifolium palmeri.[3]

Genus Information: In North America there are 172 species for Trifolium. Worldwide, The Plant List includes 244 accepted species names and as many names of infraspecific rank for the genus.

In the Southwestern United States: Arizona has 20 species of Trifolium genus, California has 60 species, Nevada has 21 species, New Mexico has 19 species, Texas has 15 species, Utah has 18 species. All data approximate and subject to revision.

There are 2 varieties in Trifolium gracilentum;
Trifolium gracilentum var. gracilentum, Pinpoint Clover, (AZ, CA, OR, WA);
Trifolium gracilentum var. palmeri, Palmer's clover, (Channel Islands of CA).

Comments: In Southwest Desert Flora also see Tomcat Clover, Trifolium wildenovii.

Etymology:

The genus Trifolium is from the Latin meaning "three-leaved". The genus Trifolium was published by Carl Linnaeus in 1753.
The species epithet gracilentum is from the Latin words gracile, slender, graceful and gracilenta, slender; a reference to its graceful slender stems.

Ethnobotany

Pinpoint Clover has been used for food by indigenous peoples of California.
Luiseno Food, Unspecified, Plant eaten both cooked and raw.

See complete listing of ethno-botanical uses at Native American Ethnobotany, University of Michigan, Dearborn.