Psorothamnus schottii, Schott's Dalea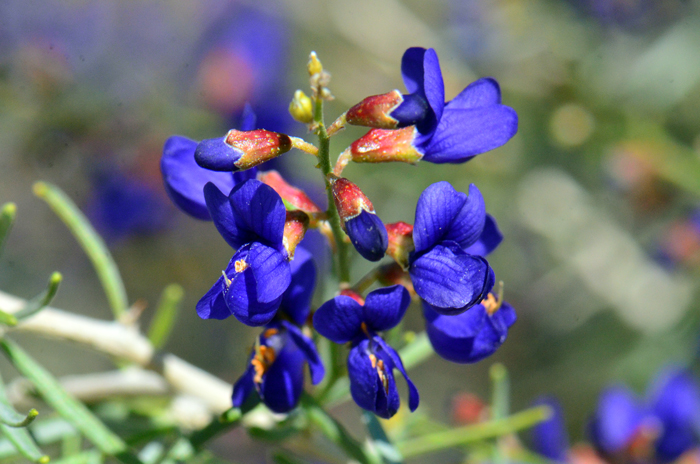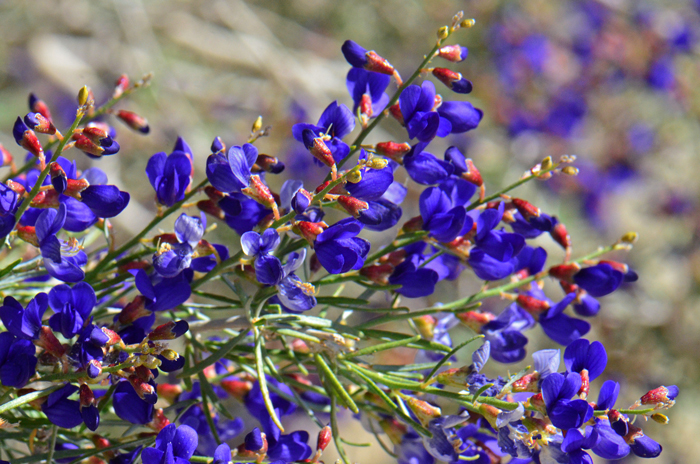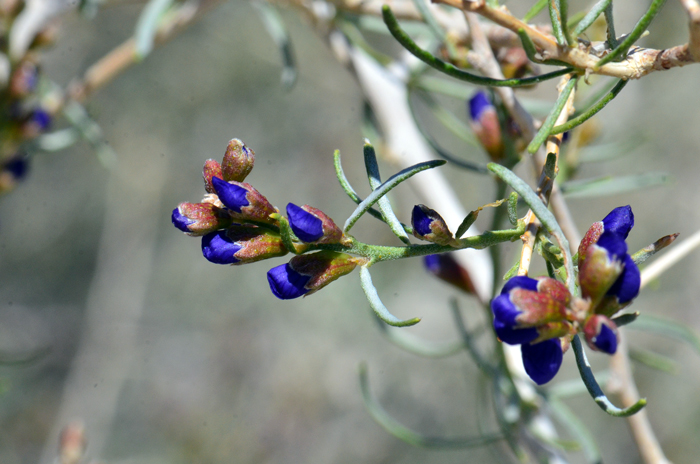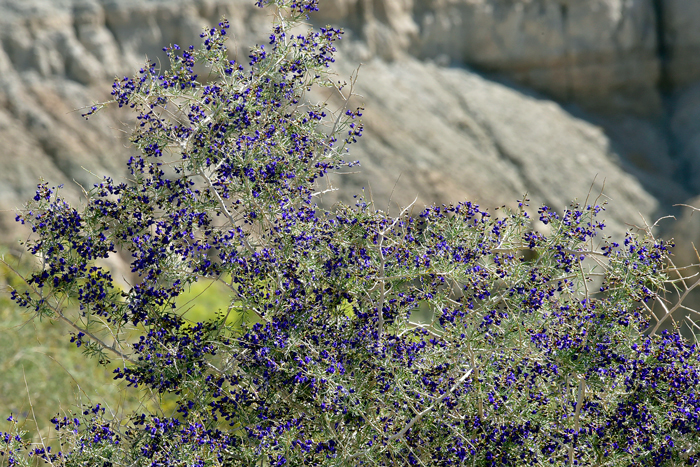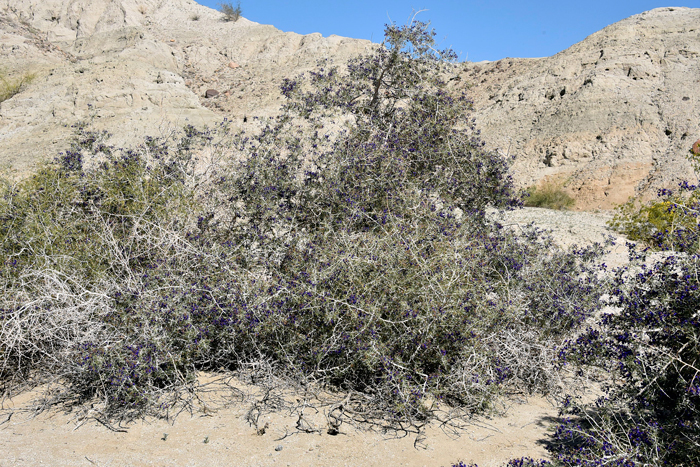 Scientific Name: Psorothamnus schottii
Common Name: Schott's Dalea
Also Called: Indigo Bush, Mesa Dalea, Schott False Dalea, Schott's Dalea (Spanish: Jiguata)
Family: Fabaceae or Leguminosae Family
Synonyms: (Dalea schottii, Dalea schottii var. puberula)
Status: Native
Duration: Perennial
Size: Up to 6 feet.
Growth Form: Shrub; gray or green, strigose; arborescent with spinescent stems intricately branched.
Leaves: Green; simple, persistent, linear, gland-dotted.
Flower Color: Blue, bright blue; 5 to 15 flowers on a racemose inflorescence; glands in each interval between the calyx ribs 4 or fewer; calyx externally glabrous or nearly so, shining; fruit exserted, large glands.
Flowering Season: March to May (photos above; California; March, 2016.)
Elevation: Up to 2,000 feet.

Habitat Preferences: Slopes, benches, washes.

Recorded Range: Psorothamnus schottii is relatively rare, although common where found, in the United States, found only in small geographic areas in AZ and CA. In Arizona it occurs in the extreme southwest part of the state and in California in the far southeast part of the state. It is also native to Baja California and northwest Mexico.

North America & US County Distribution Map for Psorothamnus schottii.

U.S. Weed Information: No information available.
Invasive/Noxious Weed Information: No information available.
Wetland Indicator: No information available.
Threatened/Endangered Information: No information available.

Genus Information: In North America there are 9 species and 20 accepted taxa overall for Psorothamnus. World-wide, The Plant List includes 10 accepted species names and a further 37 infraspecific rank for the genus.

In the Southwestern United States: Arizona has 7 species of Psorothamnus, California has 6 species, Nevada has 5 species, New Mexico has 1 species, Texas has 1 species, Utah has 4 species. All data is approximate and subject to taxonomic changes.

Comments: Psorothamnus schottii an amazing shrub found in desert washes and sandy areas. It is very similar, superficially to Smoketree and also Mojave Indigobush with only a few taxonomic differences.

The type specimen of Psorothamnus schottii is from along the Colorado River (Schott).

In Southwest Desert Flora also see Smoketree, Psorothamnus spinosus.