Pediomelum mephiticum, Skunktop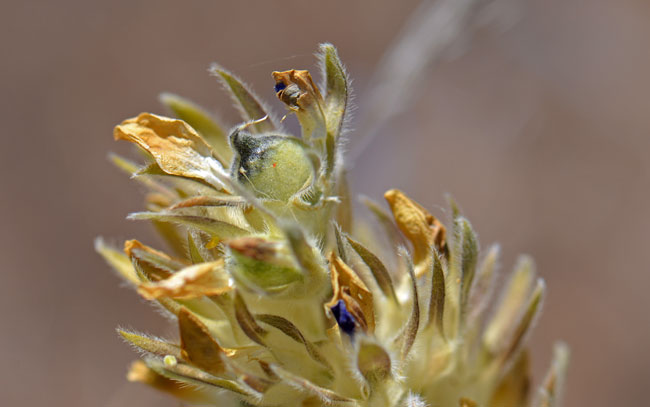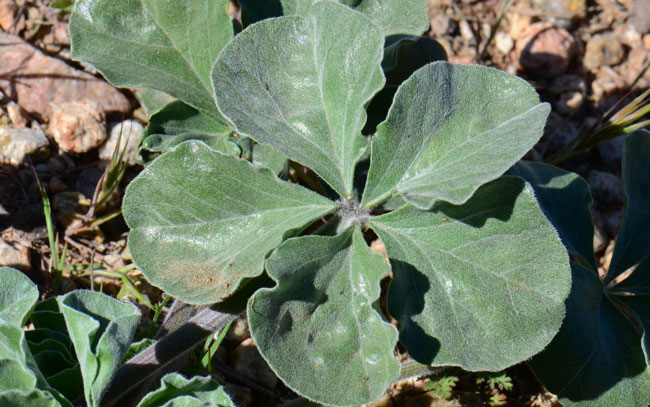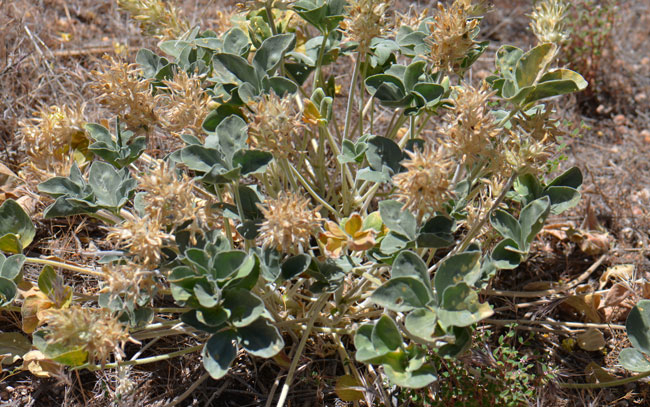 Scientific Name: Pediomelum mephiticum
Common Name: Skunktop
Also Called: Indian Breadroot
Family: Fabaceae or Leguminosae Family
Synonyms: (Psoralea mephitica)
Status: Native
Duration: Perennial
Size: Short stem, up to 4 inches more or less.
Growth Form: Forb/herb; stems woody below, stems very short, taproot, tubers or tuberous roots.
Leaves: Green; silver-green; pubescent, gland dotted, sometimes sub-acaulescent; petiolate, leaves palmately compound, 5 foliate, leaflets broadly obovate to nearly orbicular.
Flower Color: Blue, purple; flowers in axils, inflorescence with bracts, fruit a hairy, dehiscent legume.
Flowering Season: April to June.
Elevation: 3,000 to 5,500 feet.

Habitat Preferences: Rocky hillsides and mesas.

Recorded Range: Skunktop is a relatively rare plant in the United States with an unusual distribution in AZ, NV and UT. In Arizona it is found in the central, eastern and northwest portions; in Nevada it is found in the southeast and in Utah it is found in the extreme southwest corner.
North America & US County Distribution Map for Pediomelum mephiticum.
U.S. Weed Information: No information available.
Invasive/Noxious Weed Information: No information available.
Wetland Indicator: No information available.
Threatened/Endangered Information: No information available.
Genus Information: 24 species in Pediomelum throughout much of the United States and Canada (AB, MB and SK).
The Plant List includes 40 scientific plant names of species rank for the genus Pediomelum. Of these 10 are accepted species names.
Comments: Skunktop is not a common plant and often observed as individual specimens.