Mimosa aculeaticarpa biuncifera, Catclaw Mimosa Catclaw Mimosa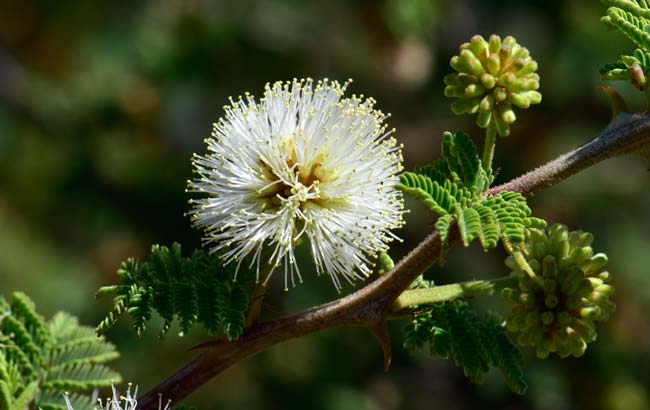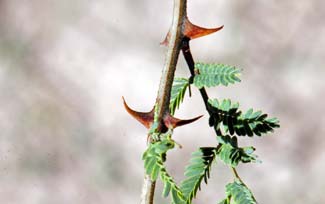 Scientific Name: Mimosa aculeaticarpa biuncifera
Common Name: Catclaw Mimosa
Also Called: Cat Claw Mimosa, Wait-a-Minute Bush, (Spanish: Gatuño, Gatuña, Uña de Gato, Garruño)
Family: Fabaceae or Leguminosae Family
Synonyms: (Mimosa biuncifera, Mimosa biuncifera var. glabrescens, Mimosa biuncifera var. lindheimeri, Mimosa lindheimeri, Mimosa warnockii, Mimosopsis biuncifera)
Status: Native
Duration: Perennial
Size: Up to 3 feet or more (8 feet).
Growth Form: Shrub or small tree, straggling, thicket-forming, deciduous, stems slender, pubescent, stem with single or paired stout spines.
Leaves: Green; compound, pinnate, 8 or more leaflets, linear to oblong.
Flower Color: White or whitish or pinkish; fuzzy-flowers in globose clusters; fruit is a legume, curved or straight, pods constricted between seeds.
Flowering Season: May to August.
Elevation: 3,000 to 6,000 feet.

Habitat Preferences: Very common in chaparral communities; dry soils on mesas and rocky slopes.

Recorded Range: Relatively rare in the United States but common where found, Catclaw Mimosa is found in AZ, NM and TX. In Arizona it occurs throughout most of the state with few or now records in the southwest corner; In New Mexico it is found primarily in the southern half and in Texas it is found scattered through the central and western parts of the state. It also occurs in Puerto Rico and throughout much of Mexico.
North America & US County Distribution Map for Mimosa aculeaticarpa biuncifera.
U.S. Weed Information: No information available.
Invasive/Noxious Weed Information: No information available.
Wetland Indicator: No information available.
Threatened/Endangered Information: No information available.
Genus Information: 22 Native species in Mimosa throughout the central and southern parts of the United States. Most of the natives are found exclusively in Texas. (USDA, NRCS, Plants List shows 3 non-natives.) 5 species native to Arizona. 1 variety in Mimosa aculeaticarpa biuncifera.
The Plant List includes 1,301 scientific plant names of species rank for the genus Mimosa. Of these 708 are accepted species names.
Comments: Catclaw Mimosa, also commonly called Wait-a-minute Bush, is a dominant mid- to upper-elevation Sonoran Desert species, where it is scattered about with several other co-dominant shrubs such as Acacia, Mesquite and Juniperus.
This species has a tendency to form thickets and thus providing excellent cover for small mammals and birds. Only the seed pods are eaten by desert livestock and the seeds are eaten by quail.
Also see in Southwest Desert Flora; Velvetpod Mimosa, Mimosa dysocarpa.