Lotus salsuginosus, Coastal Bird's-foot Trefoil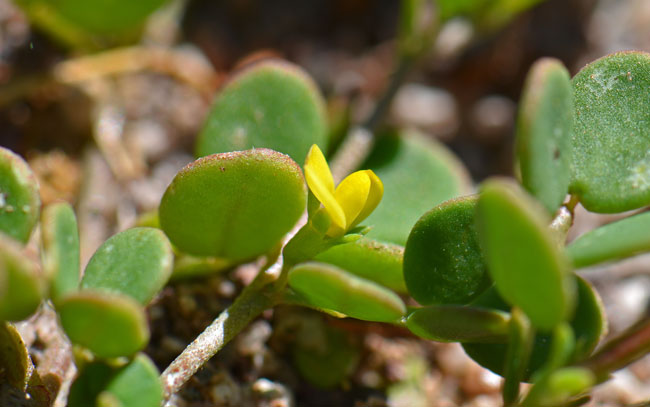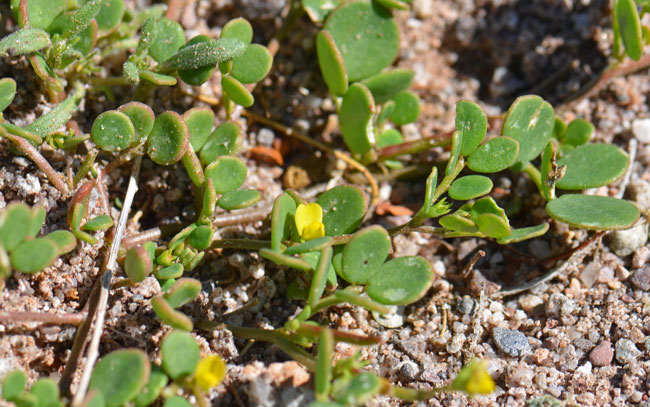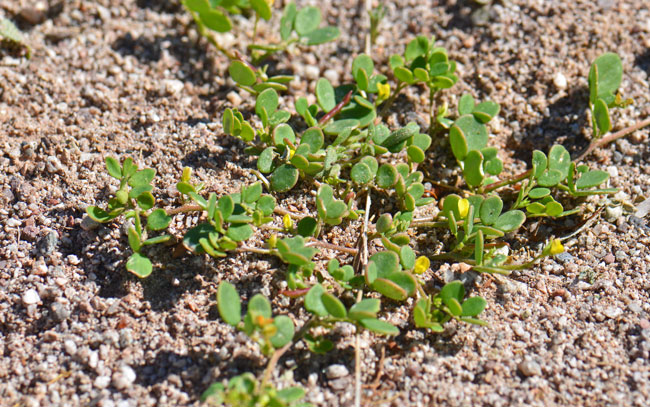 Scientific Name: Lotus salsuginosus
Common Name: Coastal Bird's-foot Trefoil
Also Called: Humble Trefoil and Maresfat
Family: Fabaceae or Leguminosae Family
Synonyms: ()
Status: Native
Duration: Annual
Size: Up to 8 inches more or less, a short low-growing herb.
Growth Form: Forb/herb; soft fleshy, multiple clustered stems slender, prostrate or ascending, variable in size and shape.
Leaves: Green; soft fleshy, leaflets irregularly pinnate, 3 to 7 leaflets, pubescence either glabrous or strigose, leaflet shape ovate or round, terminal leaflet largest, leaflets flat without prominate axis.
Flower Color: Yellow; inflorescence with 2 to 4 flowers, flowers showy but small, about 1 centimeter more or less, legume fruit is a dehiscent pod up to 3 centimeters long with a hooked beak.
Flowering Season: February to May.
Elevation: 3,000 feet or lower, California below 5,500 feet.
Habitat Preferences: Dry hills and mesas, California habitat preferences include coastal scrub, foothill woodlands, washes and deserts.
Recorded Range: Lotus salsuginosus is relatively rare in the United States where it is native to the west ½ or AZ, southeast CA and extreme southeast NV. It is also native to Baja California and northern Mexico.

U.S. Weed Information: No information available.
Invasive/Noxious Weed Information: No information available.
Wetland Indicator: No information available.
Threatened/Endangered Information: No information available.

Genus Information: More than 70 species in Lotus in the contiguous United States, Canada and Mexico. Approximately 15 species in Arizona.

The Plant List includes 504 scientific plant names of species rank for the genus Lotus. Of these 140 are accepted species names.

The genus Lotus is under current taxonomic review and many species are now classified under the genus Acmispon. Lotus salsuginosus is now also recoginized as Acmispon maritimus, Coastal Lotus.

2 sub-species or varieties in Lotus salsuginosus:
Lotus salsuginosus ssp. brevivexillus, Coastal Bird's-foot Trefoil (AZ, CA, NV) and
Lotus salsuginosus var. salsuginosus, Coastal Bird's-foot Trefoil (CA only).

Comments: Coastal Bird's-foot Trefoil, contrary to its common name does not necessary live near the coast. It may be easy to identify with is its often glabrous relatively fleshy thin flat leaflets. The plants and flowers of sub-species "brevivexillus" are smaller than the type species Lotus salsuginosus.

Also see Bird's Foot Trefoil, Lotus corniculatus; Foothill Deervetch, Lotus humistratus; Shrubby Deervetch, Lotus rigidus, and Wright's Deervetch, Lotus wrightii.

It is likely that Lotus salsuginosus evolved under periodic fire events in wildfire-prone habitats such as chaparral, as studies indicate this species has an increased rate of seed germination aftern exposure to heat.