Erythrina flabelliformis, Coralbean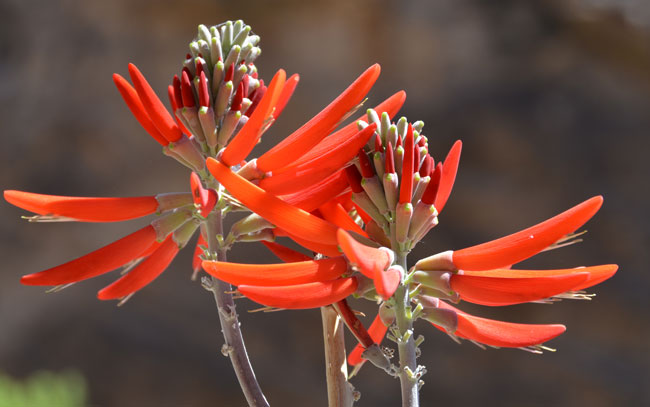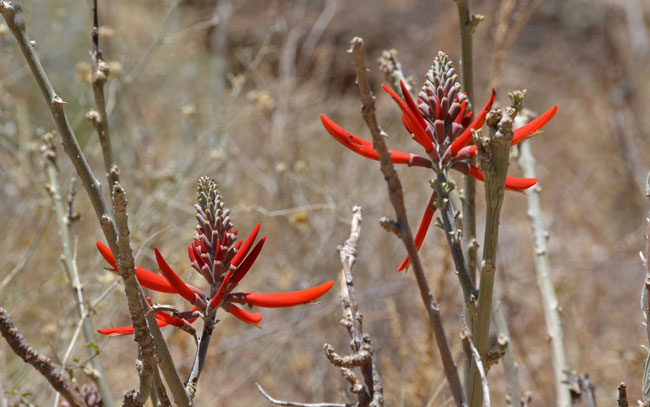 Scientific Name: Erythrina flabelliformis
Common Name: Coralbean
Also Called: Chilicote, Indian-bean, Southwest Coral Bean (Spanish: Chilicote, Peonía, Coralina, Colorín)
Family: Fabaceae or Leguminosae Family
Synonyms: ()
Status: Native
Duration: Perennial
Size: To 15 feet in the southwest, much larger elsewhere.
Growth Form: Tree or shrub; stems prickly with petioles.
Leaves: Green; fan shaped; compound, pinnately trifoliate; leaves emerge before flowers, leaves turn an attractive golden hue in the fall.
Flower Color: Red, bright red; large and showy; the banner petal much larger than the others, legume pods large with thick walls, seed often bright red containing poisonous alkaloids.
Flowering Season: Spring and late summer after sufficient monsoon rainfall.
Elevation: 3,000 to 5,500 feet.

Habitat Preferences: Dry rocky slopes.

Recorded Range: Coralbean is rare in the United States where it is native only to southern Arizona (Pima and Santa Cruz Counties) and southwest and southeast New Mexico. It is also native to Baja California and northern and central Mexico.
North America & US County Distribution Map for Erythrina flabelliformis.
U.S. Weed Information: No information available .
Invasive/Noxious Weed Information: No information available.
Wetland Indicator: No information available.
Threatened/Endangered Information: No information available.
Genus Information: 2 native species in the contiguous United States, 1 species in Arizona.
The Plant List includes 315 scientific plant names of species rank for the genus Erythrina. Of these 128 are accepted species names. The genus is from the Greek word meaning "red" which is a reference to the flower color of some species.
Comments: Both a beautiful and relatively rare tree, shrub or sub-shrub in Arizona, New Mexico and Mexico. Most members of Erythrina and found in tropical and subtropical regions of the world. Erythrina is an important horticulture plant because of their beautiful brilliant red flowers. A common landscape and road-side plant in southern California.