Astragalus arizonicus, Arizona Milkvetch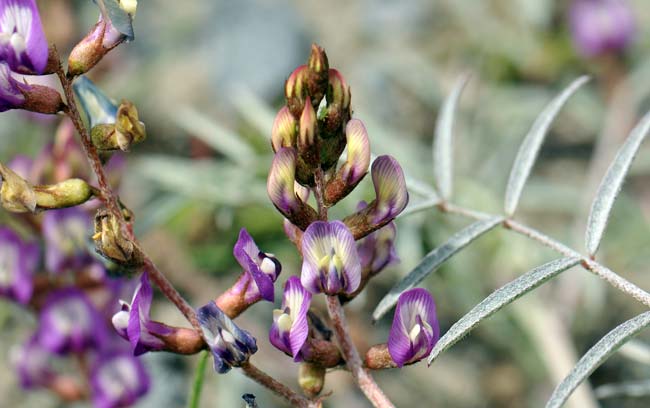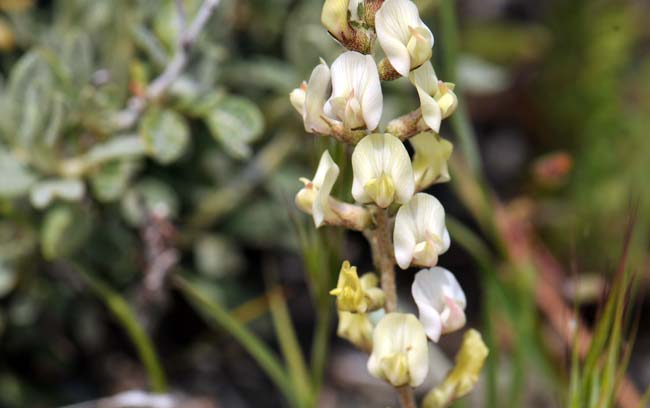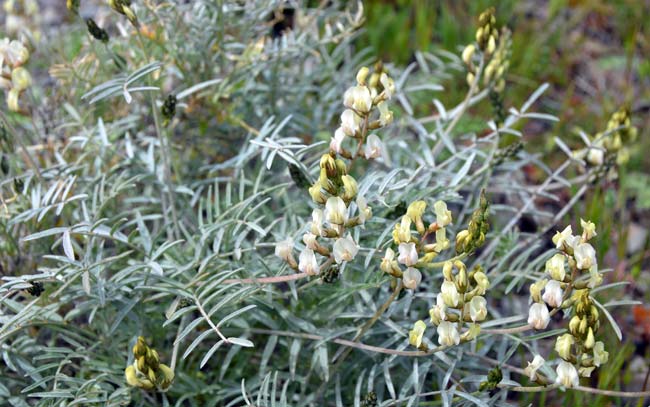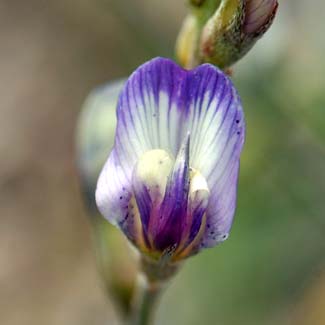 Scientific Name: Astragalus arizonicus
Common Name: Arizona Milkvetch

Also Called: Arizona Milk-Vetch, Arizona Locoweed

Family: Fabaceae or Leguminosae Family

Synonyms: (Hamosa arizonica)

Status: Native

Duration: Perennial

Size: Up to 12 inches (30 cm) or more.

Growth Form: Arizona Milkvetch is a forb/herb with multiple stems; stems with fine whitish (strigose) hairs; plants mostly low lying (prostrate).

Leaves: Arizona Milkvetch has greenish or silver-greenish leaves; the leaves are pinnately compound; the small whitish leaflets are linear in shape.

Flower Color: Arizona Milkvetch has multiple colored flowers of white, pink, yellow, purple, lavender or blue in showy clusters; fruits are linear pods also finely whitish.

Flowering Season: March to May or June.

Elevation: 2,800 to 4,500 feet (853 - 1,372 m).

Habitat Preferences: Arizona Milkvetch is found on plains, washes, canyon bottoms, hillsides, flats, mesas, roadsides, rocky slopes; also found in calcareous areas and alluvial fans; also found in desert grasslands, desert shrublands and Juniper communities.

Recorded Range: Rare in the United States, Arizona Milkvetch is found mostly throughout the mid-section in Arizona with possible records in New Mexico. It is also native to Sonora, Mexico.

North America & US County Distribution Map for Astragalus arizonicus.

U.S. Weed Information: Unknown
Invasive/Noxious Weed Information: Unknown
Wetland Indicator: Unknown
Threatened/Endangered Information: Unknown

Genus Information: In North America, USDA Plants Database lists 692 species for Astragalus. Worldwide, World Flora Online includes 3,065 accepted species names for the genus.

The genus was published in 1753 by Carl Linnaeus, (1707-1778).

In the Southwestern United States: Arizona has 160 species of genus, California has 180 species, Nevada has 189 species, New Mexico has 139 species, Texas has 60 species, Utah has 205 species. Data approximate, subject to revision.

Genus Information: Several hundred species in Astragalus throughout North America; 80 or more species in Arizona.

Comments: There is very little recorded or published information for the Arizona Milkvetch. The type specimen for Astragalus arizonicus was collected from near Camp Grant, Graham County, Arizona (Palmer).

Also see in Southwest Desert Flora; Dwarf White Milkvetch, Astragalus didymocarpus, and Ashen Milkvetch, Astragalus tephrodes.

Importance to Wildlife, Birds and Livestock

Arizona Milkweed, Astragalus arizonicus has attractive flowers, the flowers and their seeds may be visited by hummingbirds and/or small mammals including rodents and granivorous birds in search of nectar or food.

Arizona Milkweed, Astragalus arizonicus has attractive flowers, the flowers and their plants may be visited by butterflies, moths, flies, honeybees, Native Bees and other insects in search of food and nectar.

Etymology:

The genus "Astragalus" (Astrag'alus:) is from the Greek word "astragalos" meaning "ankle bone"; the reference is from the shape of the seeds.

The genus Astragalus was published in 1753 by Carl Linnaeus, (1707-1778).

The species Astragalus arizonicus was described in 1868 by Asa Gray, (1810-1888).

The species epithet "arizonicus" means from or of "Arizona".

Ethnobotany - Native American Ethnobotany; University of Michigan - Dearborn

The genus Astragalus is known for its medicinal purposes for respiratory illnesses such as colds and coughs.