Tragia nepetifolia, Catnip Noseburn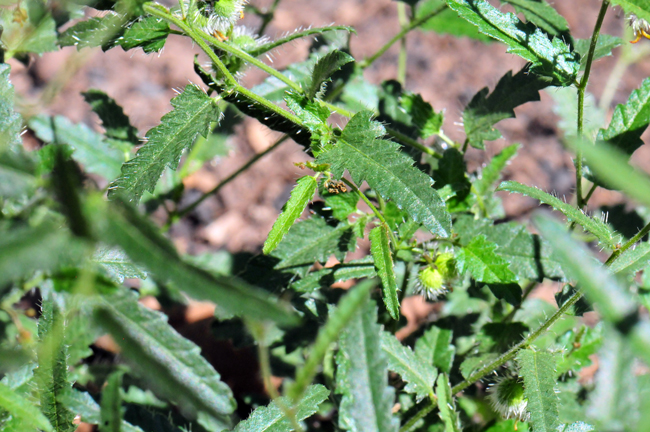 Scientific Name: Tragia nepetifolia
Common Name: Catnip Noseburn

Also Called: Nose-burn, Ortiguilla

Family: Euphorbiaceae, Spurge or Euphorbia Family

Synonyms: (Tragia nepetifolia var. setosa)

Status: Native

Duration: Perennial

Size: Up to 1.5 feet (up to 50 cm)

Growth Form: Subshrub or Forb/herb; stems green to reddish green, slender and often twining with stinging hairs, plants erect or trailing.

Leaves: Green; alternate; leaf shape variable lanceolate to triangular-ovate; leaves often red-green; margins simple and coarsely dentate to coarsely serrate.

Flower Color: Yellow; monecious borne in terminal or lateral bracteate (see bract) racemes, staminate flowers above, 2 to many pistillate flowers below; fruits a 3-seeded capsule with brown seeds.

Flowering Season: March to November or late spring with fruiting in late summer-fall.

Elevation: 2,500 to 7,000 feet (762 to 2,133 m)

Habitat Preferences: Washes, canyons, and rocky slopes; Pine-oak woodlands.

Recorded Range: Tragia nepetifolia, Catnip Noseburn is relatively rare in the United States where it is found only in Arizona, Colorado and New Mexico. The largest populations are found in Arizona where it has been observed throughout most of the state with few or no records from La Paz, Pinal and Greenlee Counties. It has scattered distribution throughout New Mexico. It also is native to northern and central Mexico and in Baja California.

North America & US County Distribution Map for Tragia nepetifolia.

U.S. Weed Information: No information available.
Invasive/Noxious Weed Information: No information available.
Wetland Indicator: No information available.
Threatened/Endangered Information: No information available.

Genus Information: In North America there are 15 species and 16 accepted taxa overall for Tragia. Worldwide, The Plant List includes 152 accepted species names and a further 84 scientific names of infraspecific rank for the genus.

In the Southwestern United States: Arizona has 4 species of the genus Tragia, California has 1 species, Nevada has 2 species, New Mexico has 3 species, Texas has 11 species, Utah has 1 species. All data approximate and subject to revision.

There is 1 variety in Tragia nepetifolia;
Tragia nepetifolia var. dissecta, (AZ, NM).

Comments: Tragia nepetifolia, Catnip Noseburn is very similar to Tragia ramosa, Branched Noseburn and they are often difficult to distinguish particularly in the field.

Etymology:

The genus "Tragia" has two possibilities; 1) from the Latin "Tragus", name of Hieronymus Bock (1498-1554), a German herbalist; and 2) from the Greek "tragos, a he-goat, a reference to the plants fruits which are hairy. The species epithet "nepetifolia" means leaves like catnip.

Ethnobotany

Tragia nepetifolia, Catnip Noseburn has been used for various purposes by Arizona and New Mexico state indigenous peoples.
Navajo, Kayenta Drug, Snake Bite Remedy. Plants used as a lotion to keep snakes away.
Navajo, Kayenta Other, Protection. Plant sprinkled on hogan during rain storm for protection from lightning.
Navajo, Ramah Drug, Panacea. Plant used as a life medicine.

See complete listing of ethno-botanical uses at Native American Ethnobotany, University of Michigan, Dearborn.