Brandegea bigelovii, Desert Starvine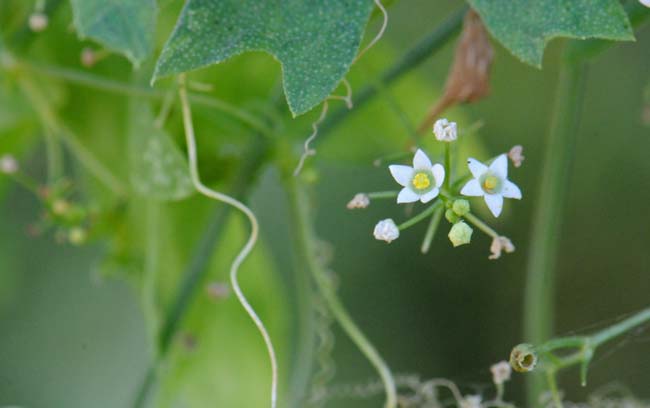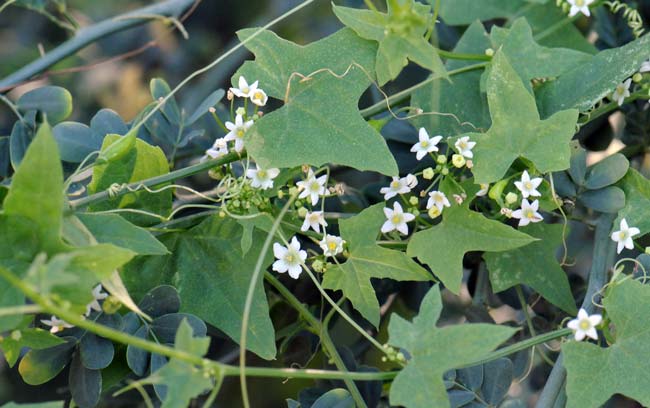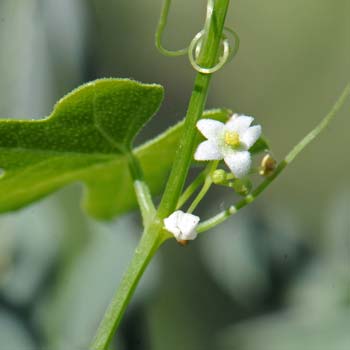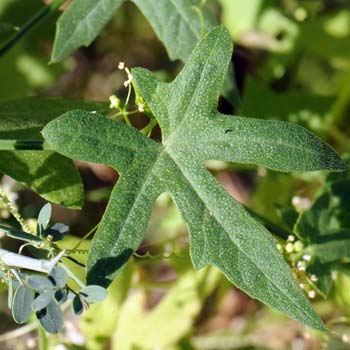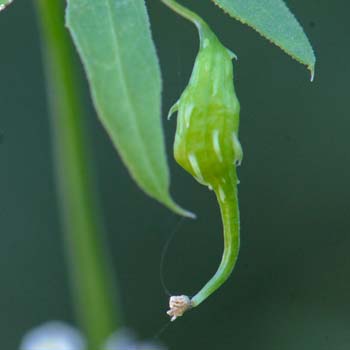 Scientific Name: Brandegea bigelovii
Common Name: Desert Starvine
Also Called:
Family: Cucurbitaceae, Cucumber or Gourd Family
Synonyms: ()
Status: Native.
Duration: Perennial
Size: Up to 5 feet or more, height related to supportive adjacent plants.
Growth Form: Forb/herb; vine; taproot; stems slender, glabrous, trailing or clambering over adjacent shrubs, tendrils.
Leaves: Green; alternate, simple, palmatifid often with deep lobes, stout petiole with ridges, noticeable white glands.
Flower Color: White; showy but small, fragrant, star-shaped, radially symmetrical, staminate flowers in racemes from axillary clusters, pistillate flowers solitary, fruit; ovoid with long beak, short bristles.
Flowering Season: January to May, longer with sufficient monsoon rainfall; shorter season in California, March to April.
Elevation: Below 1,200 feet.

Habitat Preferences: Sandy soil along washes, along canyons and washes in California.

Recorded Range: Rare in the United States where Desert Starvine is found in southeast California and southwest Arizona. It can also be found in Baja California and Mexico.

North America & US County Distribution Map for Brandegea bigelovii.

U.S. Weed Information: No information available.
Invasive/Noxious Weed Information: No information available.
Wetland Indicator: No information available.
Threatened/Endangered Information: No information available.

Genus Information: 1 genus in Brandegea in the United States; in California and Arizona.

Comments: Desert Starvine is an interesting desert vine found in southwestern Arizona and southeast California. The fruits are unique and distinctive with a look that includes a beak giving the fruit the appearance of a "seahorse".

The type species for Brandegea bigelovii is from the Colorado River Valley. The species epithet "bigelovii" was named to honor Jacob Bigelow (1787–1879), an American physician and botanist.