Cylindropuntia ganderi, Gander's Buckhorn Cholla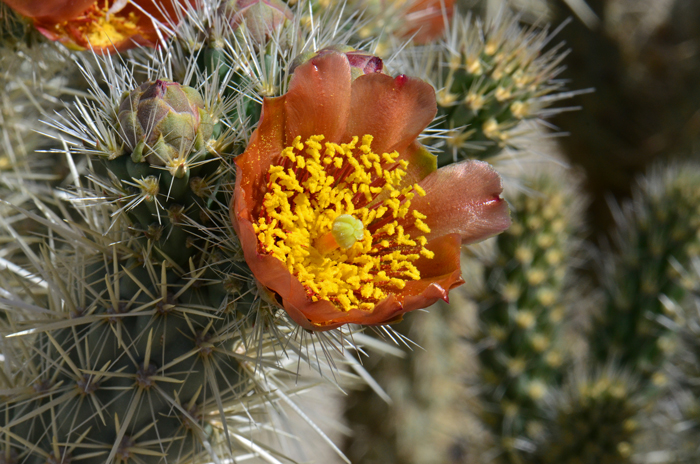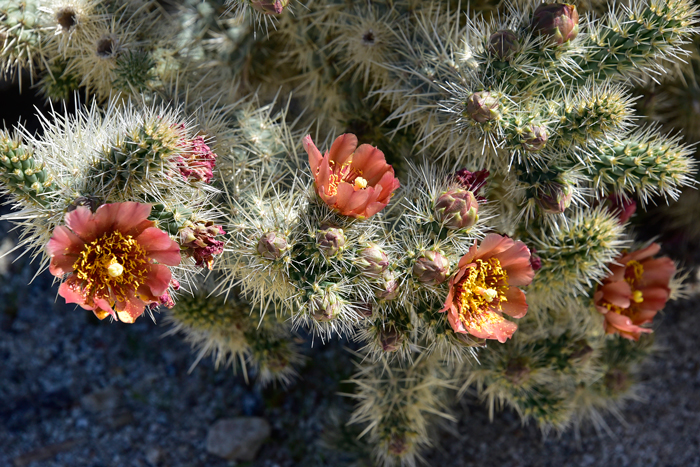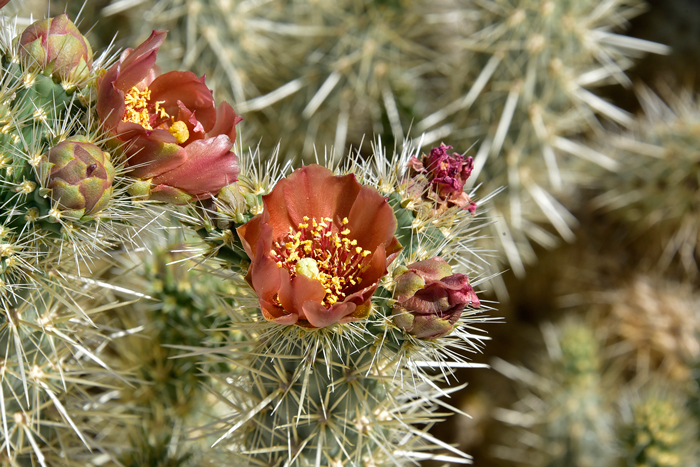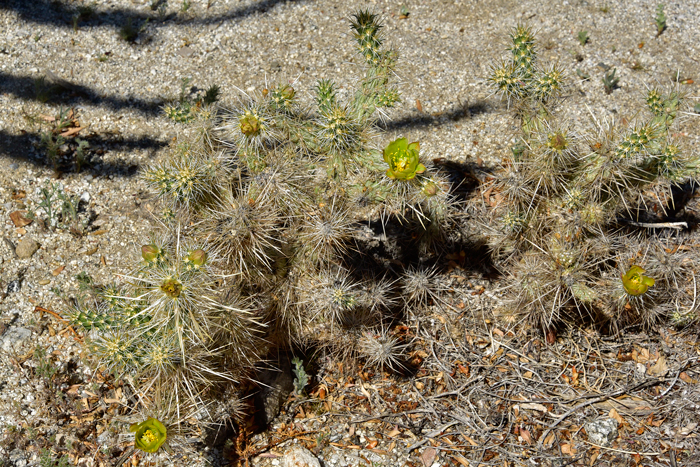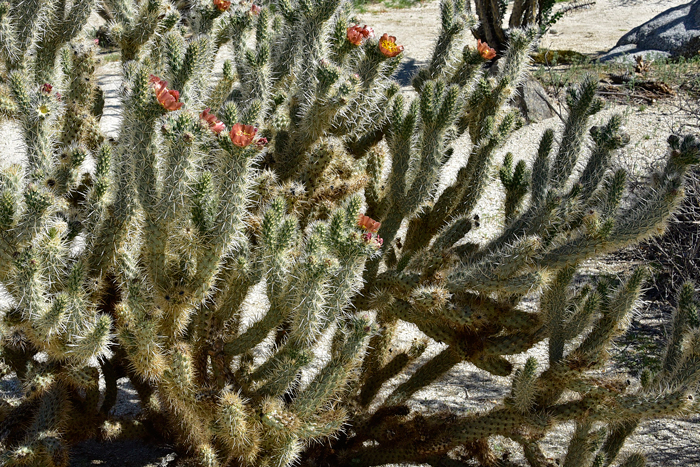 Scientific Name: Cylindropuntia ganderi
Common Name: Gander's Buckhorn Cholla
Also Called:
Family: Cactaceae, Cactus Family
Synonyms: (Opuntia acanthocarpa ssp. ganderi, Opuntia acanthocarpa var. ganderi, Opuntia ganderi)
Status: Native
Duration: Perennial
Size: up to 4 feet or more.
Growth Form: Shrub; ascending several trunks; stem segments firmly attached, green; tubercles prominent, narrowly elliptic to ovoid.
Leaves: Leaves modified into spines or glochids and emerging from areoles; spines 11 to 18 per areole; whitish, pale yellow to pinkish tan to reddish, aging brown or black.
Flower Color: Yellow to yellow-green, generally red-tipped, inner tepals greenish yellow; often with tips reddish abaxially; filaments yellow-green, green; anthers yellow to orange-yellow; style cream to yellow; stigma-lobes greenish cream, cream or yellow; fruits dry; yellowish, drying tan, globose or globular
Flowering Season: March to May.
Elevation: 350 to 3,500 feet.

Habitat Preferences: Sandy flats, rocky hillsides, boulder fields, bajadas, desert chaparral, pinyon-juniper communities.

Recorded Range: Gander's Buckhorn Cholla is rare in the United States where it is found only in far southwestern California; eastern San Diego County and south Riverside County especially in the Anza Borrego desert and nearby areas. It is also native to Baja California.

North America & US County Distribution Map for Cylindropuntia ganderi.

U.S. Weed Information: No information available.
Invasive/Noxious Weed Information: No information available.
Wetland Indicator: No information available.
Threatened/Endangered Information: No information available.

Genus Information: In North America there are 29 species and 39 accepted taxa overall for Cylindropuntia. Worldwide, The Plant List includes 43 accepted species names and a further 100 scientific names of infraspecific rank for the genus.

In the Southwestern United States: Arizona has 12 species of genus, California has 10 species, Nevada has 5 species, New Mexico has 8 species, Texas has 6 species, Utah has 3 species. Hybrids excluded, all data is approximate and subject to taxonomic changes.

Comments: Gander's Buckhorn Cholla is a rare Cholla in North America and, in the United States it is limited to extreme southwest California, east and north of San Diego. This species is said to hybridize with C. californica var. parkeri in the north part of its range.

In Southwest Desert Flora also see: Buckhorn Cholla, Cylindropuntia acanthocarpa, Arizona Pencil Cholla, Cylindropuntia arbuscula, Teddy Bear Cholla, Cylindropuntia bigelovii, Jumping Cholla, Cylindropuntia ganderi, Klein's Pencil Cactus, Cylindropuntia kleiniae Christmas Cactus, Cylindropuntia leptocaulis Walkingstick Cactus, Cylindropuntia spinosior and Baja Pencil Cholla, Cylindropuntia tesajo.