Cylindropuntia bigelovii, Teddy Bear Cholla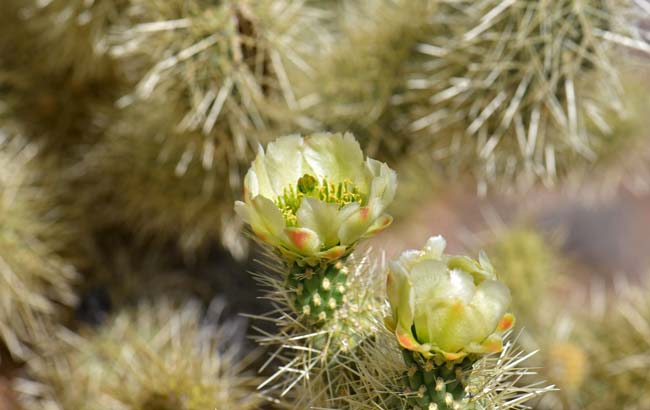 Scientific Name: Cylindropuntia bigelovii
Common Name: Teddy Bear Cholla
Also Called: Jumping Cholla
Family: Cactaceae, Cactus Family
Synonyms: (Opuntia bigelovii)
Status: Native
Duration: Perennial
Size: Up to 5 feet or more.
Growth Form: Shrub or subshrub; branches much shorter than the trunk.
Leaves: Leaves modified into spines or glochids and emerging from areoles.
Flower Color: Pale yellow.
Flowering Season: February to May.
Elevation: Up to 3,000 feet.
Habitat Preferences: Warm slopes in desert mountains.
Recorded Range: In the United States Teddy Bear Cholla is found in AZ, CA and NV. In Arizona Teddy Bear Cholla is found in the central and western parts of the state.

U.S. Weed Information:
Invasive/Noxious Weed Information:
Wetland Indicator:
Threatened/Endangered Information: Arizona, Opuntia bigelovii, Teddy Bear Cholla is salvage restricted; Nevada, Opuntia bigelovii, Teddy Bear Cholla is protected as a Cactus, Yucca or Christmas tree.

Genus Information: 20 species Cylindropuntia in the United States and Canada. 2 varieties, 1 in Flora of North America; Cylindropuntia bigelovii var. bigelovii.

Comments: The straw colored spiny joints of Teddy Bear Cholla easily detach from their parent plants and randomly fall to the ground by the dozens, easily stepped on by unsuspecting travelers. Spines on the joints are strongly barbed and when you are stuck by one you experience extreme deep pain and to make matters worse they are most difficult to remove as they grab on and adhere persistently.

The type specimen for Cylindropuntia bigelovii is from Mohave County, Arizona.

Ethnobotanical Uses: Unspecified parts of Teddy Bear Cholla were used as food by the Cahuilla Indians. See the full species account from Native American Ethnobotany, University of Michigan, Dearborn, Michigan.