Thelypodium wrightii, Wright's Thelypody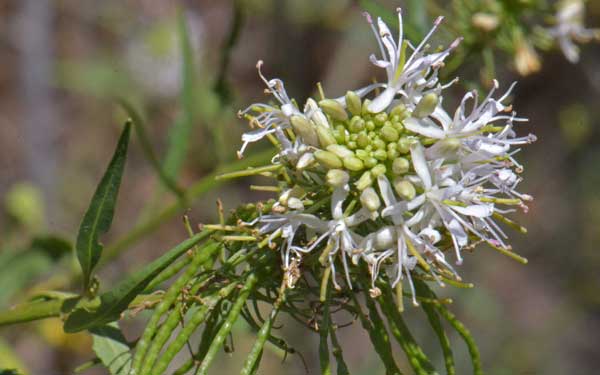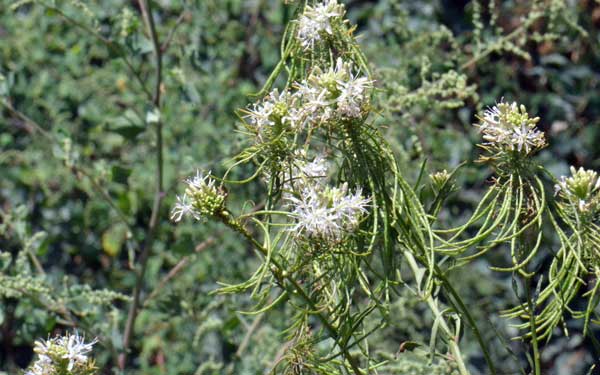 Scientific Name: Thelypodium wrightii
Common Name: Wright's Thelypody
Also Called: Wright Stanleyella, Wright Thelypody

Family: Brassicaceae, Mustard Family

Synonyms: (Stanleyella wrightii, Stanleyella wrightii var. tenella, Thelypodium wrightii subsp. oklahomense, Thelypodium wrightii subsp. wrightii)

Status: Native
Duration: Biennial or perennial.
Size: Up to 6 feet.
Growth Form: Forb/herb; erect with many spreading branches, stems green or blue-green and glabrous.
Leaves: Green; basal and stem leaves; basal leaves lanceolate, margins pinnately lobed; stem leaves are narrow, linear or lanceolate, margins variable, erect or toothed.
Flower Color: White or lavender; clusters of flowers on tips of branches; fruits numerous below flower clusters, fruit a capsule, long, thin rounded and succulent-like, the capsule or seed pod is restricted or narrowed around the seeds, fruits extend outward, horizontally, downward or slightly curved, the length of the seed capsule is more than three times the width, making the capsule technically a silique.
Flowering Season: March to November.
Elevation: 2,500 to 7,000 feet.

Habitat Preferences: Rich soils, pinyon-junipers, and pines.

Recorded Range: In the United States Wright's Thelypody is found in the southwest, particularly in AZ, NM, CO, OK and TX. In Arizona it occurs throughout the state, few or no records for the southwest part of the state.
North America & US County Distribution Map for Thelypodium wrightii.
U.S. Weed Information: No data available.
Invasive/Noxious Weed Information: No data available.
Wetland Indicator: No data available.
Threatened/Endangered Information: No data available.
Genus Information: 17 species in Thelypodium in the western half of the United States, throughout British Columbia, Canada and in Baja California and northern Mexico. 2 species are found in Arizona.
2 subspecies of Thelypodium wrightii:
Thelypodium wrightii ssp. oklahomense, Oklahoma Thelypody found in the states listed above and
Thelypodium wrightii ssp. wrightii, Wright's Thelypody found in Arizona, New Mexico and Texas.
Comments: Photos above were taken in September, 2013, about 4,000 feet elevation in a semi-riparian drainage near Sycamore Creek in the Tonto National Forest.
Wright's Thelypody was named in honor of Charles Wright (1811-1885), an American botanist collecting mostly in Texas where he collected plants for Asa Gray.
Wright's Thelypody has been used as a dermatological aid and as eye medicine, other ethno-botanical uses at Native American Ethnobotany, University of Michigan, Dearborn.