Draba cuneifolia, Wedgeleaf Draba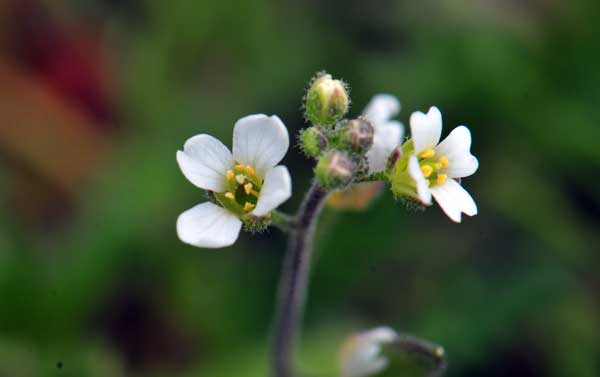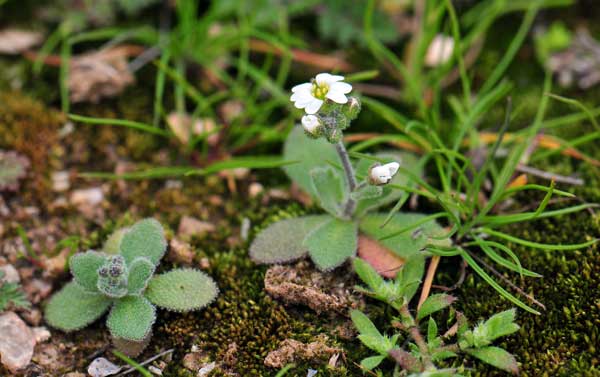 Scientific Name: Draba cuneifolia
Common Name: Wedgeleaf Draba
Also Called: Spring Whitlow-grass and Wedgeleaf Whitlowgrass; (Spanish: Gasa)
Family: Brassicaceae, Mustard Family
Synonyms: ()
Status: Native
Duration: Annual
Size: Up to 6 inches.
Growth Form: Forb/herb; stems with short hairs
Leaves: Green; basal, thick almost succulent looking, simple, obovate or oblanceolate, stiff stellate pubescence, dentate.
Flower Color: White; flowers small, less than ¼inch, one or more flowering stems bolts with 50 or more (75) flowers, flowers blooming as inflorescence matures, fruits are numerous flat green silique about ¾ inch long, either oblong, lanceolate or broadly ovate.
Flowering Season: February to May.
Elevation: 1,000 to 7,000 feet.
Habitat Preferences: Sandy soils, open rocky fields and disturbed areas.
Recorded Range: Draba cuneifolia is found throughout the southern United States, Baja California and northwest Mexico.

North America & US County Distribution Map for Draba cuneifolia.

U.S. Weed Information: No data available.
Invasive/Noxious Weed Information: No data available.
Wetland Indicator: No data available.
Threatened/Endangered Information: The State of Illinois has listed Draba cuneifolia, Whitlow Grass as Endangered: The State of Ohio has listed Draba cuneifolia, Wedge-leaf Whitlow-grass as Threatened; The State of Kentucky has listed Draba cuneifolia, Wedge-leaf Whitlow-grass as Endangered; and The State of Tennessee has listed Draba cuneifolia, Wedge-leaved Whitlow-grass as a species of Special Concern.

Genus Information: Over a hundred species of Draba in the United States, Canada and Mexico. 14 species in Arizona. 3 varieties of Draba cuneifolia:
Draba cuneifolia var. cuneifolia, Wedgeleaf Draba;
Draba cuneifolia var. integrifolia, Wedgeleaf Draba; and
Draba cuneifolia var. sonorae, Sonora Draba.

Comments: Draba cuneifolia is a member of the mustard or Brassicaceae or Cruciferae family. Wedgeleaf Draba is common in Arizona where found but threatened, endangered or of special concern elsewhere. They are small yet handsome plants with their succulent like green leaves and tall naked scape of an inflorescence with pretty white flowers atop.

This family and its plants are easy to identify with its 4 petals and 4 sepals arranged like a "cross", either in an "X" or "H" shape, thus the name "Cruciferae". Mustards have 6 stamens usually 4 are taller and 2 are shorter. Fruits are either a long thin silique or short often rounded silicle.