Pectocarya recurvata, Curvenut Combseed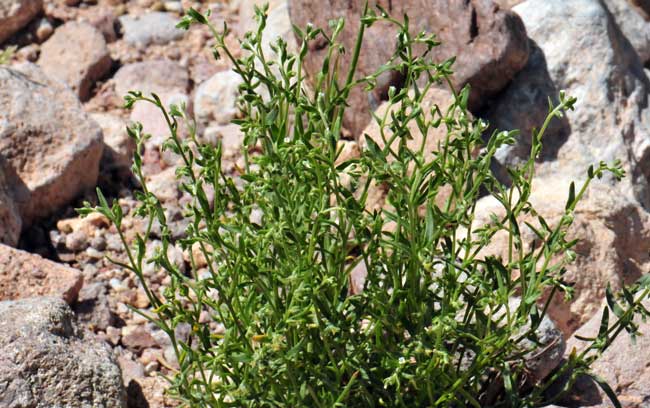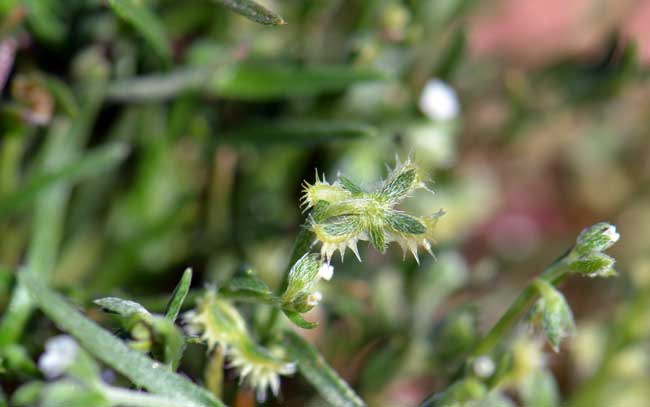 Scientific Name: Pectocarya recurvata
Common Name: Curvenut Combseed
Also Called: Arched Comb-bur, Arch-nutted Combbur, Comb-bur, Recurve Combseed
Family: Boraginaceae, Forget-Me-Not Family
Synonyms: ()
Status: Native
Duration: Perennial
Size: Up to 8 inches.
Growth Form: Forb/herb; erect or ascending, slender stems and branches, stiff straight, closely appressed hairs or bristles (strigose).
Leaves: Green; stiff hairs, linear, strigose.
Flower Color: White; inconspicuous, fruit with small recurved petiole or stem, fruit a nutlet in divergent pairs, margins with translucent teeth, thus the name Combseed.
Flowering Season: February to April later in California (March to May).
Elevation: Mostly under 5,000 feet.

Habitat Preferences: Dry sandy, gravelly soil, bases of shrubs and roadsides, in Creosote bush communities.

Recorded Range: Native to the southwestern United States; AZ, CA, NM, NV, and UT. Also found in northern Baja California and northwest Mexico. In Arizona, Curvenut Combseed is found in central, southern and northwestern parts of the state.

North America & US County Distribution Map for Pectocarya recurvata.

U.S. Weed Information: No data listed.
Invasive/Noxious Weed Information: No data listed.
Wetland Indicator: No data listed.
Threatened/Endangered Information: No data listed.

Genus Information: 8 species in Pectocarya in southwest and western United States and western Canada in British Columbia. 5 species in Arizona.

Comments: Most species of Pectocarya are early spring bloomers and all look very similar. The type specimen of Pectocarya recurvata is from Chandler, Arizona.