Cryptantha micrantha, Redroot Cryptantha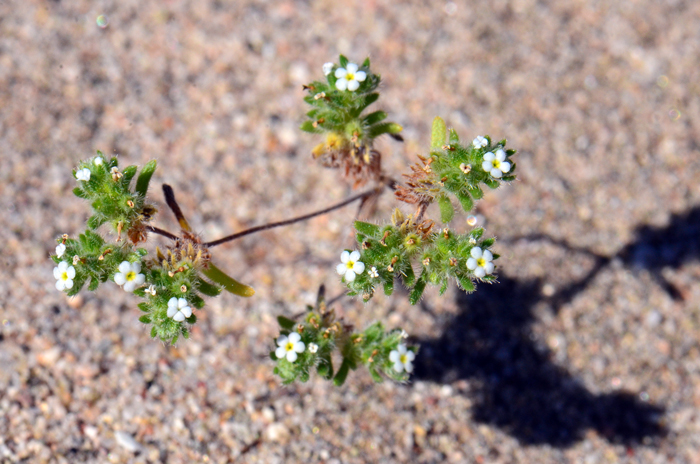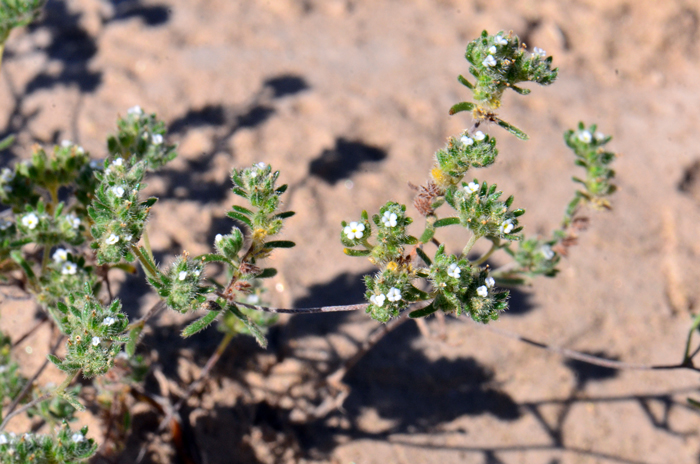 Scientific Name: Cryptantha micrantha
Common Name: Redroot Cryptantha
Also Called: Purpleroot Pick-me-Not, Purple-rooted Forget-me-Not, Redroot Catseye, Redroot Cryptantha (Spanish: Peluda (generic), Nievitas)
Family: Boraginaceae, Forget-Me-Not Family
Synonyms: (Eremocarya lepida, Eremocarya micrantha var. micrantha)
Status: Native
Duration: Annual
Size: Up to 6 inches more or less.
Growth Form: Forb/herb; taproot generally red or purple; branches many, spreading to erect; strigose; mostly wider than tall.
Leaves: Green; linear to narrowly oblanceolate; short-bristly hairs.
Flower Color: White, tiny yellow center; inflorescence both axillary and terminal; fruit a nutlet.
Flowering Season: March to June; in CA var. "micrantha" blooms February to June.
Elevation: 500 to 7,000 feet; below 5,800 feet in CA.

Habitat Preferences: Desert flats, washes, sandy to fine-gravelly soils; Creosote bush communities.

Recorded Range: Cryptantha micrantha, Redroot Cryptantha is found mostly in the southwestern United States with spotty distribution; AZ, CA, NM, NV, OR, TX, UT. In AZ Redroot Cryptantha is scattered throughout the state within elevation limits. This species is also native to Baja California and northwest Mexico.

North America & US County Distribution Map for Cryptantha micrantha.

U.S. Weed Information: No information available.
Invasive/Noxious Weed Information: No information available.
Wetland Indicator: No information available.
Threatened/Endangered Information: No information available.

Genus Information: In North America there are 117 species and 142 accepted taxa overall for Cryptantha. World wide, The Plant List includes 179 accepted species names and includes a further 142 infraspecific rank for the genus.

In the Southwestern United States: Arizona has 37 species of Cryptantha, California has 59 species, Nevada has 45 species, New Mexico has 24 species, Texas has 15 species, Utah has 56 species. All data is approximate and subject to taxonomic changes.

There are 2 varieties in Cryptantha micrantha
Cryptantha micrantha var. lepida, Redroot Cryptantha, (CA);
Cryptantha micrantha var. micrantha, Redroot Cryptantha (AZ, CA, NM, NV, OR, TX, UT).

Comments: Cryptantha micrantha is one of over 100 species of Cryptantha found in the United States. Most are difficult to identify to species but Redroot Cryptantha has red or purplish roots and a somewhat unique shape that help correctly identify the plant.

In Southwest Desert Flora also see Gander's Cryptantha, Cryptantha ganderi, Narrowstem Cryptantha, Cryptantha gracilis, and Wingnut Cryptantha, Cryptantha pterocarya.