Chilopsis linearis, Desert Willow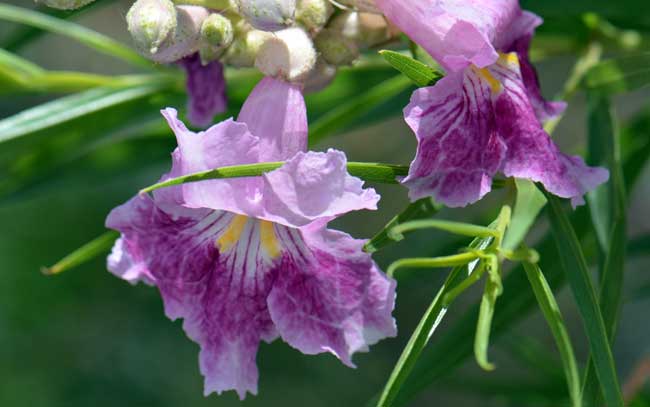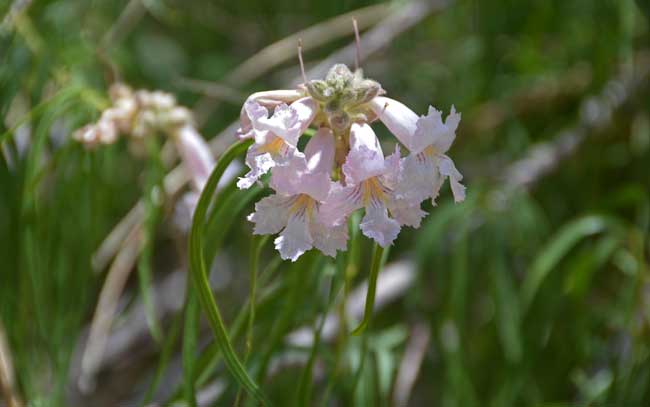 Scientific Name: Chilopsis linearis
Common Name: Desert Willow
Also Called: Art's Seedless Desert Willow, Catalpa Willow, Desert Catalpa, Desert Willow, Desertwillow, False Willow, Flowering Willow, Trumpet Flower, Willow-leaf Catalpa; (Spanish: Flora de Mimbre, Mimbre, Jano, Janos)
Family: Bignoniaceae, Trumpet Creeper Family
Synonyms: ()
Status: Native
Duration: Perennial
Size: Up to 30 feet in Arizona.
Growth Form: Tree or large shrub; willow-like in profile.
Leaves: Green; mostly alternate, lower leaves opposite, deciduous, narrowly linear, linear lanceolate, curved.
Flower Color: White, pink or lavender; flowers are large and showy for a desert species, almost orchid-like, lobes and corolla throat with purple streaks or spots and yellow ridges, flower margins wavy and ruffled, fragrant blooms on terminal branch tips, post bloom drop fruits are conspicuous slender hanging pods.
Flowering Season: April to August, later in California.
Elevation: Up to 4,000 or more, usually at lower elevations in Arizona.

Habitat Preferences: Washes, sandy areas in lower desert foothills.

Recorded Range: Desert Willow is found in the southwestern part of the United States; AZ, CA, CO, NM, NV, OK, TX and UT. It is also found in northern Baja California and northern Mexico. In Arizona, Desert Willow found in appropriate habitat throughout most of the state, with few records in the northeast.

North America & US County Distribution Map for Chilopsis linearis.

U.S. Weed Information: No USGS data listed.
Invasive/Noxious Weed Information: No USGS data listed.

Wetland Indicator: Chilopsis linearis is included on the USDA 2012 National Wetland Plant Listed as a Facultative (FAC) and Facultative Upland (FACU) species.
FAC: Occur in wetlands and non-wetlands
FACU: Usually occur in non-wetlands, but may occur in wetlands.

Threatened/Endangered Information: No USGS data listed.

Genus Information: Chilopsis is a monotypic genus with 2 subspecies;
Chilopsis linearis ssp. arcuata, Desert Willow found in AZ, CA, NM, NV, TX and UT.) and
Chilopsis linearis ssp. linearis, Desert Willow found in CO, NM, OK, and TX.

Comments: Desert Willow is often one of the dominant species in lower desert washes. Desert Willow is occasionally browsed by livestock when more favored forage is absent. It is used as an ornamental in desert landscapes for its attractive foliage and profile and beautiful flowers. This species is closely related to the genus Catalpa which is known for its showy flowers.

Blossoms and seed Desert Willow has been used for food. Several other ethno-botanical uses are identified at Native American Ethnobotany, University of Michigan, Dearborn.