Sonchus oleraceus, Common Sowthistle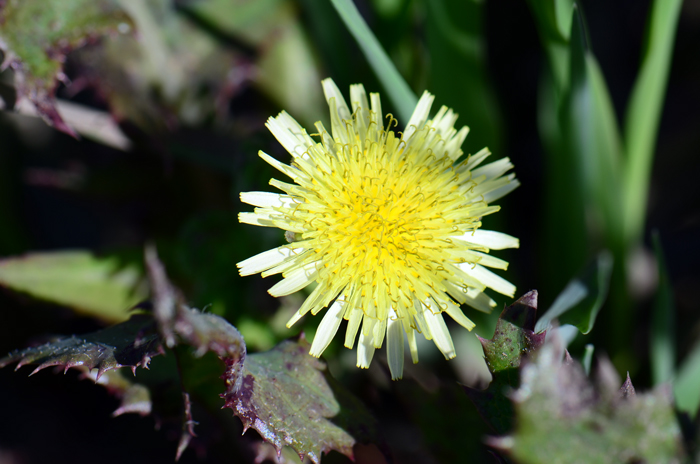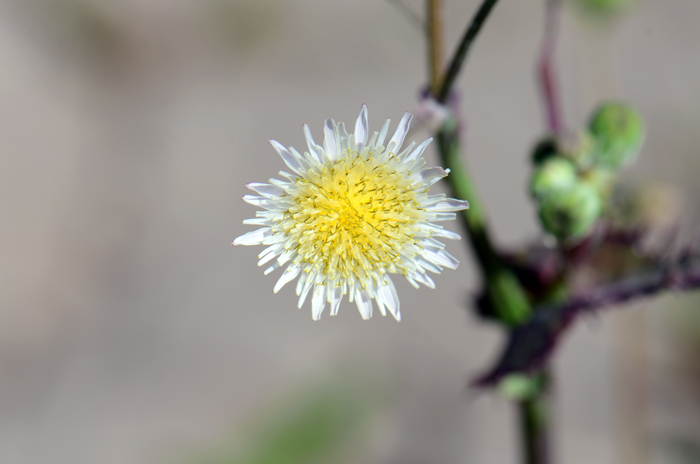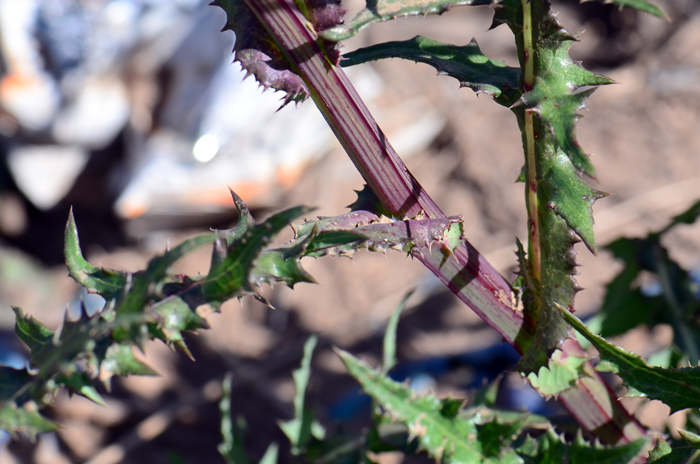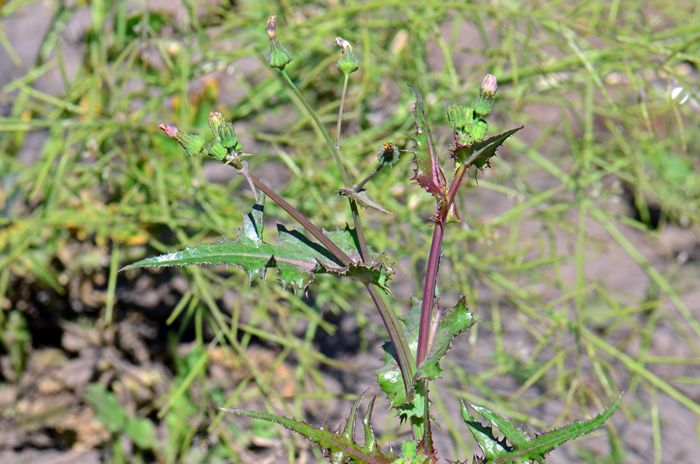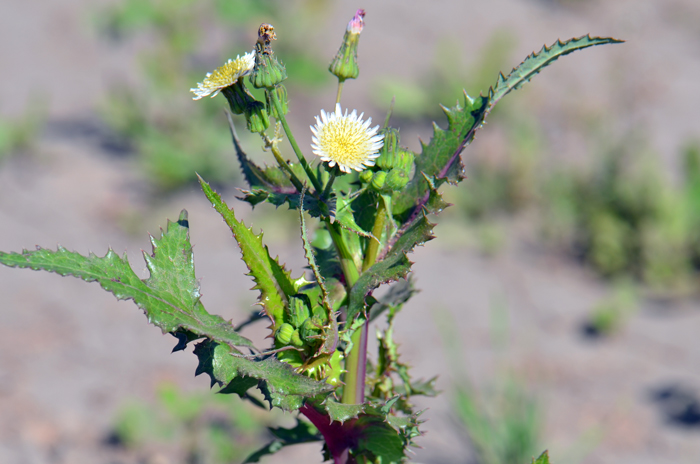 Scientific Name: Sonchus oleraceus
Common Name: Common Sowthistle

Also Called: Annual Sowthistle, Common Cow Thistle, Common Sow-thistle, Hare's Colwort, Hare's Thistle, Laiteron, Milky Tassel, Milk Thistle, Pualele, Smooth Sow Thistle, Soft Thistle, Sow Thistle, Sow-thistle, Swines; (Spanish: Chinita, Lechuguilla, Achicoria Dulce, Muela de Caballo)

Family: Asteraceae, Sunflower Family

Synonyms: ( )

Status: Introduced, Invasive; European native

Duration: Annual or biennial

Size: 1 to 3 feet (.3-.9 m) tall or more

Growth Form: Forb/herb; branching above; stems hollow, mostly hairless (glabrous) ooze milky sap when broken.

Leaves: Green, light- or dark- green; leaves arranged alternately along stem; basal leaves; upper leaves variable in plant, oblong, obovate, lanceolate; leaves often winged at base, spiny edges deeply lobes.

Flower Color: Yellow; flowers small about ½ to 1 inch (1.2-2.54 cm), on tips of flowering stalks (peduncles); ligulate flower in clusters on open branches (remarkably similar to a Dandelion flower); flowers usually bloom mornings to mid-mornings; fruit is a cypsela with white hairs on one end, seeds are wind dispersed.

Flowering Season: March or April to September, October or year-round in the southern states.

Elevation: 500 to 6,500 feet (152-2,000 m) or more.

Habitat Preferences: Throughout the state, roadsides, yards, gardens, fields, along streams and disturbed areas.

Recorded Range: Widespread throughout North America in every state and most provinces. Common weed in Baja California and northern, central and southern Mexico.

North America & US County Distribution Map for Sonchus oleraceus.

North America species range map for Common Sowthistle, Sonchus oleraceus: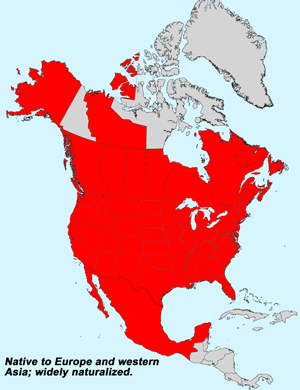 Click image for full size map

U.S. Weed Information: In North America Sonchus oleraceus is listed in:

Weeds of the Northeast,
Weeds of the United States and Canada,
Weeds of the West.

Plants included here may become weedy or invasive.

U.S. Wetland Indicator: In North America Sonchus oleraceus has the following wetland designations:
Alaska, UPL
Arid West, UPL
Atlantic and Gulf Coastal Plain, FACU;
Eastern Mountains and Piedmont, UPL;
Great Plains, UPL;
Midwest, FACU;
Northcentral & Northeast, FACU;
Western Mountains, Valleys, and Coast, UPL;

FACU = Facultative Upland, usually occur in non-wetlands, but may occur in wetlands
UPL = Obligate Upland, almost never occur in wetlands

U.S. Threatened/Endangered Information: Unknown

U.S. Invasive/Noxious Weed Information: Unknown

International Invasive/Noxious Weed Information: *CABI, and the *ISC* has identified Sonchus oleraceus is listed as an "Invasive Species, Pest, Host Plant".

*CABI is The Centre for Agriculture and Bioscience International (CABI), Wallingford, Oxfordshire, England; The US Department of Agriculture is a lead partner with CABI.

*ISC is The Invasive Species Compendium (ISC) is an encyclopedic resource that brings together a wide range of different types of science-based information to support decision-making in invasive species management worldwide.

Genus Information: In North America there are 5 species and 8 accepted taxa overall for genus. Worldwide, The Plant List includes 131 accepted species names and a further 158 scientific names of infraspecific rank for the genus.

The genus Sonchus was published in 1753 by Carl Linnaeus, (1707-1778)

In the Southwestern United States: Arizona has 2 species of genus, California has 4 species, Nevada, New Mexico, Texas and Utah each have 3 species. Data approximate, subject to revision.

Comments: One of the more predominant plants in Arizona Common or Annual Sowthistle is a major weed species throughout the country and world-wide. It is found on every continent in the world. As it is so prolific, this weed competes with other more "desirable" plant species. It has become naturalized from Europe and is sometimes difficult to distinguish from the similar Spiny Sowthistle, Sonchus asper. One of the main differences, as the name implies, the latter is spinier.

In Southwest Desert Flora also see Prickly Lettuce, Lactuca serriola.

Importance to Wildlife, Birds and Livestock

Although an introduced species, Sonchus oleraceus has small but attractive flowers, the flowers and their seeds and plants may be visited by hummingbirds and/or small mammals including rodents and granivorous birds in search of nectar or food.

Beneficial Value to Butterflies, Honey Bees and Insects

Although an introduced species, Sonchus oleraceus attractive flowers are the flowers and their plants may be visited by butterflies, moths, honeybees, native bees and other insects in search of food and nectar.

Etymology:

The genus "Sonchus" (Son'chus:) the Greek name for Sowthistle.

The genus Sonchus was published in 1753 by Carl Linnaeus, (1707-1778)

The species epithet "oleraceus" (olera'ceus:) oleraceous, resembling garden herbs or vegetables used in cooking.

Ethnobotany

Sonchus oleraceus is used for a multitude of purposes by North American indigenous peoples.
Houma Drug, Abortifacient, Antidiarrheal; Infusion of plant taken to 'make tardy menstruation come.'
Houma Drug, Antidiarrheal; Infusion of whole plant taken to 'correct looseness of bowels.'
Houma Drug, Pediatric Aid, Toothache; Infusion of plant given to children for teething.
Houma Food, Fodder; Plants used for hog feed.
Kamia Food, Vegetable; Boiled leaves used for food as greens.
Pima Drug, Cathartic; Gum used as a cathartic.
Pima Drug, Other; Gum used as a cure for the opium habit.
Pima Food, Unspecified; Leaves and stems rubbed between the palms of the hands and eaten raw.
Pima, Gila River Food, Unspecified; Leaves eaten raw and boiled.
Yaqui Food, Vegetable; Tender, young leaves boiled in salted water with chile and eaten as greens.

See complete listing of ethno-botanical uses at Native American Ethnobotany, University of Michigan, Dearborn.