Senecio vulgaris, Common Groundsel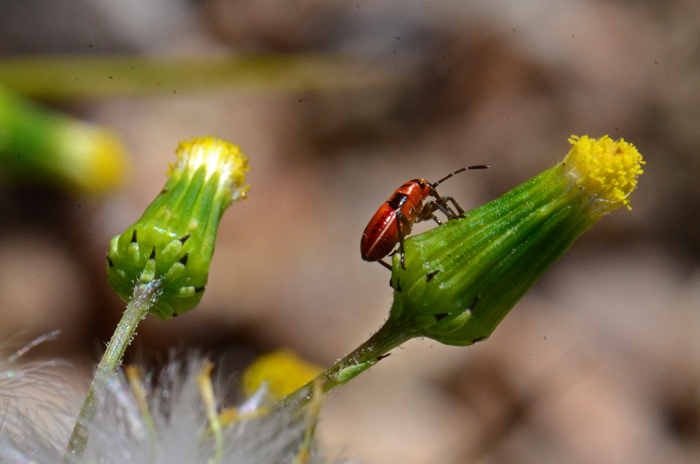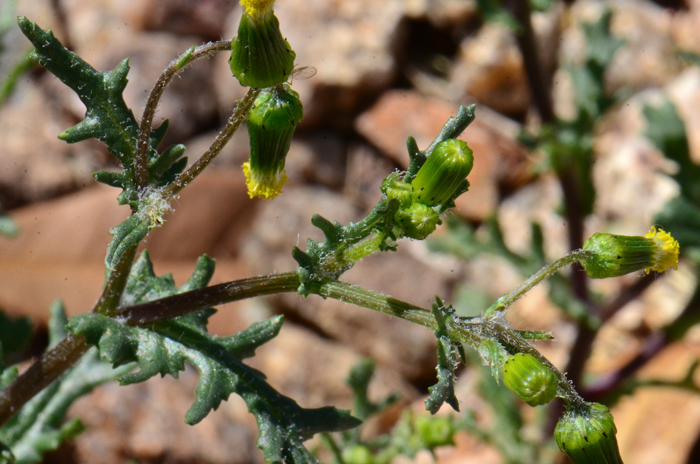 Scientific Name: Senecio vulgaris
Common Name: Common Groundsel
Also Called: Old-Man-in-the-Spring
Family: Asteraceae, Sunflower Family
Synonyms: ()
Status: Introduced and naturalized from Eurasia.
Duration: Annual, biennial.
Size: Up to 8 inches or more (23").
Growth Form: Forb/herb; plants with 1 or numerous (10) stems; initially glabrous, young plants with uneven tomentose.
Leaves: Green; petiolate; ovate to oblanceolate, tapered to leaf stalk (petiole); margins lobulate to dentate.
Flower Color: Yellow; flower heads 8 to 20 loose flat-topped corymbiform clusters; discoid, florets 30 (55-65); flowers in loose flat-topped clusters; phyllaries usually green or black-tipped; fruit densely hairy.
Flowering Season: February to July.
Elevation: Below 4,000 feet.

Habitat Preferences: Grows as a weed under general landscape watering needs; irrigated areas, farm lands.

Recorded Range: Common Groundsel is a common weed found throughout all of North America, Europe and Asia.

North America & US County Distribution Map for Senecio vulgaris.

U.S. Weed Information: In North America Senecio vulgaris can be weedy or invasive according to the following authoritative sources: Weeds of the Northeast; Invasive exotic pest plants in Tennessee; Weeds of the West; Invasive plant list. Florida Exotic Pest Plant Council, Florida; Weeds of Kentucky and adjacent states: a field guide; Weeds of Nebraska and the Great Plains; Weeds of the United States and Canada; and Weeds of the West. Listed as a weed in Manitoba, Canada. Plants included here may become weedy or invasive.

Invasive/Noxious Weed Information: In North America Senecio vulgaris is listed as a Noxious Weed by the federal government and/or a State: Washington, Common Groundsel, Class C noxious weed. Plants included here are invasive or noxious.

Wetland Indicator: In North America Senecio vulgaris has the following wetland designations: Hawaii, FACU; Alaska, FACU; Arid West, FACU; Atlantic and Gulf Coastal Plain, UPL; Eastern Mountains and Piedmont, FACU; Great Plains, FACU; Midwest, UPL; Northcentral & Northeast, FACU; Western Mountains, Valleys, and Coast, FACU.
FACU = Facultative Upland, usually occur in non-wetlands, but may occur in wetlands
UPL = Obligate Upland, almost never occur in wetlands.

Threatened/Endangered Information: No information available.

Genus Information: In North America there are 70 species for Senecio. The Editors of Encyclopædia Britannica identify about 1,200 species distributed throughout the world.

In the Southwestern United States: Arizona has 13 species of genus, California has 25 species, Nevada has 15 species, New Mexico has 22 species, Texas has 9 species, Utah has 18 species. All data is approximate and subject to taxonomic changes.

Comments: Senecio vulgaris is listed under Plants Poisonous to Livestock and other Animals by Cornell University, College of Agriculture and Life Sciences; Department of Animal Science.

In Southwest Desert Flora also see Lemmon's Ragwort, Senecio lemmonii, Threadleaf Ragwort, Senecio flaccidus var. flaccidus and Smooth Threadleaf Ragwort, Senecio flaccidus var. monoensis.