Porophyllum gracile, Slender Poreleaf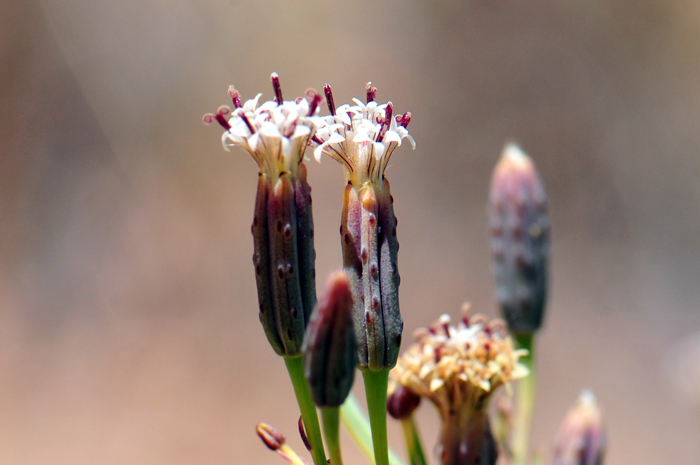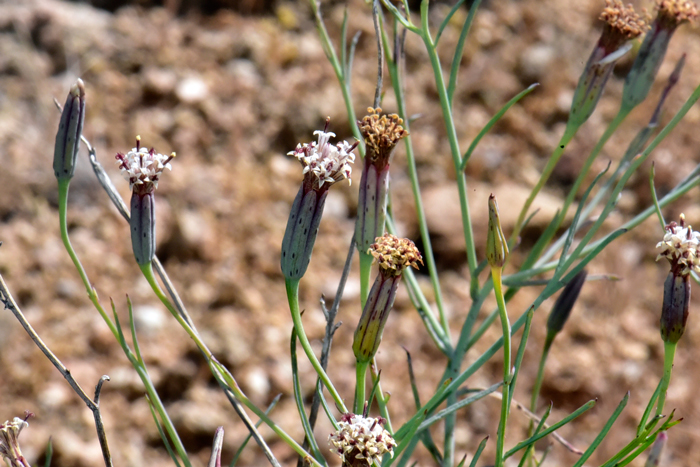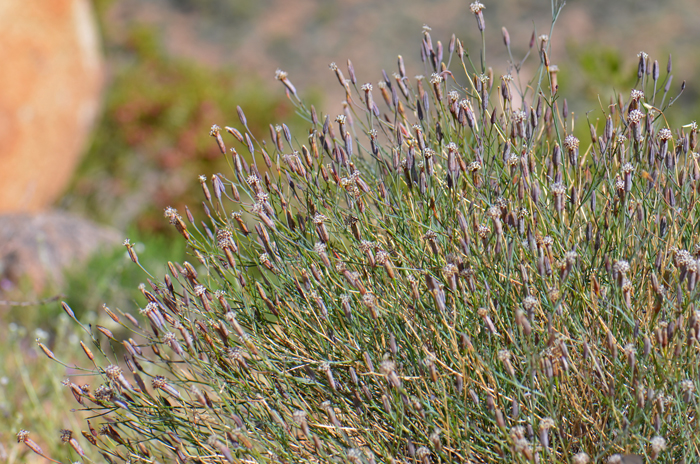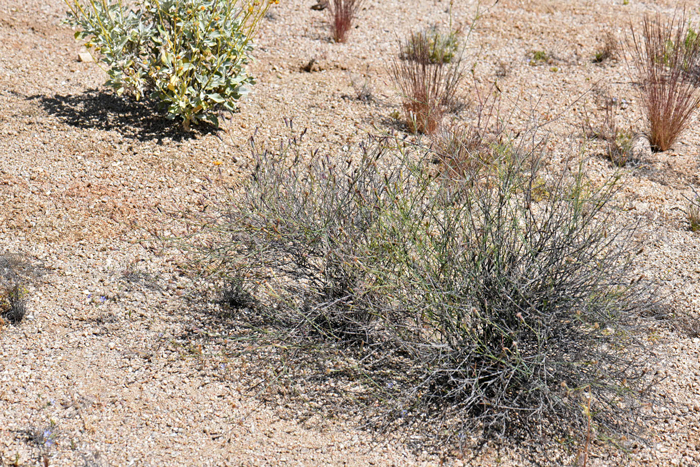 Scientific Name: Porophyllum gracile
Common Name: Slender Poreleaf

Also called: Odora and Yerba del Venadov (Spanish: Hierba del Venado)

Family: Asteraceae, Sunflower Family

Synonyms: (Porophyllum caesium P. junciforme, P. nodosum, P. putidum, P. vaseyi)

Status: Native

Duration: Perennial

Size: 18 inches (46 cm) tall or more, 2 feet (61 cm)

Growth Form: Subshrub or Shrub; bases woody; many slender wiry upright stems, bluish-green, plants hairless; plants aromatic and heavily glandular; strongly scented.

Leaves: Light green or bluish-green; leaves linear or thread-like with aromatic glands; strongly scented.

Flower Color: White or purplish; flower heads narrow with exserted curling style; flowers solitary on branch tips; flower heads with dark purple oil glands; bracts surrounding flower heads linear; the fruit is a cypsela with straw or pinkish slender bristles (pappus).

Flowering Season: March to October or year-round with sufficient rainfall.

Elevation: Below 4,000 feet (1,219 m)

Habitat Preferences: Desert scrub; Dry rocky slopes, canyons, arroyos, sandy and gravelly soils.

Recorded Range: Southwest United States, AZ, CA, NM, NV, TX and UT. Largest populations in AZ, CA, NV. Also native throughout Baja California and northwest Mexico.

North America & US Counties Distribution Map for Porophyllum gracile.

North America species range map for Slender Poreleaf, Porophyllum gracile: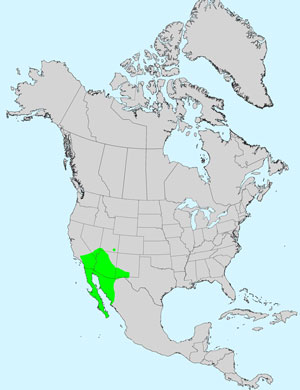 Click image for full size map

U.S. Weed Information: Unknown
Invasive/Noxious Weed Information: Unknown
Wetland Indicator: Unknown
Threatened/Endangered Information: Unknown

Genus Information: In North America there are 6 species and 6 accepted taxa overall for Porophyllum. Worldwide, The Plant List includes 28 accepted species names and a further 35 scientific names of infraspecific rank for the genus.

The genus Porophyllum was published in 1763 by Adanson, Michel (1727-1806) in 1763.

In the Southwestern United States: Arizona, California and Nevada each have 2 species of Porophyllum, New Mexico has 3 species, Texas has 4 species and Utah has 1 species. Data approximate and subject to revision.

Comments: Slender Poreleaf or Odora has a strong mostly unpleasant scent. It is well represented in both the Sonoran and Mojave deserts. The Spanish name, Yerba de Venado, translates to "Grass of the Deer".

In Southwest Desert Flora also see the related species: Yerba Porosa, Porophyllum ruderale, which is found in southern Arizona.

Importance to Wildlife, Birds and Livestock

Slender Poreleaf, Porophyllum gracile has small but showy tubular flowers, and their seeds and plants may be visited by hummingbirds and/or small mammals including rodents and granivorous birds in search of food, nectar, shelter and protection through cover.

Slender Poreleaf, Porophyllum gracile has small but showy tubular flowers, and their plants may be visited by butterflies, moths, native bees and other insects in search of nectar and/or other food.

Etymology:

The genus "Porophyllum" is from the Greek word "poros", meaning hole, and "phyllon", meaning leaf, and thus a reference to the gland-dotted leaves.

The genus Porophyllum was published in 1763 by Adanson, Michel (1727-1806) in 1763.

The species epithet "gracile" as in graceful or slender referencing the stems and overall profile of the plant.

Ethnobotany

The Seri, indigenous people from the Mexican state of Sonora, call this species "xtisil" and use a tea made from the stems as a remedy for colds and to aid in difficult childbirth. The roots are macerated and used to treat toothache.

Porophyllum gracile is used for a multitude of purposes by southwestern United States indigenous peoples.
Havasupai Drug, Analgesic Decoction of pounded plant taken for pain.;
Havasupai Drug, Antirheumatic (External and Internal); Decoction of pounded plant rubbed in as a liniment and Decoction of pounded plant taken for aches.
Havasupai Drug, Dermatological and Gastrointestinal Aid; Decoction of pounded plant used as a wash on sores and Decoction of pounded plant taken for abdominal pain.
Paiute Drug, Abortifacient; Decoction of root taken as "a regulator for delayed menstruation."
Shoshoni Drug, Abortifacient; Plant used to regulate delayed menstruation.

See complete listing of ethno-botanical uses at Native American Ethnobotany, University of Michigan, Dearborn.