Pluchea sericea, Arrowweed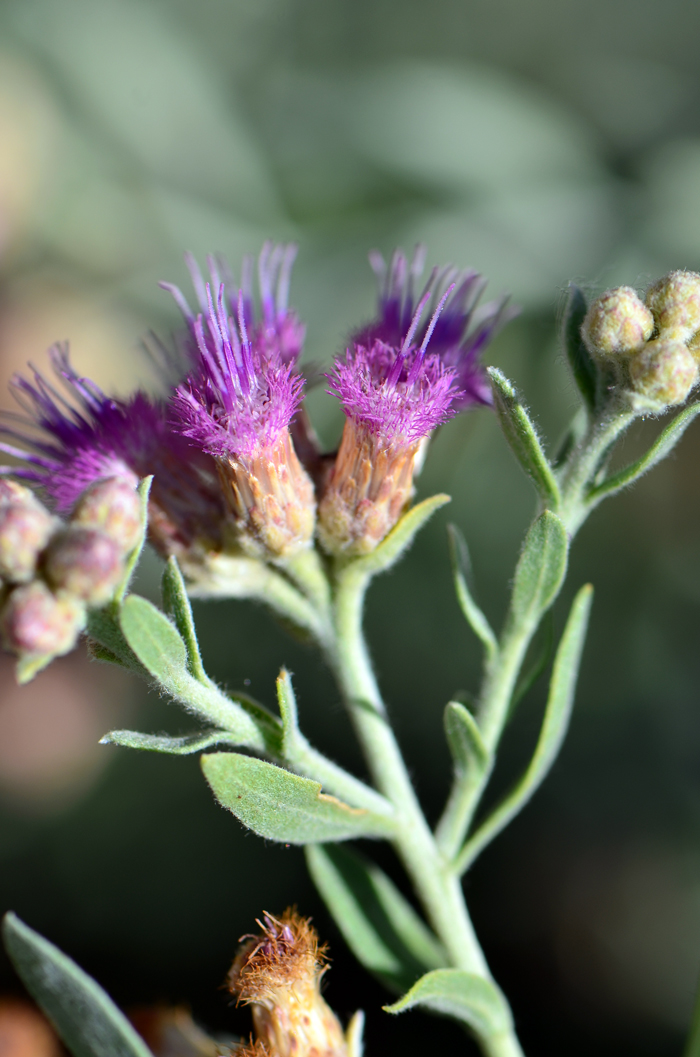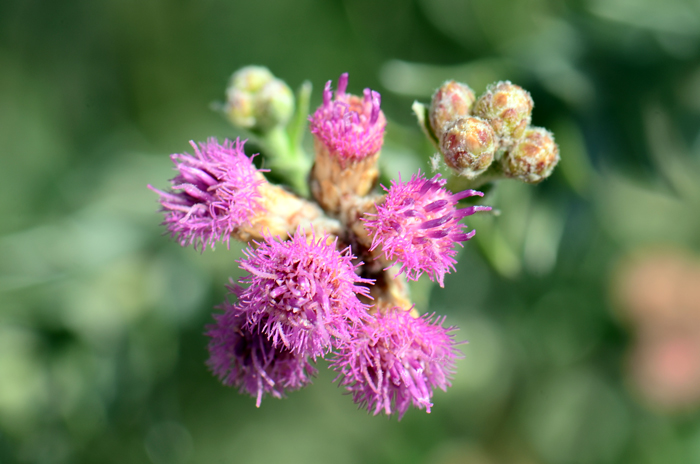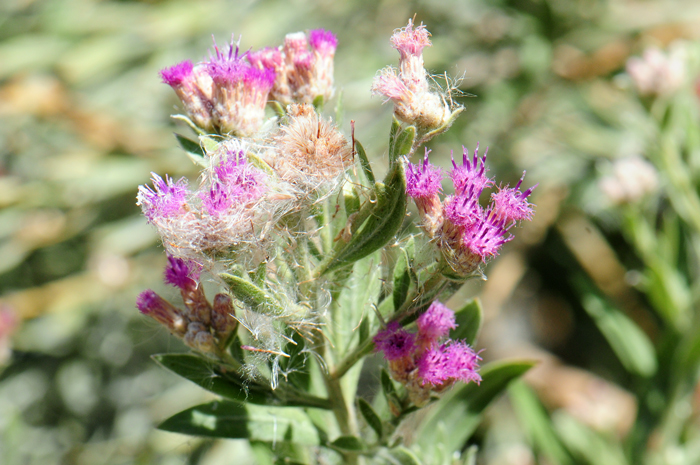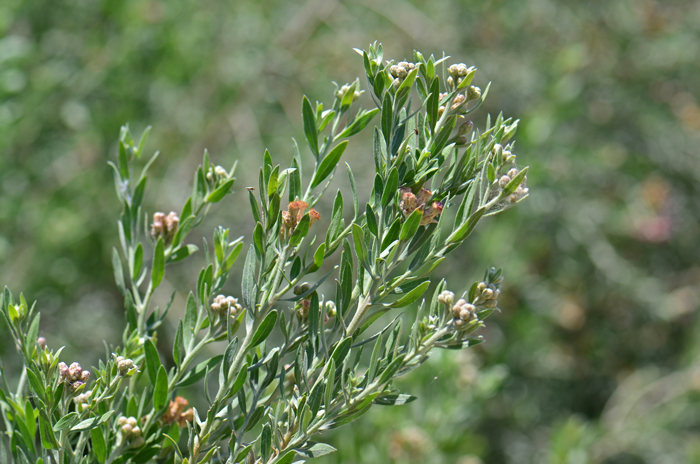 Scientific Name: Pluchea sericea
Common Name: Arrowweed

Also called: Arrow Weed, Marsh-fleabane; Spanish: Cachanilla, Cachinilla

Family: Asteraceae, Sunflower Family

Synonyms: (Berthelotia sericea, Polypappus sericeus and Tessaria sericea)

Status: Native

Duration: Perennial with a rhizomatous root system.

Size: Up to 10 feet (305 cm) or more

Growth Form: Shrub or Tree; plants erect; plant stems straight, leafy, slender; plant profile is willow-like; rhizomatous roots; plants with a mild fragrance.

Leaves: Grayish-green; leaves linear to lanceolate; mostly without supporting stalk (sessile); the leaves are silvery or silky with dense appressed fine, straight hairs (sericeous), thus the specific epithet sericea.

Flower Color: Pink to deep rose; disk flowers only; flower heads in clusters at ends of stems; fruit is a cypsela.

Flowering Season: January or February to June or July, or year-round; Primarily from March through July in Texas.

Elevation: Sea level to 3,000 feet (914 m)

Habitat Preferences: Moist saline riparian desert areas, floodplains, washes, forms impenetrable thickets in and along major rivers and stream banks, rivers, springs and seeps.

Recorded Range: Pluchea sericea is limited in distribution to the southwestern United States in AZ, CA, NM, NV, TX, and UT. Also in northern Baja California and northern Mexico. Arrowweed is found primarily in AZ and southern CA with smaller populations in southern NV and southern UT; NM and TX with marginal populations around permanent water. It is also native to northwest Baja California and northwest Mexico.

North America & US County Distribution Map for Pluchea sericea.

North America species range map for Arrowweed, Pluchea sericea: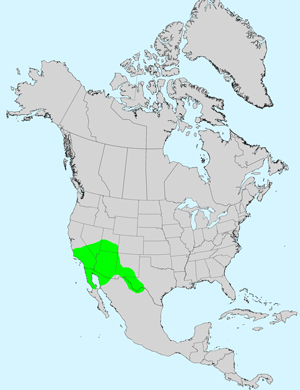 Click image for full size map

U.S. Weed Information: Unknown
Invasive/Noxious Weed Information: Unknown
Threatened/Endangered Information: Unknown

Wetland Indicator: In North America Pluchea sericea has the following wetland designations:

Arid West, FACW
Great Plains, FAC;
Western Mountains, Valleys, and Coast, FACW.

FACW = Facultative Wetland, usually occur in wetlands, but may occur in non-wetlands
FAC = Facultative, occur in wetlands and non-wetlands

Genus Information: In North America there are 11 species for Pluchea. Worldwide, The Plant List includes 56 accepted species names and a further 34 scientific names of infraspecific rank for Pluchea.

The genus "Pluchea" was published by Alexandre Henri Gabriel de Cassinni, (1781-1832) in 1870.

In the Southwestern United States: Arizona, California, Nevada, New Mexico and Utah each have 2 species of Pluchea, Texas has 5 species. Data approximate and subject to revision.

Comments: Arrowweed has a mild but distinctive camphor like odor; it grows in extremely dense impenetrable thickets along streams and riparian areas.

Importance to Wildlife, Birds and Livestock

Arrowweed, Pluchea sericea brightly colored tubular flowers, and their seeds and plants may be visited by hummingbirds and/or small mammals including rodents and granivorous birds in search of food, nectar, shelter and protection through cover.

Beneficial Value to Butterflies, Bees and Insects

Arrowweed, Pluchea sericea brightly colored tubular flowers, and their plants may be visited by butterflies, moths, native bees and other insects in search of nectar and/or other food.

Etymology:

The genus "Pluchea" was named after French naturalist Noel A. Pluche (1688-1761).

The genus "Pluchea" was published by Alexandre Henri Gabriel de Cassinni, (1781-1832) in 1870.

The species epithet "sericea" is a reference to it silvery, or silky (sericeous) leaves.

Ethnobotany

Ethno-Herbalist: Southern California Ethnobotany; Ethnobotany of Southern California Native Plants: Arrowweed, Pluchea sericea.

Ethnobotany

Pluchea sericea is used for a multitude of purposes by southwestern United States indigenous peoples.
Cahuilla Fiber, Building Material, Food, Hunting & Fish Items; Long, slender, pliable stems with leaves interwoven with stronger materials into walls of houses, and as a roofing material and used in the construction of ramadas, windbreaks, fences and granaries and Roots roasted and eaten; Used to make arrow shafts.
Havasupai Drug, Throat Aid, Fiber, Building Material, Furniture, Hunting & Fish Item, Tools; Leaves chewed or boiled for throat irritations, Plant used for thatch in building houses and Straight stems used to form the back of the cradleboard and Stems used to make arrows, especially for children and Sticks used to peg a hide to the ground while stretching it during tanning and Shafts used to make thatch for houses.
Luiseno Fiber, Building Material, Hunting & Fishing Item; Plant formerly used to roof houses and Plant sometimes used to make arrows.
Paiute Drug, Antidiarrheal and Gastrointestinal Aid; Decoction of root taken for diarrhea, especially bloody diarrhea and Raw root chewed or decoction of root taken for indigestion.
Papago Other, Tools; Used as a spindle for spinning cotton.
Pima Drug, Antidiarrheal, Dermatological Aid, Eye Medicine, Gastrointestinal Aid, Pediatric Aid (Sedative), Veterinary Aid, Forage; Decoction of roots taken for diarrhea and Infusion of root bark used as a wash for the face and sore eyes and Infusion of root bark and roots used as a wash for the face and sore eyes and Decoction of roots taken for stomachaches and Poultice of roots applied to soothe nervous child that cried while sleeping and Poultice of chewed roots applied to snakebites on horses and Plants browsed by deer, horses and cattle.

See complete listing of ethno-botanical uses at Native American Ethnobotany, University of Michigan, Dearborn.