Peucephyllum schottii, Schott's Pygmycedar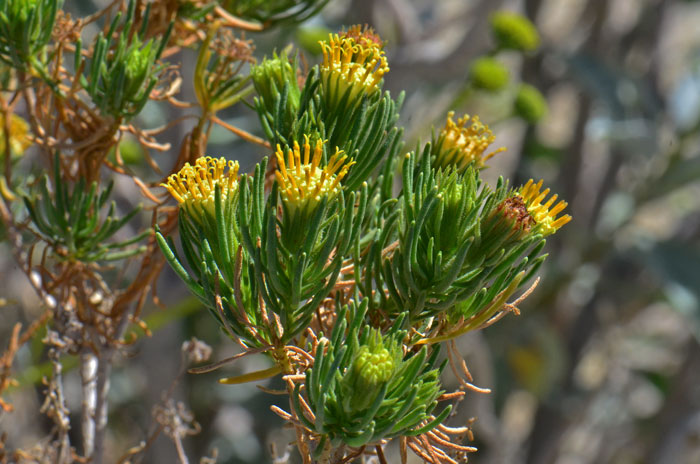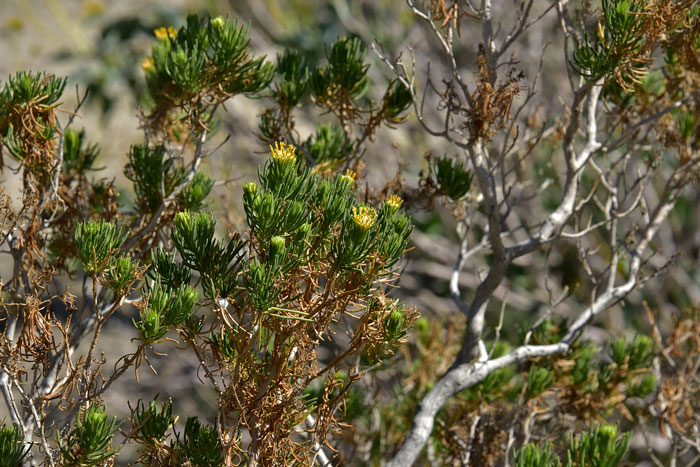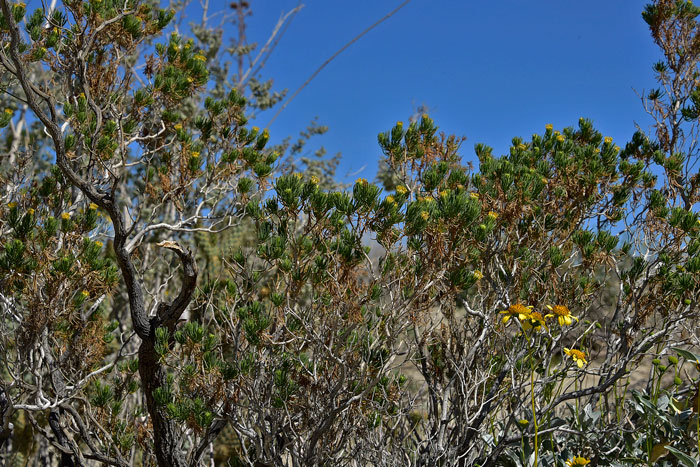 Scientific Name: Peucephyllum schottii
Common Name: Schott's Pygmycedar
Also Called: Desert Fir, Pygmy Cedar, Pygmycedar (Spanish: Romero)
Family: Asteraceae, Sunflower Family
Synonyms: ()
Status: Native
Duration: Perennial
Size: Up to 8 or 9 feet.
Growth Form: Shrub or small tree; plants with many branches, whitish barked, resinous-viscid, glabrous.
Leaves: Green; leaves absent below (denuded), stems leafy above; alternate; shape linear-filiform; leaves gland dotted.
Flower Color: Yellow; flower heads solitary on tips of branches; peduncles present; disk florets only; fruit an achene.
Flowering Season: March to June, typically following monsoon rainfall; again in December through May.
Elevation: Up to 5,000 feet but commonly lower; up to 4,200 feet in California.

Habitat Preferences: Dry rocky slopes, among boulders, desert scrubs; soil types granite, limestone, sandstones and volcanics.

Recorded Range: Peucephyllum schottii is found in the southwestern United States in AZ, CA, NV, UT. It has a limited distribution in Arizona where it is found in Mohave and Yuma counties. Schott's Pygmycedar is also native to Baja California and northwest Mexico.

North America & US County Distribution Map for Peucephyllum schottii.

U.S. Weed Information: No information available.
Invasive/Noxious Weed Information: No information available.
Wetland Indicator: No information available.
Threatened/Endangered Information: No information available.

Genus Information: In North America there is 1 species and 1 accepted taxa overall for Peucephyllum. World wide, The Plant List includes 1 accepted species names and includes a further 1 infraspecific rank for the genus.

In the Southwestern United States there is 1 species of Peucephyllum. All data is approximate and subject to taxonomic changes.

Comments: Peucephyllum schottii is a large shrub or small tree, an interesting growth form for a member of the Asteraceae family in which most species by far are annuals and perennials herbs.