Palafoxia arida, Desert Palafox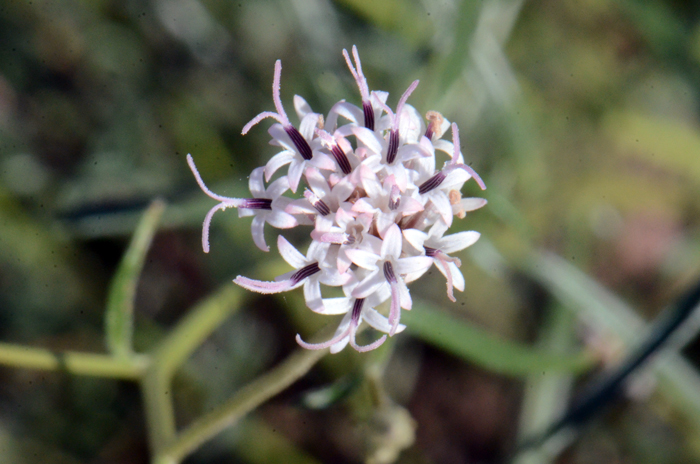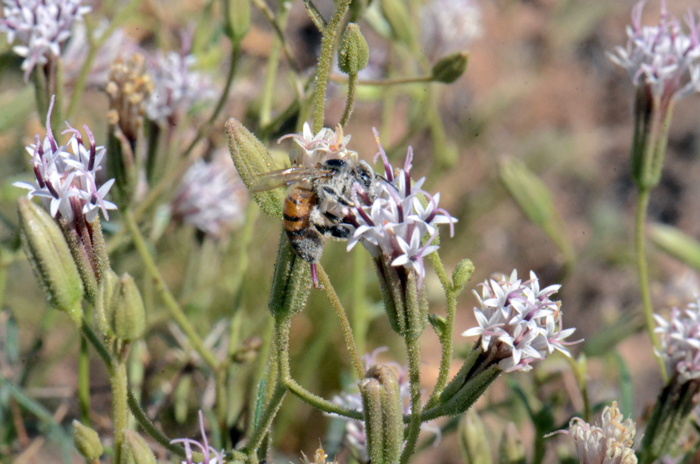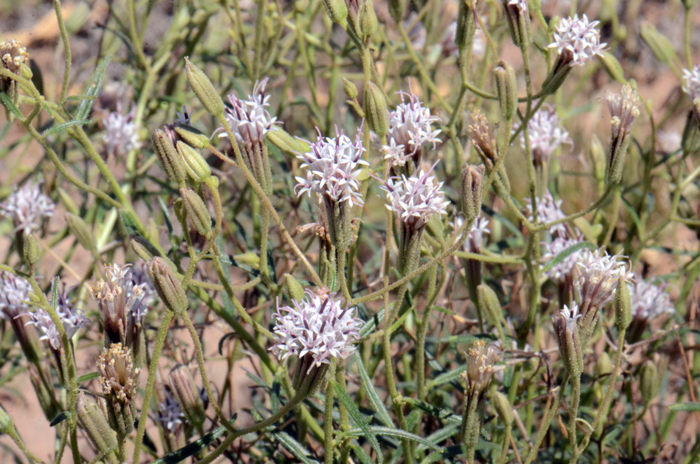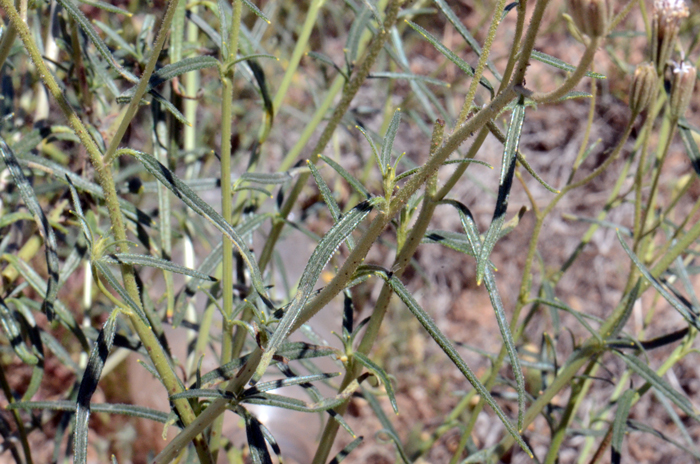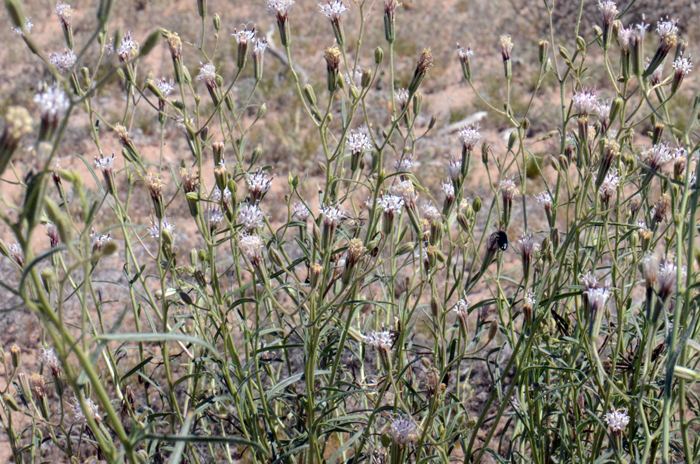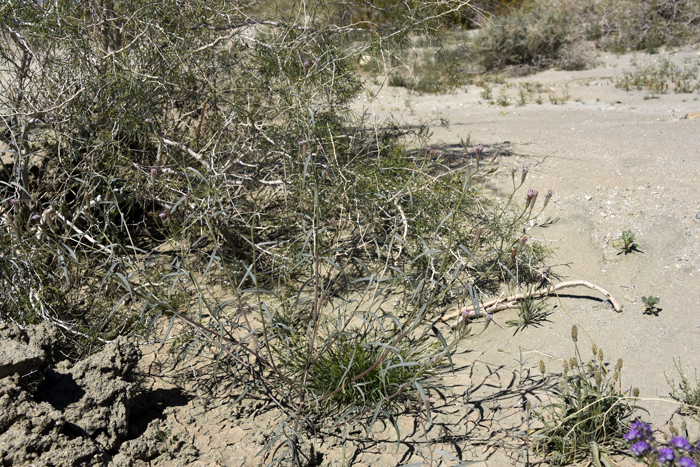 Scientific Name: Palafoxia arida
Common Name: Desert Palafox

Also Called: Desert Needles, Desert Palafox, Desert Palafoxia, Spanish Needles

Family: Asteraceae, Sunflower Family

Synonyms: ()

Status: Native

Duration: Annual

Size: Up to 4 feet (122 cm) or more, 6 feet (180 cm)

Growth Form: Forb/herb; from a slender taproot; plants upright, multiple branches; stems green; stems and foliage rough with stiff hairs or smooth without hair; sometimes with glandular hairs.

Leaves: Green or gray-green; leaves mostly narrow (linear) and curved back; note leaves with short stalk (petiole) upper leaves generally alternate along stem; leaves covered with dense white hairs (canescent).

Flower Color: Pink, light pink; flower heads with tubular disk florets only; flower heads profuse with up to 40 heads or so following good winter rainfall; bracts surrounding flower heads are points as shown above;

Flowering Season: Flowering late winter-spring(-summer)

Elevation: Below 3,000 feet (914 m)

Habitat Preferences: Desert Palafox is found in predominantly sandy soils.

Recorded Range: Desert Palafox is relatively rare in the United States where it is found only the southwestern part of the country in AZ, CA, NV, UT. It is also native northwest Mexico and throughout Baja California.

North America & US County Distribution Map for Palafoxia arida.

North America species range map for Desert Palafox, Palafoxia arida: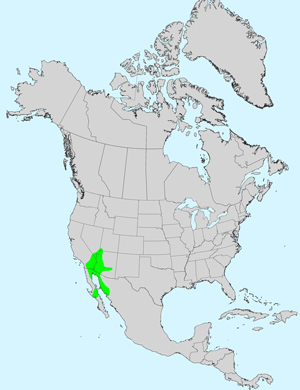 Click image for full size map

U.S. Weed Information: Unknown
Invasive/Noxious Weed Information: Unknown

Wetland Indicator: Unknown

Threatened/Endangered Information: Unknown

Genus Information: In North America there are 11 species and 19 accepted taxa overall for Palafoxia. Worldwide, The Plant List includes 12 accepted species names and a further 17 scientific names of infraspecific rank for Palafoxia.

In the Southwestern United States: Arizona, California, Nevada and Utah each have 1 species of Palafoxia, New Mexico has 2 species and Texas has 7 species. All data approximate and subject to revision.

There are 2 varieties in Palafoxia arida, Desert Palafox
Palafoxia arida var. gigantea, Giant Spanish Needle, (AZ, CA);
Palafoxia arida var. arida, Desert Palafox, (AZ, CA, NV, UT).

Comments: Desert Palafox was originally classified as Palafoxia linearis which is a Mexican species also called Desert Palafox, but one that does not reach as far north. Perhaps additional research will provide insight into the relationship between these two species, if in fact they are separate species.

Be aware that Palafoxia arida and Palafoxia arida var. arida and Palafoxia arida var. gigantea share the common name Desert Palafox.

In Southwest Desert Flora also see: Desert Palafox, Palafoxia arida var. arida and Giant Spanish Needles, Palafoxia arida var. gigantea.

Importance to Wildlife, Birds and Livestock

Desert Palafox, Palafoxia arida small showy pink tubular disk florets, their seeds and plants may be visited by hummingbirds and small mammals including rodents and granivorous birds in search of food, nectar, shelter and protection through cover.

Beneficial Value to Butterflies, Bees and Insects

Desert Palafox, Palafoxia arida small showy pink tubular disk florets and their plants may be visited by butterflies, moths and other insects in search of nectar and/or other food.

Etymology:

The genus Palafoxia is in honor of perhaps Josè Rebolledo de Palafox y Melzi (1776-1847), Duke of Saragossa. However, a paper published by Hervè M. Burdetin suggests that the first choice name was originally to honor and commemorate Juan de Palafox y Mendoza (1600-1659), who was a bishop and founder of the University of Mexico. The paper further suggests this is so because the other Palafox, Josè Regolledo de Palafox y Melzi became a national hero and the attribution was transferred to him.

The species epithet "arida" means "growing in dry places" or "dry land".

Ethnobotany

Desert Palafox, Palafoxia arida is used as a dye by southwestern United States indigenous peoples.
Cahuilla Dye, Yellow; Used as a yellow dye.

See complete listing of ethno-botanical uses at Native American Ethnobotany, University of Michigan, Dearborn.