Palafoxia arida var. gigantea, Giant Spanish Needles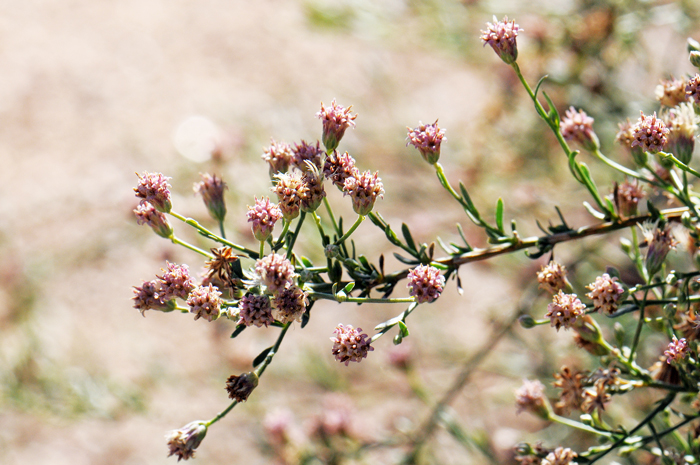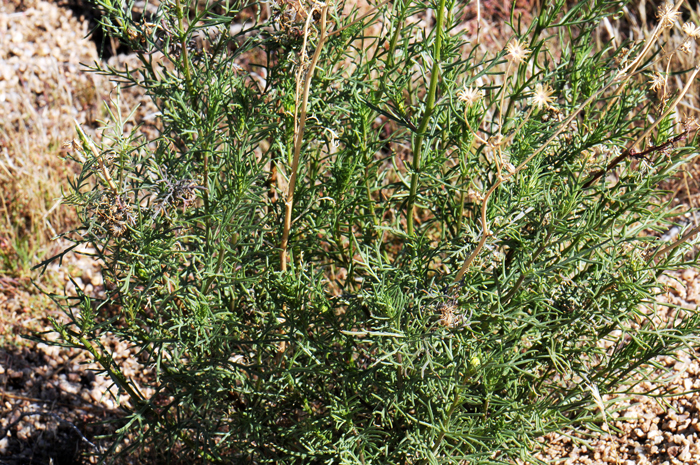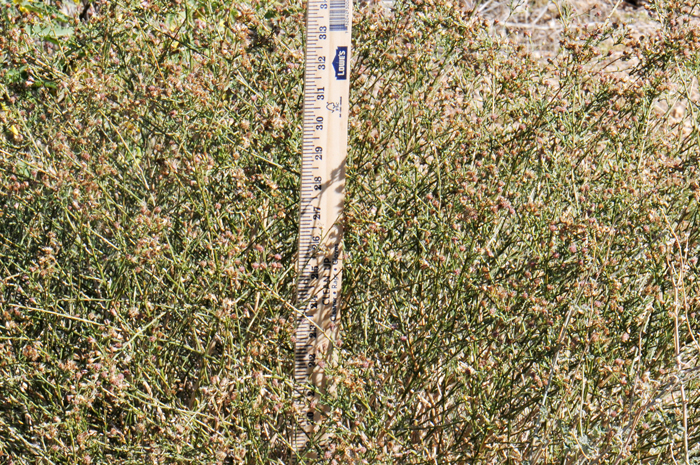 Scientific Name: Palafoxia arida var. gigantea
Common Name: Giant Spanish Needle

Also Called: Desert Palafox, Dune Spanish Needle

Family: Asteraceae, Sunflower Family

Synonyms: (Palafoxia linearis)

Status: Native

Duration: Annual

Size: Up to 2 feet (200 cm).

Growth Form: Forb/herb, subshrub; erect; multiple stems and branching in lower areas, stems scabrous to nearly glabrous; stems sometimes with stipule glands (stipitate-glandular.

Leaves: Green; lower leaves opposite, upper leaves alternate; leaf shape linear or lanceolate.

Flower Color: Pink; flower heads with disk florets only (discoid), heads 10 to 20, tubular (cylindric) to narrowly (turbinate), bracts surrounding heads (phyllaries) scabrous or with stipule glands (stipitate-glandular); fruit is a cypsela, seeds windborne.

Flowering Season: February or March to November (late winter early spring)

Elevation: Below 2,000 feet (600 m); much lower in California.

Habitat Preferences: Sandy plains such as sand dunes and mesas.

Recorded Range: In the United States, Giant Spanish Needles is rare, found only in AZ and CA. It is also found in northern Mexico (Sonora) and Baja California. In Arizona, it is recorded in Yuma County although the specimen in the photo was observed near Rio Verde in eastern Maricopa County, Arizona.

North America & US County Distribution Map for Palafoxia arida var. gigantea.

U.S. Weed Information: No data available.
Invasive/Noxious Weed Information: No data available.
Wetland Indicator: No data available.
Threatened/Endangered Information: No data available.

Genus Information: In North America there are 11 species and accepted taxa overall for genus. Worldwide, The Plant List includes 12 accepted species names and a further 17 scientific names of infraspecific rank for the genus Palafoxia. P. linearis is a Mexican species

In the Southwestern United States: Arizona, California, Nevada and Utah each have 1 species of Palafoxia, New Mexico has 2 species and Texas has 7 species. All data approximate and subject to revision.

There are 2 sub-species in Palafoxia arida, Desert Palafox
Palafoxia arida var. gigantea, Giant Spanish Needle, (AZ, CA);
Palafoxia arida var. arida, Desert Palafox, (AZ, CA, NV, UT).

Comments: Giant Spanish Needles was first described on sand dunes west of Yuma, County, Arizona. Desert Palafox was originally classified as Palafoxia linearis which is a Mexican species also called Desert Palafox, but one that does not reach as far north. Perhaps additional research will provide insight into the relationship between these two species, if in fact they are separate species.

In Southwest Desert Flora also see: Desert Palafox, Palafoxia arida var. arida.

Importance to Wildlife, Birds and Livestock

Unknown

Special Value to Native Bees, Butterflies and Insects

Insects may feed from the florets of Giant Spanish Needles.

Etymology:

The genus Palafoxia is in honor of perhaps Josè Rebolledo de Palafox y Melzi (1776-1847), Duke of Saragossa. However, a paper published by Hervè M. Burdetin suggests that the first choice name was originally to honor and commemorate Juan de Palafox y Mendoza (1600-1659), who was a bishop and founder of the University of Mexico. The paper further suggests this is so because the other Palafox, Josè Regolledo de Palafox y Melzi became a national hero and the attribution was transferred to him.

The species epithet "gigantea" is a celebration of its large size.

Ethnobotany

Ethnobotany: Cahuilla used it to make a yellow dye.