Monoptilon bellioides, Mojave Desertstar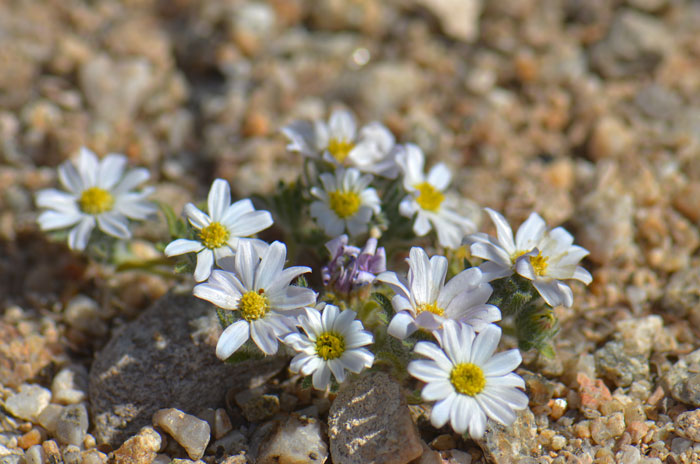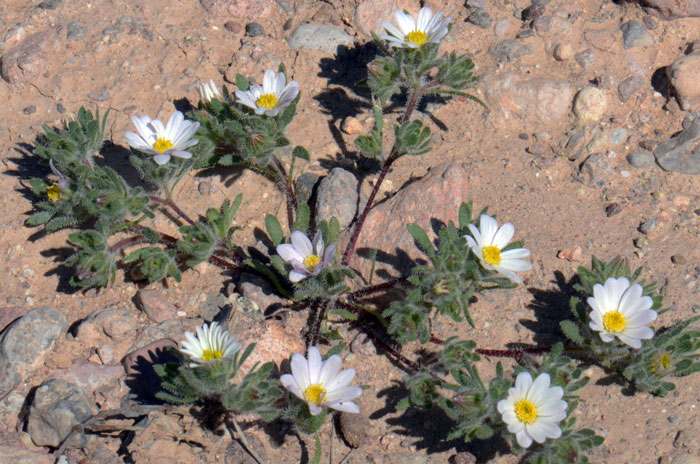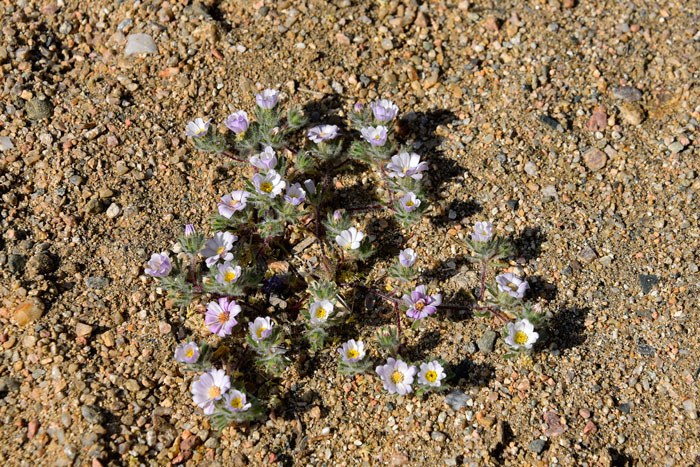 Scientific Name: Monoptilon bellioides
Common Name: Mojave Desertstar
Also Called: Bristly Desertstar, Desert Star, Desertstar
Family: Asteraceae, Sunflower Family
Synonyms: (Eremiastrum bellioides)
Status: Native
Duration: Annual; winter annual.
Size: Up to 10 inches more or less.
Growth Form: Forb/herb; stems often reddish-purple.
Leaves: Green; small; entire; mostly linear; hispid-hirsute; diffusely branched.
Flower Color: White or rose-tinged, disk florets yellow; disk florets mostly glabrous; fruit an achene.
Flowering Season: February to April; January to May in California.
Elevation: 200 to 2,300 feet in Arizona and California.

Habitat Preferences: Sandy or gravelly flats or desert washes, dunes, stony mesas and slopes.

Recorded Range: Monoptilon bellioides is found in far southwestern United States in Arizona, California and Nevada. In Arizona it is found in the far west and in Maricopa, Pima, Pinal and Yavapai counties. It is also native to Mexico (Baja California, Sonora).

North America & US County Distribution Map for Monoptilon bellioides.

U.S. Weed Information: No information available.
Invasive/Noxious Weed Information: No information available.
Wetland Indicator: No information available.
Threatened/Endangered Information: No information available.

Genus Information: In North America there are 2 species and 2 accepted taxa overall for Monoptilon. World wide, The Plant List includes 2 accepted species names and includes a further 2 infraspecific rank for the genus.

In the Southwestern United States: Arizona, California and Nevada each have 2 species of Monoptilon, Utah has 1 species, New Mexico and Texas have 0 species.. All data is approximate and subject to taxonomic changes.

Comments: Although commonly called "Mojave" Desertstar, this species is found in both the Mojave and Sonoran Deserts while its closely related sister commonly known as "Daisy" Desertstar (M. bellidiforme) is found primarily in the Mojave Desert Species.

Both species are difficult to distinguish from each other; technical differences include numbers and shape of bristles in the pappus. Other more recognizable differences such as stem color (reddish-purple in Mojave Desertstar vs yellow-green in Daisy Desertstar) and size (up to 10 inches in Mojave Desertstar vs up to 3 inches in Daisy Desertstar) are too variable for practical applications.

In Southwest Desert Flora also see Daisy Desertstar, Monoptilon bellidiforme.