Monoptilon bellidiforme, Daisy Desertstar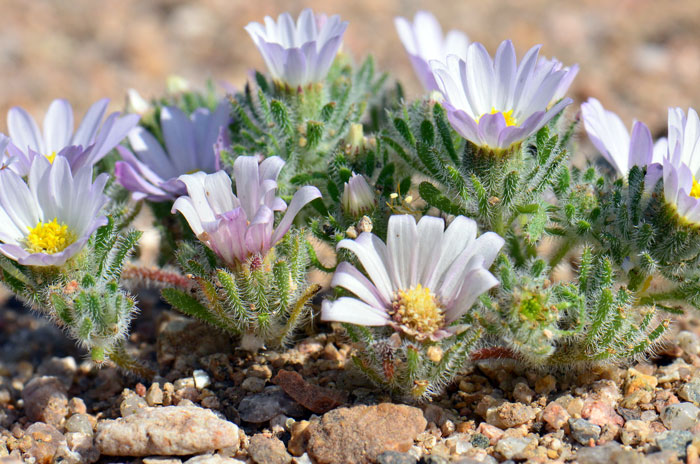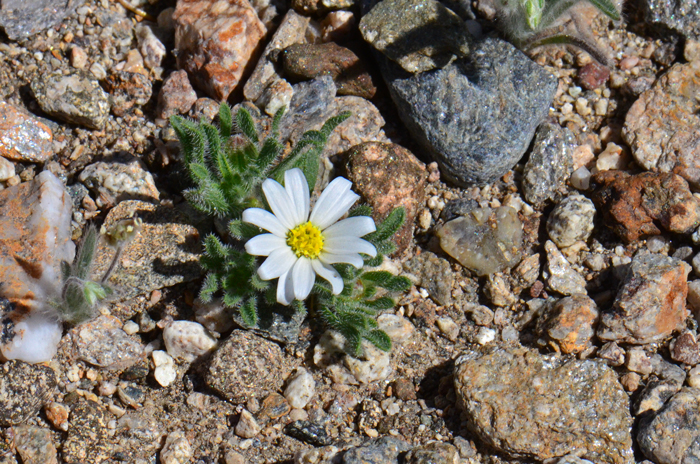 Scientific Name: Monoptilon bellidiforme
Common Name: Daisy Desertstar
Also Called: Mojave Desertstar
Family: Asteraceae, Sunflower Family
Synonyms: ()
Status: Native.
Duration: Annual; winter annual.
Size: Up to 3 inches or so.
Growth Form: Forb/herb; dwarf, hispid-hirsute; diffusely branched; stems yellow-green.
Leaves: Green; leaves small; leaves with noticeable pubescence; hairy; shape variable; linear-spatulate or oblanceolate.
Flower Color: White or rose-tinged, often drying bluish, center (disk flowers) yellow; flowers both ray and disk (radiate); fruit an achene.
Flowering Season: April to May; March to May or June in California.
Elevation: About 500 feet; 1,800 to 4,500 feet in California.

Habitat Preferences: Low dry sandy gravelly flats and washes.

Recorded Range: Daisy Desertstar is found in the far southwestern United States in AZ, CA, NV, UT. This is a predominately Mojave Desert species. In Arizona it is limited to sandy washes in Mohave County.

North America & US County Distribution Map for Monoptilon bellidiforme.

U.S. Weed Information: No information available.
Invasive/Noxious Weed Information: No information available.
Wetland Indicator: No information available.
Threatened/Endangered Information: No information available.

Genus Information: In North America there are 2 species and 2 accepted taxa overall for Monoptilon. World wide, The Plant List includes 2 accepted species names and includes a further 2 infraspecific rank for the genus.

In the Southwestern United States: Arizona, California and Nevada each have 2 species of Monoptilon, Utah has 1 species, New Mexico and Texas have 0 species.. All data is approximate and subject to taxonomic changes.

Comments: Although this species is commonly called "Daisy" Desertstar it is found primarily in the Mojave Desert; the closely related "Mojave" Desertstar, (M. bellioides), is found in both the Mojave and Sonoran Deserts.

Both species are difficult to distinguish from each other; technical differences include numbers and shape of bristles in the pappus. Other more recognizable differences such as stem color (reddish-purple in Mojave Desertstar vs yellow-green in Daisy Desertstar) and size (up to 10 inches in Mojave Desertstar vs up to 3 inches in Daisy Desertstar) are too variable for practical applications.

In Southwest Desert Flora also see Mojave Desertstar, Monoptilon bellioides.