Lactuca serriola, Prickly Lettuce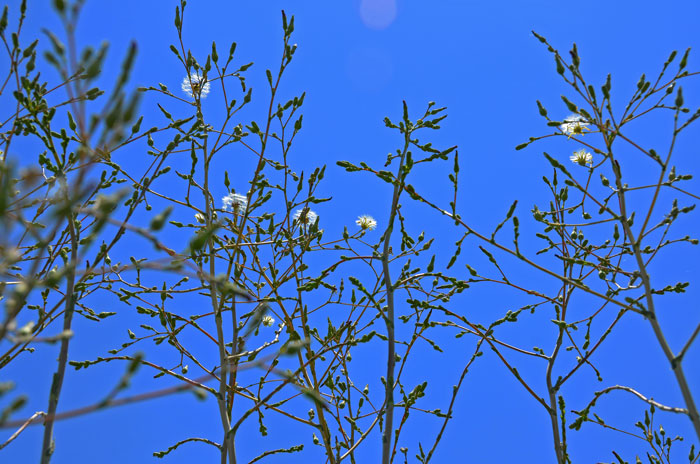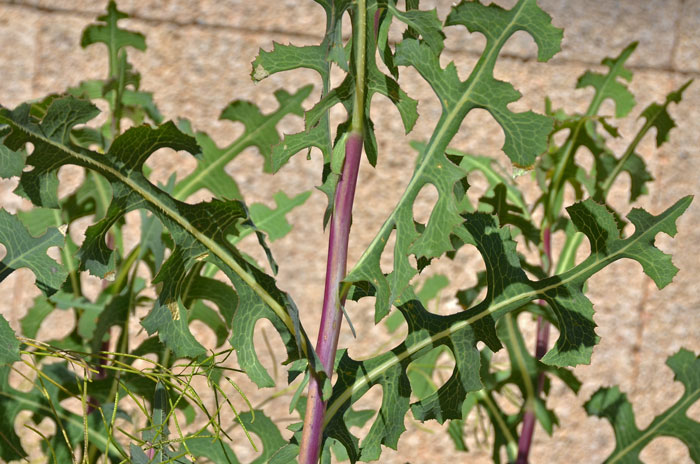 Scientific Name: Lactuca serriola
Common Name: Prickly Lettuce
Also Called: China Lettuce, Compass Plant, Wild Lettuce
Family: Asteraceae, Sunflower
Synonyms: (Lactuca scariol )
Status: Introduced
Duration: Annual or biennial.
Size: 2 to 4 feet (5 or more).
Growth Form: Forb/herb; erect, stems upright, multiple slender branches; milky sap, hollow.
Leaves: Green leaves with variable shapes and sizes; few to many, leafy on the upper part of the stem (cauline); alternate to whorled; prickles on midrib or midvein; entire to pinnately lobed.
Flower Color: Yellow or pale yellow; small heads clustered on tips of open slender branching; flowers are strap-shaped (ligule) only; florets 14 to 20 or so; fruit is an achene.
Flowering Season: May to September.
Elevation: 1,000 to 7,000 feet.

Habitat Preferences: Waste lands, roadsides, urban areas, sidewalks, alleys and disturbed areas.

Recorded Range: Throughout the United States and Canada. Also found in northwest Mexico. In Arizona Prickly Lettuce occurs in most of the state, few records in Mohave and La Paz counties.

North America & US County Distribution Map for Lactuca serriola.

U.S. Weed Information: Lactuca serriola is listed in: Weeds of Kentucky and adjacent states: a field guide, Weeds of the Northeast, Weeds of Nebraska and the Great Plains, Weeds of the United States and Canada, and Weeds of the West. Plants included here may become weedy or invasive.

Invasive/Noxious Weed Information: No data available.

Wetland Indicator: Lactuca serriola is on the USDA 2012 National Wetland Plant List.

Threatened/Endangered Information: No data available.

Genus Information: 12 species in Lactuca throughout North America including Canada and Alaska. 5 species in various habitats in Arizona.

Comments: Lactuca serriola is a naturalized weedy plant native to Europe that can be found in Arizona most anywhere in suitable habitat. It is similar, at least superficially so, to the Common Sowthistle, Sonchus oleraceus and to Spiny Sowthistle, Sonchus asper.

Lactuca serriola has been used for by Western American indigenous peoples.
Navajo, Ramah Drug, Ceremonial Medicine, Emetic, Compound decoction of plant used as a ceremonial emetic.
See ethno-botanical uses at Native American Ethnobotany, University of Michigan, Dearborn.