Heterotheca subaxillaris, Camphorweed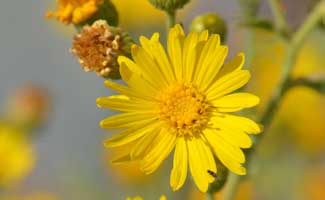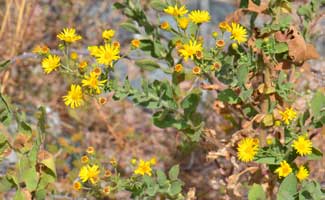 Scientific Name: Heterotheca subaxillaris
Common Name: Camphorweed
Also Called: Golden Aster, Telegraph Weed (Spanish: Arnica)
Family: Asteraceae, Sunflower Family
Synonyms: (Chrysopsis scabra, Heterotheca lamarckii, Heterotheca latifolia, Heterotheca latifolia var. arkansana, Heterotheca latifolia var. macgregoris, Heterotheca psammophila, Heterotheca scabra, Heterotheca subaxillaris var. latifolia, Heterotheca subaxillaris var. petiolaris, Heterotheca subaxillaris var. procumbens and Heterotheca subaxillaris var. psammophila)
Status: Native
Duration: Annual, biennial or perennial, taproot.
Size: Up to 6 feet.
Growth Form: Forb/herb; erect, tall, flat topped heads; branching mostly above; stems hairy.
Leaves: Leaves generally dull green; alternate; shape and size varies according to their placement on the plant (basal and cauline leaves); hairy; leaves with stem ( petiole), or without, sessile or clasping, ovate to elliptic or lanceolate.
Flower Color: Yellow; daisy-like flowers; many radiate heads, relatively small; ray flowers 15 or more, disk flowers numerous; flower stem a terminal panicle with multiple heads; fruit is an achene.
Flowering Season: March to November.
Elevation: 1,000 to 5,500 feet.

Habitat Preferences: Multiple habitat types, lower and upper deserts, disturbed areas, roads, dry desert washes and ditches.

Recorded Range: Southern half of the United States and northwest Mexico. In Arizona, it is found in the central and southeast portions of the state.

North America & US County Distribution Map for Heterotheca subaxillaris.

U.S. Weed Information: Heterotheca subaxillaris is listed in: Weeds of Nebraska and the Great Plains, and in Weeds of the West. Plants included here may become weedy or invasive.
Invasive/Noxious Weed Information: No data available.
Wetland Indicator: Heterotheca subaxillaris is listed on the USDA 2012 National Wetland Plant List.
Threatened/Endangered Information: No data available.

Genus Information: 18 species in Heterotheca in the United States, Canada and Mexico. 8 species native to Arizona. 2 species are found only in Arizona; Heterotheca rutteri, Rutter's False Goldenaster and Heterotheca marginata, Sonora False Goldenaster.

Comments: As might be implied from its synonyms above, Heterotheca subaxillaris has extremely variable characteristics across its range. Yet it has a very distinguishable profile even from a distance. A similar species Telegraph Weed, Heterotheca grandiflora has relatively large flower heads compared to Camphorweed. Camphorweed has a camphor-like odor and is considered a weed by many authorities.

In Kentucky however, one variety, Broad-leaf Goldenaster, Heterotheca subaxillaris variety latifolia is listed as Threatened.

Camphorweed provides food and cover value to birds, rodents and insects.