Helianthus petiolaris, Prairie Sunflower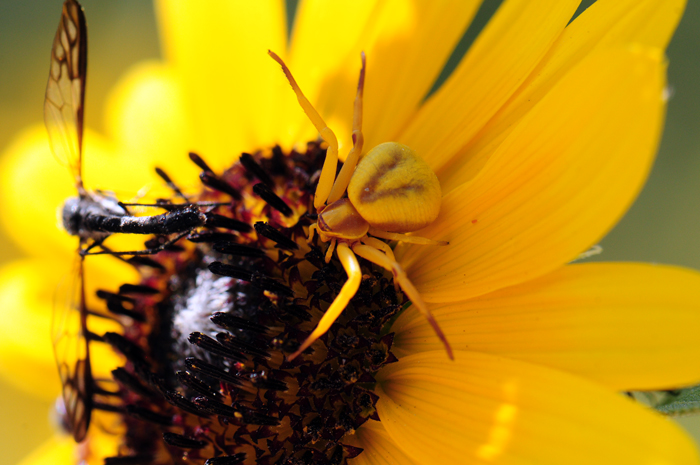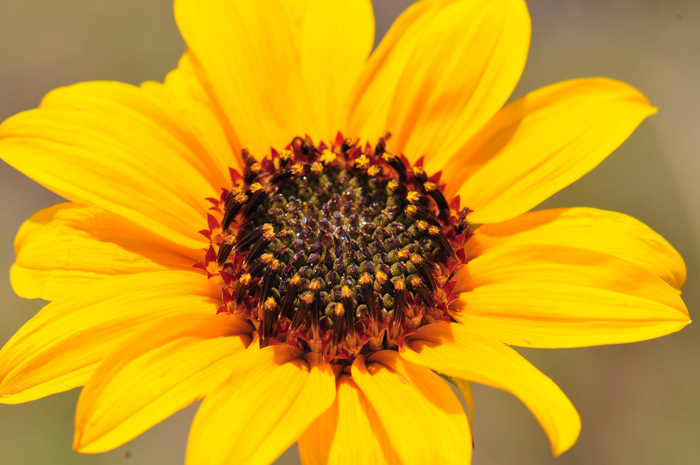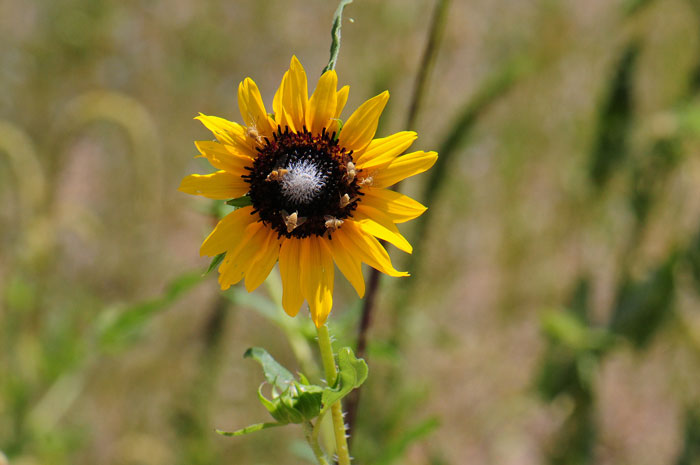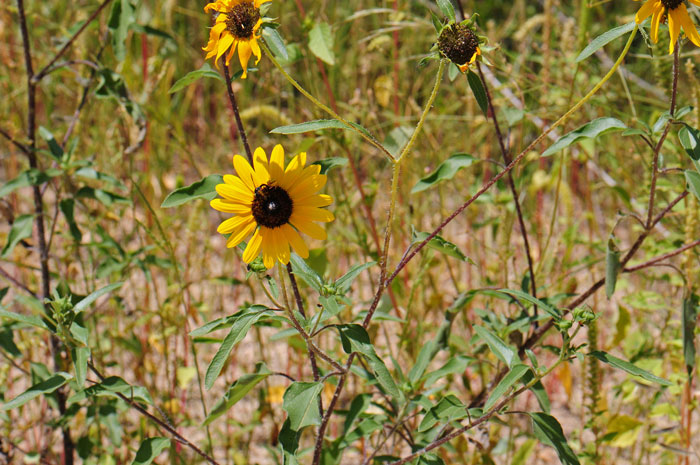 Scientific Name: Helianthus petiolaris
Common Name: Prairie Sunflower

Also Called: Plains Sunflower, Sunflower (Spanish: Girasol)

Family: Asteraceae, Sunflower Family
Synonyms: (Helianthus niveus ssp. canescens, Helianthus canescens, Helianthus canus)

Status: Native

Duration: Annual, from a taproot.

Size: 1 to 4 feet (30-122 cm) or more, 5 feet (152 cm)

Growth Form: Forb/herb; stems upright (erect); multiple branches; stems light green, stems and branches covered with dense white (grayish-white) hair (canescent); slightly rough (scabrous).

Leaves: Green or bluish-green; blade shape variable generally lanceolate; leaves with rough (hispid) stalks or stems (petioles); leaf edges or margin also variable, without or with teeth (serrate); some leaves gland-dotted; leaves arranged alternately along stem.

Flower Color: Yellow; large showy flowers, single flowers on tips of stems; heads with both ray (10 to 30, yellow) and disk (many) florets; bracts (phyllaries) surrounding flower heads generally lanceolate; fruit a cypsela with a pappus of scales.

Flowering Season: March to October

Elevation: 500 to 7,500 feet (152-2,286 m)

Habitat Preferences: Sunny open areas, sandy or gravelly areas, roadsides and disturbed areas, dry or moist areas.

Recorded Range: Much of the United States and Canada and south into northern Mexico. Found in scattered populations throughout most of the southwestern United States.

North America & US County Distribution Map for Helianthus petiolaris.

North America species range map for Prairie Sunflower, Helianthus petiolaris:
North American range map courtesy of Virginia Tech, Dept. of Forest Resources & Environmental Conservation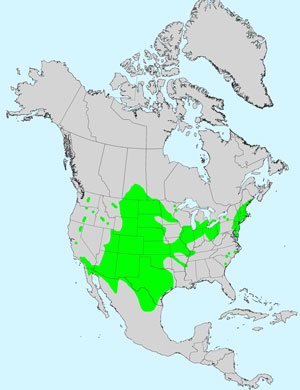 Click image for full size map

U.S. Weed Information: Helianthus petiolaris is listed in:

Weeds of the United States and Canada.
Plants included here may become weedy or invasive.

Invasive/Noxious Weed Information: Unknown
Wetland Indicator: Unknown
Threatened/Endangered Information: Unknown

Genus Information: In North America there are 62 species and 62 accepted taxa overall for genus. Worldwide, The Plant List includes 71 accepted species names and a further 128 scientific names of infraspecific rank for the genus.

The genus Helianthus was published by Carl Linnaeus, (1707-1778) in 1753.

In the Southwestern United States: Arizona has 8 species of Helianthus, California has 11 species, Nevada has 7 species, New Mexico has 14 species, Texas has 21 species, Utah has 6 species. Data approximate and subject to revision.

There are 2 sub species in Helianthus petiolaris
Helianthus petiolaris ssp. fallax, Prairie Sunflower, (AZ, CO, NV, UT, NM )
Helianthus petiolaris ssp. petiolaris, Prairie Sunflower (see Recorded Range: above).

Comments: Prairie Sunflower is similar in appearance to the Common Sunflower which generally has much larger leaves and phyllaries that are moe ovate than lanceolate. Both of these beautiful flower species are often considered weeds by some authorities.

In Southwestern Desert Flora also see Common Sunflower, Helianthus annuus and Showy Sunflower, Helianthus niveus ssp. tephrodes.

Importance to Wildlife, Birds and Livestock

Most "Sunflowers" with their brightly colored flowers and palatable seeds are known to be visited by hummingbirds and/or small mammals in search of food and nectar.

Beneficial Value to Butterflies, Bees and Insects

Most "Sunflowers" of the genus Helianthus, with their brightly colored yellow flowers are known to be visited by butterflies, moths and other insects in search of food. Also, Helianthus flowers, leaves and stems serve as an important host for the larvae (caterpillars) of several species of moths and butterflies known to feed on this plant.

Special Value to Native Bees

According to The Xerces Society for Invertebrate Conservation, hybrid "Sunflowers", genus Helianthus, are recognized by pollination ecologists as attracting large numbers of Native bees. Click here and here for more information on their Pollinator Conservation Program.

Etymology:

The genus "Helianthus" (Helian'thus:) is derived from two Greek words helios, "sun," and anthos, "flower," in reference to the sunflower's supposed tendency to always turn toward the sun.

The genus Helianthus was published by Carl Linnaeus, (1707-1778) in 1753.

The species epithet "petiolaris" (petiolar'is:) with conspicuous petioles.

Ethnobotany

Prairie Sunflower is used as food, a drug and other purposes by southwestern United States indigenous peoples.
Havasupai Food, Dried Food and Food, Preserves; Seeds sun dried and stored for winter use and Seeds parched, ground, kneaded into seed butter and eaten with fruit drinks or spread on bread.
Havasupai Food, Staple; Seeds ground and eaten as a ground or parched meal.
Hopi Drug, Dermatological Aid and Drug, Other; Plant used as a 'spider bite medicine' and Used as a spider medicine.
Hopi Food, Fodder and Other, Ceremonial Items; Used as an important food for summer birds and Dried petals ground and mixed with corn meal to make yellow face powder for women's basket dance.
Hopi Other, Decorations and Season Indicator; Whole plant used in the decoration of flute priests in the Flute ceremony and Amount of flowers present used as a sign that there will be copious rains and abundant harvest.
Navajo, Ramah Drug, Hunting Medicine and Ramah Drug, Panacea; Cold infusion of flowers sprinkled on clothing for good luck in hunting and Cold infusion of whole plant used as 'life medicine.'
Thompson Drug, Dermatological Aid; Powdered leaves alone or in ointment used on sores and swellings.

See entire listing of ethno-botanical uses at Native American Ethnobotany, University of Michigan, Dearborn.