Geraea canescens, Hairy Desertsunflower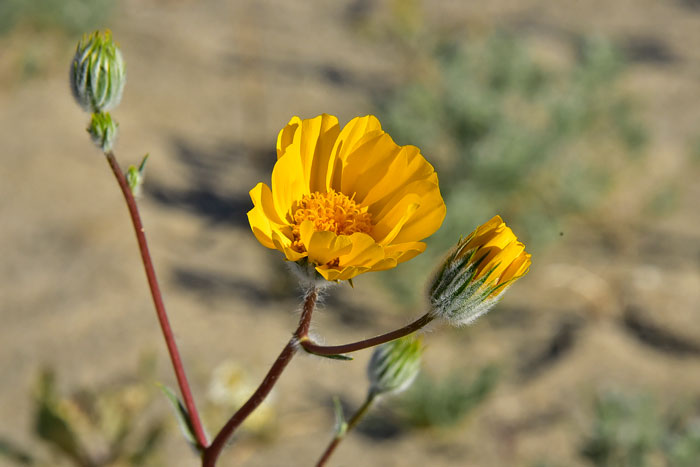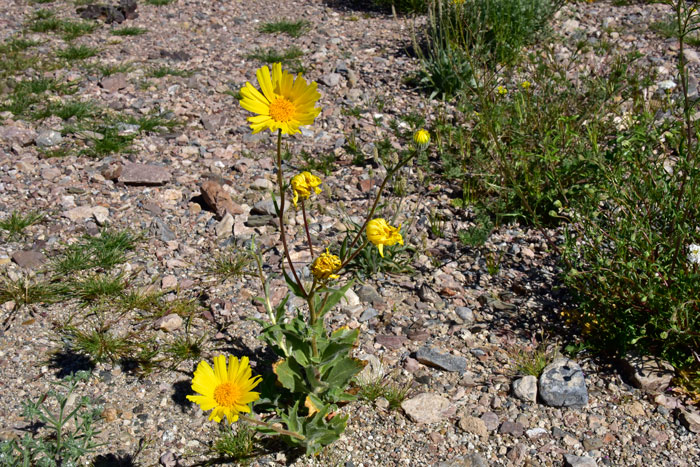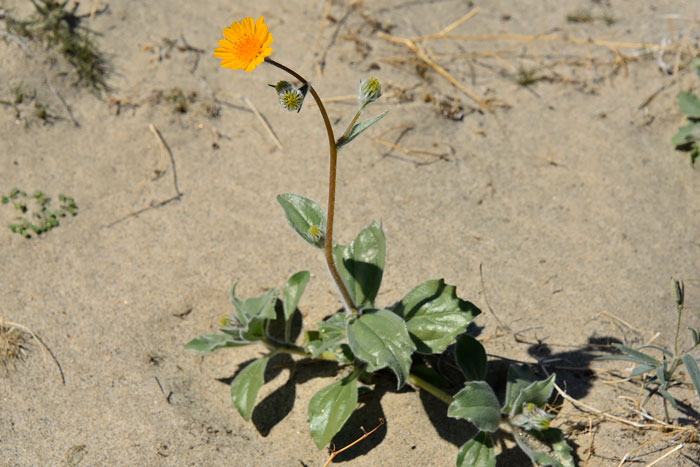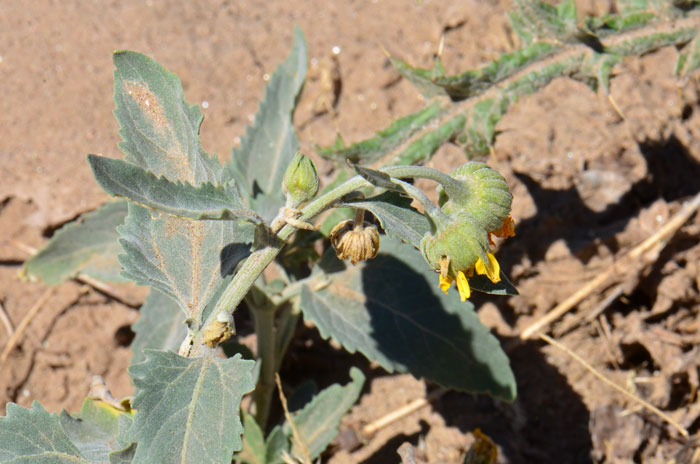 Scientific Name: Geraea canescens
Common Name: Hairy Desertsunflower
Also Called: Desert Gold, Desert Sunflower, Desertgold
Family: Asteraceae, Sunflower Family
Synonyms: (Encelia eriocephala var. paniculata, Geraea canescens var. canescens, Geraea canescens var. paniculata)
Status: Native
Duration: Annual.
Size: Up to 30 inches more or less.
Growth Form: Forb/herb; plants bristly or soft-hairy; single stems or branches.
Leaves: Green or brown; alternate; ciliate, hirsute or bristly pubescence; petiolate or sessile; shape variable lanceolate or ovate to elliptic or oblanceolate, margins dentate.
Flower Color: Yellow; showy large heads; flowers radiate; solitary or many in panicles; phyllaries green with viably white-ciliate; fruit strongly compressed achenes.
Flowering Season: January to June in Arizona; February to May and again in October to November in California.
Elevation: 3,000 feet or lower; below 4,000 in California.

Habitat Preferences: Common in sandy desert soils.

Recorded Range: Geraea canescens is found in the southwestern United States in AZ, CA, NV, UT. It is also native to Baja California and Sonora, Mexico. In Arizona it is found in the western and southwestern parts of the state.

North America & US County Distribution Map for Geraea canescens.

U.S. Weed Information: No information available.
Invasive/Noxious Weed Information: No information available.
Wetland Indicator: No information available.
Threatened/Endangered Information: No information available.

Genus Information: In North America there are 2 species and 2 accepted taxa overall for . World wide, The Plant List includes 2 accepted species names and includes a further 4 infraspecific rank for the genus.

In the Southwestern United States: Arizona, Nevada and Utah each have 1 species of Geraea, California has 2 species and New Mexico and Texas have 0 species. All data is approximate and subject to taxonomic changes.

Comments: Geraea canescens is a Mojave and Colorado Sonoran Desert species with high tolerances to alkaline soils. This species is known to hybridize with Encelia farinosa.

In Southwest Desert Flora see Brittlebush, Encelia farinosa.