Eriophyllum lanosum, White Woolly Daisy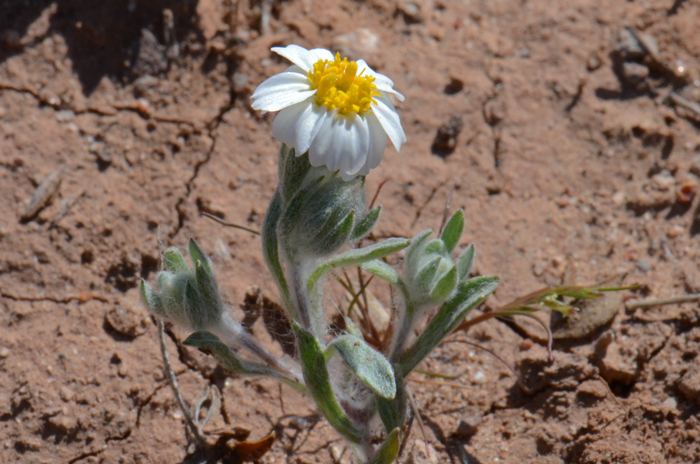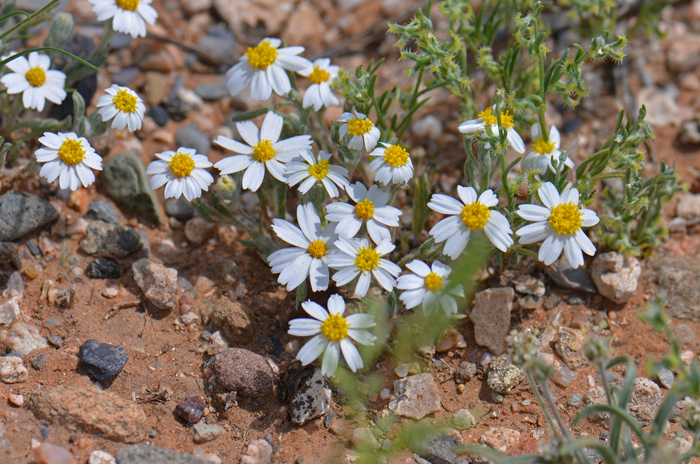 Scientific Name: Eriophyllum lanosum
Common Name: White Woolly Daisy
Also Called: Wooly Eriophyllum, Whoolly Daisy, White Easterbonnets, White Easter-bonnets
Family: Asteraceae, Sunflower Family
Synonyms: (Actinolepis lanosa, Antheropeas lanosum, Burrielia lanosa)
Status: Native
Duration: Annual
Size: 6 inches or so.
Growth Form: Forb/herb; generally small, erect or lying along the ground, stems curving up (decumbent), plants decumbent-ascending; plants reddish, woolly and often inconspicuous.
Leaves: Pale green; less than 1 inch long, alternate; sessile; linear-oblanceolate; margins entire or lobed at tip, fine whitish hairs.
Flower Color: White with yellow center, ray flowers occasionally with red veins; usually solitary heads, daisy-type numerous flowers with 8 to 10 ray florets and 10 to 20 disk florets; flowers glabrous; flowering stems woolly white; fruit also glabrous, an achene.
Flowering Season: February to May, may be difficult to observe without sufficient winter rainfall.
Elevation: 1,000 to 3,000 feet; 200 to 3,000 feet in California.

Habitat Preferences: Common in dry, gravelly mesas and slopes, sunny sandy areas, desert scrub.

Recorded Range: White Woolly Daisy is found in the southwestern United States in AZ, CA, NM, NV and UT. Also native to Baja California and northwest Mexico. Throughout much of Arizona.

North America & US County Distribution Map for Eriophyllum lanosum.

U.S. Weed Information: No data available.
Invasive/Noxious Weed Information: No data available.
Wetland Indicator: No data available.
Threatened/Endangered Information: No data available.

Genus Information: In North America there are 13 species and 27 accepted taxa overall for Eriophyllum (includes genus Antheropeas). Worldwide, The Plant List includes 13 accepted species names and a further 52 of infraspecific rank for the genus.

In the Southwestern United States: Arizona has 5 species of genus, California has 13 species, Nevada has 5 species, New Mexico has 1 species, Texas has 0 species, Utah has 3 species. Statistics include genus Antheropeas. All data is approximate and subject to taxonomic changes.

Comments: White Easterbonnets or Woolly Daisy is an early spring bloomer more closely aligned with the Mojave Desert where its populations are more numerous. It is a plant with the stems, leaves and flowers covered with fine white wholly hairs, similar to a spider web.

Although it is a common plant where found, it is often inconspicuous because of its small size and light coloration which help it blend in with its gravelly desert surroundings.

White Woolly Daisy superficially resembles Whitedaisy Tidytips, Layia glandulosa, Daisy Desertstar, Monoptilon bellidiforme and Mojave Desertstar, Monoptilon bellioides.

In Southwest Desert Flora also see; Pringle's Wooly Sunflower, Eriophyllum pringlei and Wallace Eriophyllum, Eriophyllum wallacei.