Coreopsis tinctoria, Golden Tickseed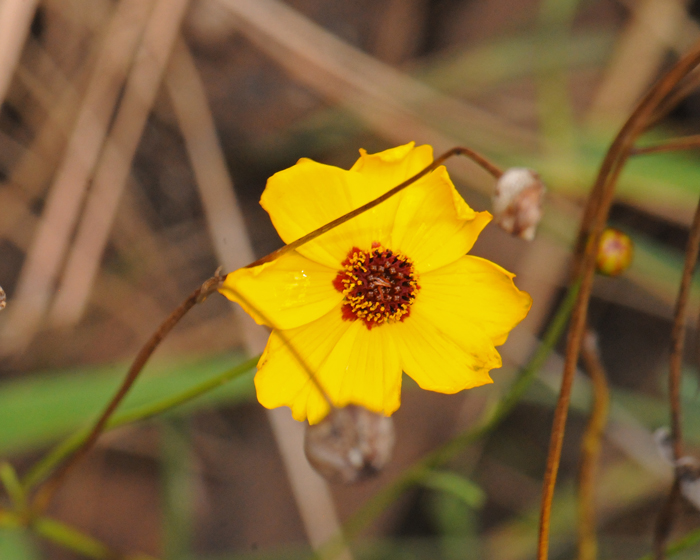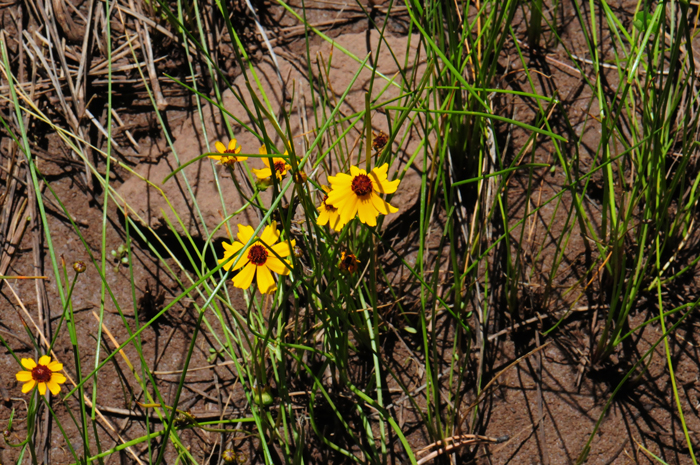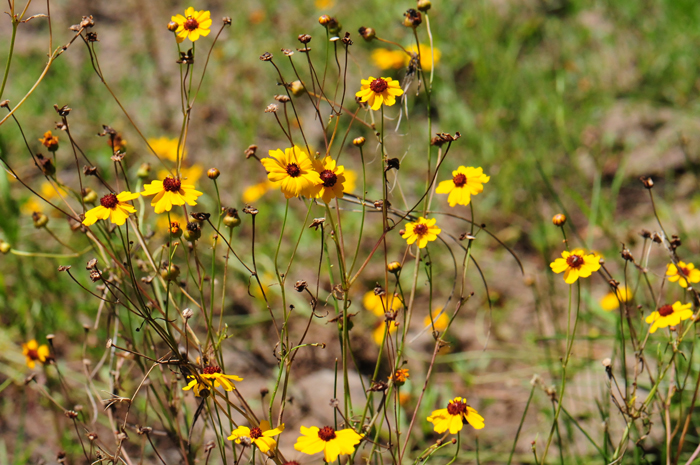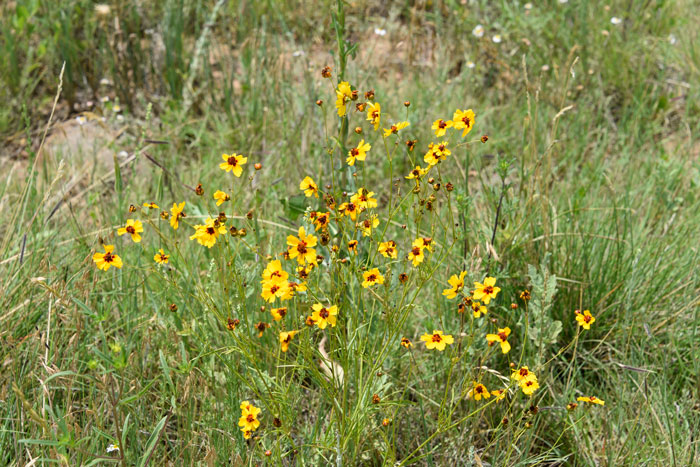 Scientific Name: Coreopsis tinctoria
Common Name: Golden Tickseed

Also Called: Calliopsis, Garden Tickseed, Golden Coreopsis, Golden Tickseed, Goldenwave, Plains Coreopsis, Plains Tickseed

Family: Asteraceae, Sunflower Family

Synonyms: Coreopsis atkinsoniana, Coreopsis cardaminefolia, Coreopsis similis, Coreopsis stenophylla)

Status: Native

Duration: Annual, biennial or perennial.

Size: Up to 2 feet (61 cm) or more, 5 feet (150 cm)

Growth Form: Forb/herb; erect stem from basal rosette, multiple branching.

Leaves: Green; cauline leaves arranged opposite along stems; leaf blades mostly linear, smooth, pinnately dissected or divided into linear or filiform lobes, 3 to 4 inches (7-10 cm) long.

Flower Color: Bright yellow and brown; numerous small heads on slender stalks (inflorescence); 8 yellow ray florets with notched ends, disk florets maroon or reddish-brown; fruit is a cypsela.

Flowering Season: Mostly June through August or September, follows monsoon rainfall, may bloom year-round.

Elevation: 0 to 7,000 feet (0-2,134 m)

Habitat Preferences: Various habitat types, moist, sandy or clay soils, sometimes alkaline flats, prairies, ditches and disturbed places including roadsides and cultivated fields; habitat preferences in Texas include; prairie, plains, meadows, pastures, savannas, roadsides and pond banks.

Recorded Range: Throughout the United States and common in Canada and north east Mexico (Coahuila, Nuevo León, Tamaulipas). Northern Arizona.

North America & US County Distribution Map for Coreopsis tinctoria.

North America species range map for Coreopsis tinctoria:
North American range map courtesy of Virginia Tech, Dept. of Forest Resources & Environmental Conservation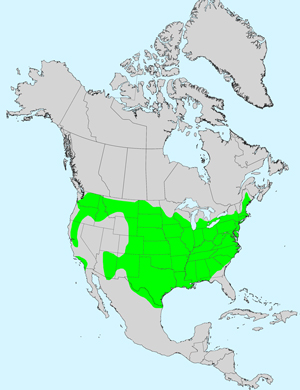 Click image for full size map

U.S. Weed Information: In North America Coreopsis tinctoria can be weedy or invasive according to the following authoritative sources:

Weeds of Nebraska and the Great Plains.
Weeds of the United States and Canada.

Plants included here may become weedy or invasive.

Wetland Indicator: In North America Coreopsis tinctoria has the following wetland designations:
Arid West, FACU
Atlantic and Gulf Coastal Plain, FAC;
Eastern Mountains and Piedmont, FAC;
Great Plains, FAC;
Midwest, FACU;
Northcentral & Northeast, FACU;
Western Mountains, Valleys, and Coast, FACU.

FACU = Facultative Upland, usually occur in non-wetlands, but may occur in wetlands
FAC = Facultative, occur in wetlands and non-wetlands

Threatened/Endangered Information: Unknown
Invasive/Noxious Weed Information: Unknown

Genus Information: In North America there are 34 species and 34 accepted taxa overall for Coreopsis. Worldwide, The Plant List includes 10 accepted species names and a further 95 scientific names of infraspecific rank for the genus.

The genus Coreopsis was published by Carl Linnaeus in 1753.

In the Southwestern United States: Arizona has 3 species of Coreopsis, California and Texas each have 12 species, Nevada and Utah each have 0 species and New Mexico has 6 species. All data approximate and subject to revision.

3 varieties in Coreopsis tinctoria;
Coreopsis tinctoria var. atkinsoniana; (western North America);
Coreopsis tinctoria var. similis; (TX);
Coreopsis tinctoria var. tinctoria; (same as Recorded Range: above).

Comments: Golden Tickseed is native to western and eastern United States, especially the Great Plains and Southern States. In the southern states it is often call "calliopsis" and in the mid-west it is considered a weed. It is a common cultivated landscape plant throughout the country under the name Calliopsis. The species is widely cultivated in, and naturalized in China.

According to Lady Bird Johnson Wildflower Center, Golden Tickseed, "the western annual has escaped from cultivation in the East. It is widespread in the West and the South in disturbed areas, such as moist ditches...".

Importance to Wildlife, Birds and Livestock

Coreopsis tinctoria seeds are beneficial to granivorous birds and small mammals.

Special Value to Native Bees, Butterflies and Insects

Coreopsis tinctoria flowers are visited regularly by nectar-feeding native bees, honeybees, butterflies and insects

Etymology:

The genus "Coreopsis" (Coreop'sis:) is from the Greek koris, meaning "a bug," and -opsis, indicating a resemblance, therefore meaning bug-like, referring to the achenes which look like ticks.

The genus Coreopsis was published by Carl Linnaeus in 1753.

The species epithet "tinctoria" (tinctor'ia/tinctor'ius:) used in dyeing, and usually used to refer to a plant that when broken exudes some kind of stain.

Ethnobotany

Coreopsis tinctoria has been used for a multitude of purposes by southwestern United States indigenous peoples.

Cherokee Drug, Antidiarrheal and Dye, Red; Infusion of root taken for flux, Used to make a red dye.
Lakota Food, Beverage; Used to make tea.
Apache, White Mountain Dye, Red; Used as a dark, rich red dye.
Navajo, Ramah Drug, Ceremonial Medicine, Disinfectant, Panacea and Venereal Aid; Plant used in ceremonial chant lotion, Cold infusion of dried plant taken with salt for 'lightning infection', Root used as a 'life medicine' and Plant used as fumigant for sexual infection.
Zuni Drug, Reproductive Aid, Dye, Red; Infusion of whole plant, except for the root, taken by women desiring female babies, Blossoms used with other flowers as a mahogany red dye for yarn.
Zuni, Beverage; ∗Plant formerly used to make a hot beverage until the introduction of coffee by traders. The plant was folded while fresh, a number of folds being attached one below the other, and hung on the wall to dry. When the beverage was desired, a fold was detached from the wall and used to make a hot beverage.∗Citation: Stevenson, Matilda Coxe, 1915, Ethnobotany of the Zuni Indians, SI-BAE Annual Report #30, page 66.

See complete listing of ethno-botanical uses at Native American Ethnobotany, University of Michigan, Dearborn.