Conyza canadensis, Canadian Horseweed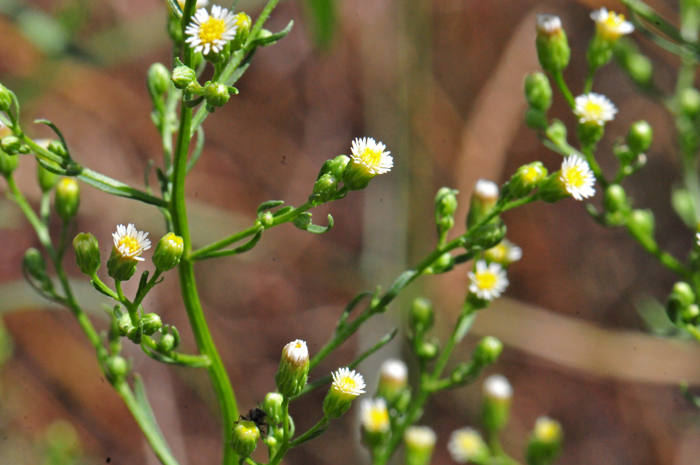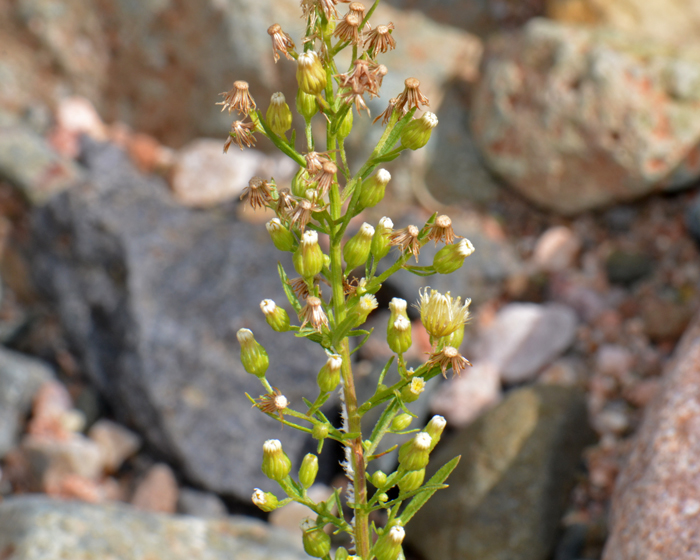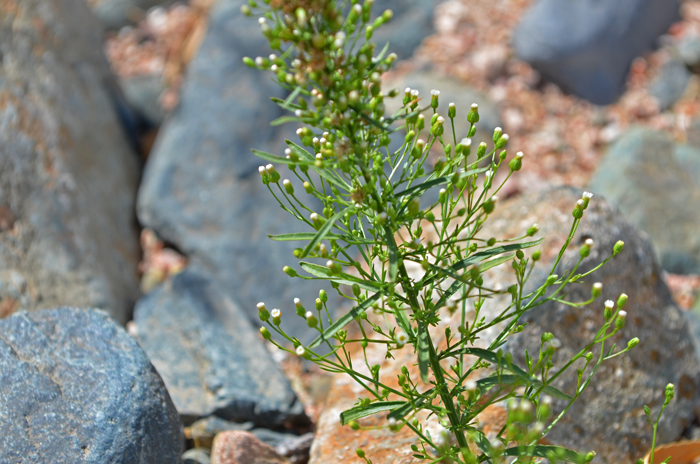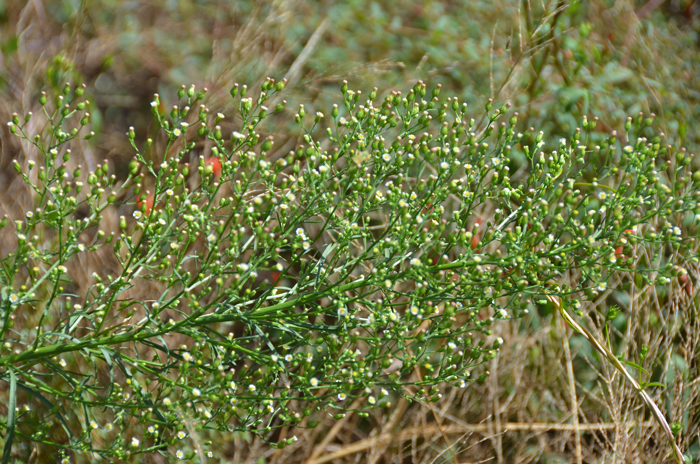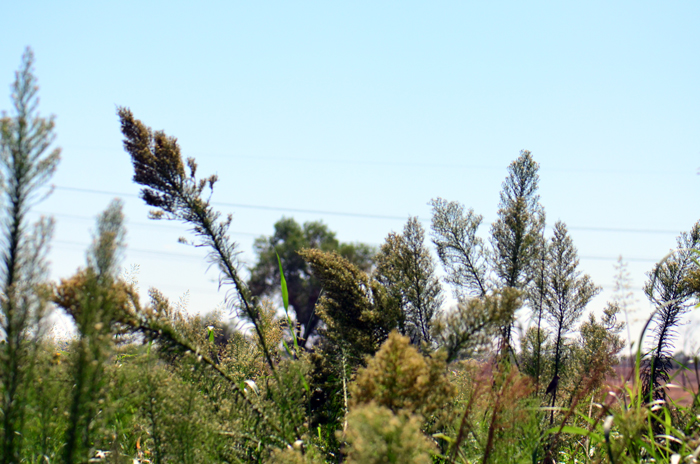 Scientific Name: Conyza canadensis
Common Name: Canadian Horseweed

Also called: Coltstail, Horseweed Fleabane, Horseweed, Mares Tail (Spanish: Cola de Zorra, Jarilla, Cola de Caballo, Hierba del Caballo)

Family: Asteraceae, Sunflower Family

Synonyms: (Conyza canadensis var. glabrata, Erigeron canadensis var. glabratus, Erigeron canadensis, Conyza parva)

Status: Introduced

Duration: Annual or perennial.

Size: 1 to 5 feet (30-150 cm) or more; up to 6 feet (182 cm).

Growth Form: Shrub; plants tall, upright or erect; branches growing out horizontally mostly from upper stems (distally).

Leaves: Green, dark green; leaves numerous, densely arranged or crowded alternately around the stem; leaves hairy; appear, but not technically whorled; blade shape generally linear-lanceolate; leaf margins smooth or with teeth.

Flower Color: White or cream with yellow centers; flower heads small in leafy panicles, sometimes corymbiform arrays; flowers appear to be all disk florets however ray florets are tiny are inconspicuous; fruit is a cypsela with tufts of white or brown hairs, seeds wind dispersed.

Flowering Season: July to October, mostly summer and fall or year-round.

Elevation: 1,000 to 8,000 feet (305-2,440 m)

Habitat Preferences: Variety of habitats, upper and lower deserts, chaparral vegetation, pinyon-juniper; disturbed areas, irrigated crop lands, roadsides.

Recorded Range: Found throughout the United States, Canada, Baja California, throughout Mexico and south into South America, found in every continent throughout the world Introduced in AK and Hi. Throughout all of Arizona and every state in the United States.

North America & US County Distribution Map for Conyza canadensis.

North America species range map for Conyza canadensis:
North American range map courtesy of Virginia Tech, Dept. of Forest Resources & Environmental Conservation
Click image for full size map

U.S. Weed Information: Conyza canadensis is listed in:
Weeds of Kentucky and adjacent states: a field guide;
Weeds of the Northeast;
Weeds of Nebraska and the Great Plains;
Weeds of the United States and Canada;
Southern Weed Science Society;
Weeds of the West.

Plants included here may become weedy or invasive.

Invasive/Noxious Weed Information: Unknown

Wetland Indicator: In North America Conyza canadensis, var. canadensis has the following wetland designations:
Alaska, UPL;
Arid West, FACU;
Atlantic and Gulf Coastal Plain, FACU;
Great Plains, FACU;
Midwest, FACU;
Northcentral & Northeast, FACU;
Western Mountains, Valleys, and Coast, FACU;

FACU = Facultative Upland, usually occur in non-wetlands, but may occur in wetlands
UPL = Obligate Upland, Nonhydrophyte, almost never occur in wetlands

Threatened/Endangered Information: In North America Conyza canadensis, var. pusilla is listed by
State of Indiana, Fleabane, as Extirpated.

Genus Information: In North America there are 6 species and 6 accepted taxa overall for Conyza. Worldwide, The Plant List includes 476 accepted species names and a further 583 scientific names of infraspecific rank for the synonym genus Erigeron.

The genus Conyza was published by Carl Linnaeus in 1753.

In the Southwestern United States: Arizona has 2 species of genus, California has 3 species, Nevada has 2 species, New Mexico has 3 species, Texas has 4 species, Utah has species. All data approximate and subject to revision.

There are 3 varieties of Conyza canadensis;
Conyza canadensis var. canadensis, Canadian Horseweed (most of North America);
Conyza canadensis var. glabrata, Canadian Horseweed (western ½ of United States);
Conyza canadensis var. pusilla, Canadian Horseweed (south eastern ½ of United States, includes AZ, OK, TX).

Comments: Canadian Horseweed in a common plant quite unattractive in appearance and weedy by its habitat preferences for disturbed or waste lands and often in open barren areas. Horseweed has minimal wildlife value except for the wide variety of insects they seem to attract.

A similar species, Asthmaweed, Conyza bonariensis is found in the southwestern United States and all southern states in the United States.

In Southwest Desert Flora also see: Coulter's Horseweed, Lanennecia coulteri.

Importance to Wildlife, Birds and Livestock

Seeds and flowers and parts of foliage of Conyza canadensis may likely be eaten by birds and small mammals.

Special Value to Native Bees, Butterflies and Insects

Conyza canadensis flowers may be visited by butterflies, bees and other small mammals.

Etymology:

The genus "Conyza" (Cony'za:) derived from the Greek word for flea konops, and used by Pliny as a name for some kind of a fleabane.

The genus Conyza was published by Carl Linnaeus in 1753.

The species epithet "canadensis" (canaden'sis:) of or referring to Canada.

Ethnobotany

Conyza canadensis has multiple ethno-botanical uses for indigenous peoples throughout the United States.
Cahuilla Drug, Antidiarrheal; Infusion of leaves used for diarrhea.
Blackfoot Drug, Antidiarrheal, Antihemorrhagic; Plant used for chronic diarrhea and for childbirth hemorrhage.
Chippewa Drug, Gastrointestinal Aid, Gynecological Aid; Decoction of root and leaves taken for stomach pain and Infusion of whole plant taken for 'female weakness.'
Cree, Hudson Bay Drug, Antidiarrheal; Plant used as a diarrhea medicine.
Hawaiian Drug, Antirheumatic (External), Orthopedic Aid; Leaves and other plant parts pounded and resulting liquid applied to sore joints, and Leaves, shoots and other plants pounded and resulting liquid used for injuries caused by accidents.
Hopi Drug, Analgesic; Poultice of rubbed plant applied to temples for headache.
Houma Drug, Gynecological Aid; Hot infusion of root taken for leucorrhea.
Iroquois Drug, Anticonvulsive, Febrifuge, Pediatric Aid; Infusion of whole plant and roots from another plant used for children with convulsions and fevers.
Keres, Western Drug, Burn Dressing, Dermatological Aid; Crushed plant rubbed on sunburns and Plant beaten into a paste and rubbed on the skin for blotches or liver spots.
Meskwaki Drug, Diaphoretic; Used as a steaming agent in sweatbath.
Miwok Food, Vegetable; Raw, pulverized leaves and tender tops, flavor similar to onions, used for food.
Navajo, Kayenta Drug, Dermatological Aid, Disinfectant, Ear Medicine, Gastrointestinal Aid, Pediatric Aid, Dermatological Aid; Plant used as a lotion for pimples, Hot poultice of plant applied to infants with prenatal infection, Hot poultice of plant applied for earaches, Plant used for stomachaches, Hot poultice of plant applied to infants with prenatal infection, Poultice of crushed leaves or cold infusion of leaves used as a lotion for pimples.
Ojibwa Drug, Hunting Medicine; Disk florets smoked as one of the hunting charms.
Potawatomi Drug, Veterinary Aid; Plant used as a medicine for horses.
Seminole Drug, Cold Remedy, Cough Medicine, Love Medicine, Respiratory Aid; Infusion of leaves and bark taken and steam inhaled for runny nose, stuffy head and sore throat, Infusion of leaves and bark taken and steam inhaled for coughs, Plant rubbed on the body by a doctor to rid himself of his wife, Infusion of leaves and bark taken and steam inhaled for asthma.
Zuni Drug, Respiratory Aid; Crushed flowers inserted in nostrils to cause sneezing, relieving 'rhinitis.'

See complete listing of ethno-botanical uses at Native American Ethnobotany, University of Michigan, Dearborn.