Conyza canadensis, Canadian Horseweed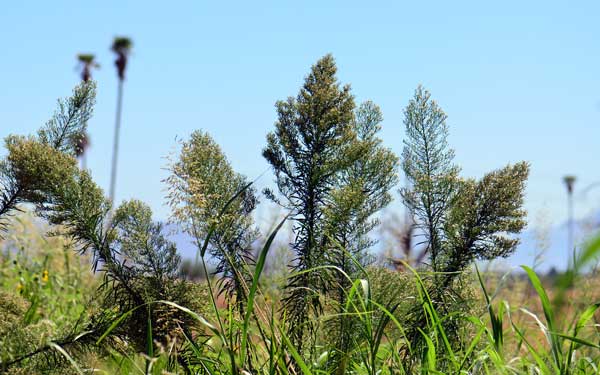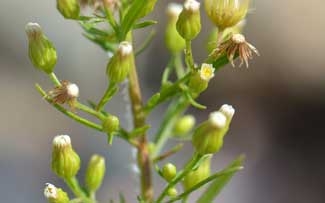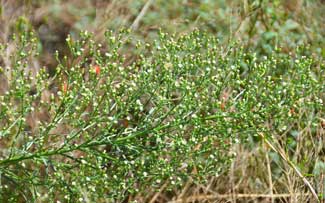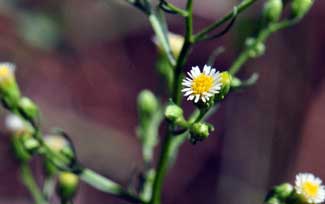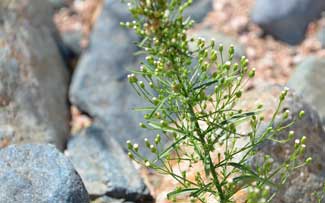 Scientific Name: Conyza canadensis
Common Name: Canadian Horseweed
Also called: Horseweed Fleabane, Horseweed, Mares Tail (Spanish: Cola de Zorra, Jarilla, Cola de Caballo, Hierba del Caballo)
Family: Asteraceae, Sunflower Family
Synonyms: (Erigeron canadensis)
Status: Native
Duration: Annual or perennial.
Size: Up to 5 feet.
Growth Form: Shrub; tall, erect, rigid stem with long white hairs, branches grow out horizontally and upward with numerous flower heads.
Leaves: Green; alternate around the stem but not whorled, numerous leaves, lower leaves oblanceolate to linear, 3 to 4 inches long, bend downward, entire or toothed, upper leaves smaller, sessile.
Flower Color: White or cream; yellow disk flowers, ray flowers with tiny florets, flower heads small, flowering branches spread out in open dense arrays; fruit is an achene with tufts of white or brown hairs, seeds wind dispersed.
Flowering Season: July to October.
Elevation: 1,000 to 7,000 feet.

Habitat Preferences: Variety of habitats, upper and lower deserts, chaparral, pinyon-juniper, disturbed areas, irrigated crop lands, roadsides.

Recorded Range: Found throughout the United States, Canada, Baja California and north and central Mexico. Introduced in AK and Hi. Throughout all of Arizona.
North America & US County Distribution Map for Conyza canadensis.
U.S. Weed Information: Conyza canadensis is listed in: Weeds of Kentucky and adjacent states: a field guide, Weeds of the Northeast, Weeds of Nebraska and the Great Plains, Weeds of the United States and Canada, and Weeds of the West. Plants included here may become weedy or invasive.
Invasive/Noxious Weed Information: No data available.
Wetland Indicator: Conyza canadensis is on the USDA 2012 National Wetland Plant List.
Threatened/Endangered Information: The state of Indiana, Division of Nature Preserves, 2002, Endangered, threatened, and rare vascular plant species documented from Indiana lists Conyza canadensis var. pusilla, Fleabane as Extirpated.
Genus Information: 6 species in Conyza throughout North America. 2 species are found in Arizona.
There are 3 varieties of Conyza canadensis;
Conyza canadensis var. canadensis, Canadian Horseweed,
Conyza canadensis var. glabrata, Canadian Horseweed
Conyza canadensis var. pusilla, Canadian Horseweed.
Comments: Canadian Horseweed in a common plant quite unattractive in appearance and weedy by its habitat preferences for disturbed or waste lands and often in open barren areas. Horseweed has minimal wildlife value except for the wide variety of insects they seem to attract.
In Southwest Desert Flora also see: Coulter's Horseweed, Lanennecia coulteri.
Multiple ethno-botanical uses have been identified such as for sunburn control, chronic diarrhea and a decoction of the roots and leaves taken for stomach pain. See full species account from Native American Ethnobotany, University of Michigan, Dearborn.