Chrysactinia mexicana, Damianita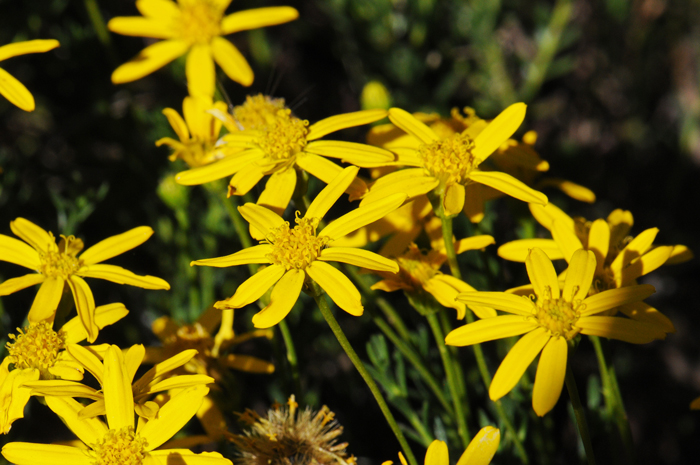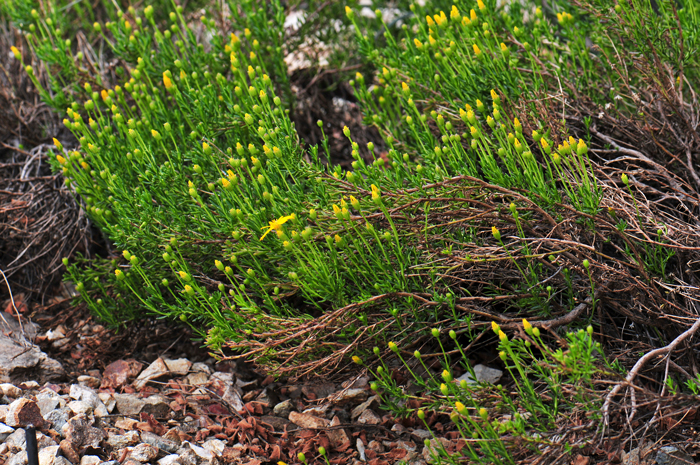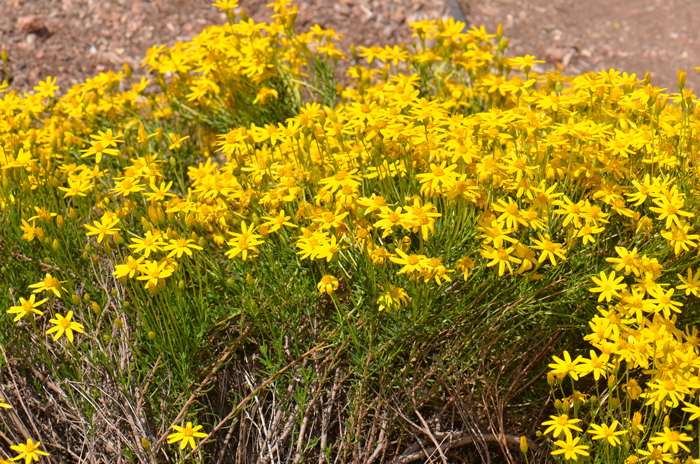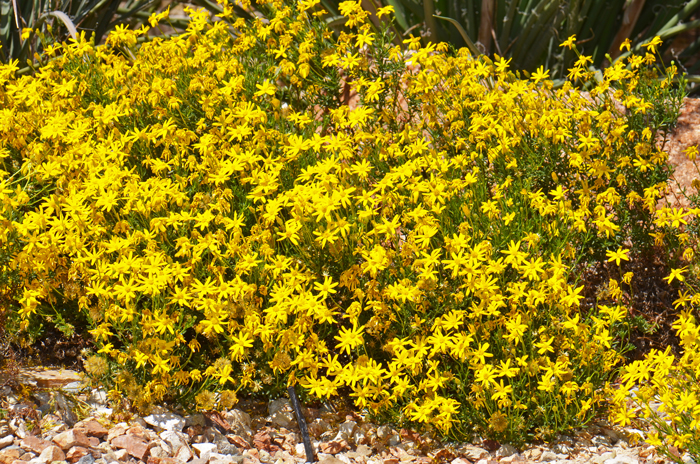 Scientific Name: Chrysactinia mexicana
Common Name: Damianita

Also Called: Calanca, Damianita Daisy, False Damiana, Garanona, Mariola, Romerillo, San Nicolas, Spanish; Yeyepaxtle, Hierba de San Nicolas

Family: Asteraceae, Sunflower Family

Status: Native

Synonyms: ()

Duration: Perennial

Size: 1½ to 2 feet (46-61 cm) or so, width to 2 feet (61 cm).

Growth Form: Shrub or subshrub; low-growing; strongly aromatic; woody base, plants mounded, rounded in form.

Leaves: Green, or dark green; leaves small, fine, less than 1 inch (2.54 cm); evergreen; aromatic; twiggy; fine needle-like leaves; plants leafy.

Flower Color: Yellow or golden yellow; the leafy foliage apparent throughout the plant is absent on the peduncle; single (solitary) heads; flowers on tips of branches, both ray (florets slender, typically 8 per head (6 to 12) and discoid (florets 20 or more); fruit small, a cypsela.

Flowering Season: April through September (Spring and Fall).

Elevation: 600 to 7,000 feet (182-2,100 m).

Habitat Preferences: Desert plains and mountains of NM and TX, mostly rocky limestone and caliche soils, sandy soils.

Recorded Range: Chrysactinia mexicana is a relatively rare species in the United States, with distribution limited to NM and TX. It is also found in northwest Mexico.

North America & US County Distribution Map for Chrysactinia mexicana.

North America species range map for Chrysactinia mexicana:
North American range map courtesy of Virginia Tech, Dept. of Forest Resources & Environmental Conservation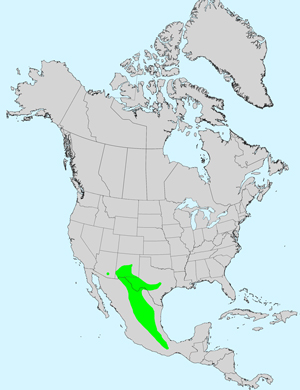 Click image for full size map

U.S. Weed Information: No data available.
Invasive/Noxious Weed Information: No data available.
Wetland Indicator: No data available.
Threatened/Endangered Information: No data available.

Genus Information: In North America there is 1 species and 1 accepted taxa overall for Chrysactinia. World wide, The Plant List includes 6 accepted species names for the genus.

In the Southwestern United States there is 1 species of Chrysactinia in NM and TX.

Comments: Chrysactinia mexicana or Damianita as it is commonly called in the United States is limited in distribution to rocky limestone and caliche soils in New Mexico and Texas.

Because it has a long blooming period and extremely heat and drought tolerance it is often used as a landscape specimen where sold and in the Phoenix and Tucson area. With proper care it has grow into a showy rounded form which is attractive in rock and other specialty gardens.

You can usually see Damianita on display at the Arizona Desert Botanical Gardens in east Phoenix, Arizona.

Importance to Wildlife, Birds and Livestock

Tiny seeds of Chrysactinia mexicana may possibly be eaten by birds and small mammals.

Special Value to Native bees, Butterflies and Insects

Chrysactinia mexicana flowers may be visited by butterflies, bees and other small insects.

Etymology:

The genus Chrysactinia from the Greek chrysos, "gold," and actinos, "ray", flower characteristics.

The species epithet mexicana (mexica'na/mexica'num/mexican'us:) means of or from Mexico.

The common name Damianita is Spanish and loosely translates to "hierba de san nicolas", "yéyepaxtle", "sannicolás" and "mariola", the above listed Spanish names for this species.

Ethnobotany

No information available.